Why China's Current COVID Surge Could Spell The End Of The Pandemic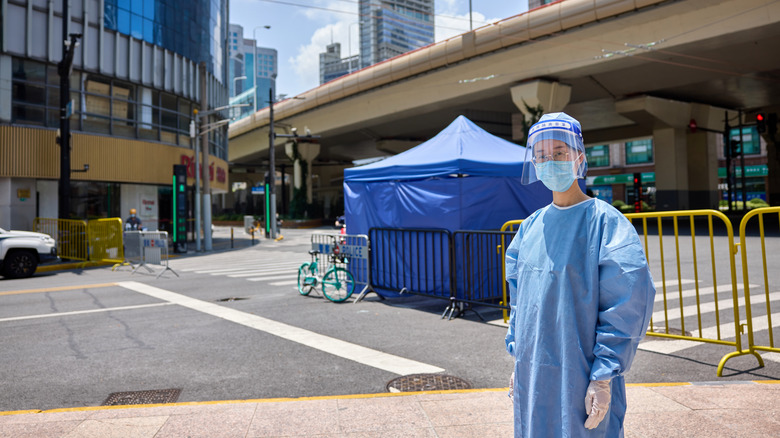 D-1 Vision/Getty Images
It's been three years since Wuhan, a city in central China, recorded its first case of COVID-19 (via NBC News). And now, they're once again experiencing a surge in cases of the deadly illness. But this time it's not quite the same as in 2019, and some experts think that it could signal the end of the pandemic.
Before this month, officials in China had enforced a strict "zero-Covid" policy, including rules like rapid lockdowns, mass testing, and stringent quarantines, according to the New York Times. While this strategy saved many lives throughout the pandemic, earlier this month protestors took to the streets and demanded that the government relax the measures. In a shocking move, Chinese officials abandoned the policies entirely, meaning that mass testing is no longer necessary in low-risk areas, people with mild symptoms can now isolate at home, and lockdowns have become far less restrictive.
And since then, cases of COVID have climbed drastically in China, although the country has stopped reporting its case numbers (via NBC News). Some countries, including the U.S., have imposed new restrictions on Chinese travelers, citing a lack of transparency from the Chinese government on the numbers of cases and deaths related to COVID.
China: COVID's final frontier
Graeme Kennedy/Shutterstock
Since China was virtually locked down for three years, COVID immunity is low and many people haven't seen the need for vaccination, including older adults (via NBC News). With the zero-COVID policy suddenly lifted and no gradual transition plan in place at all, cases are skyrocketing. And the peak is still to come, according to clinical virologist Dr. Siddharth Sridhar at the University of Hong Kong.
Dr. Sridhar also believes that China was one of the last places COVID had yet to spread. Since the outbreak is now happening, it won't have many other places to go after this, which could mean that it could be the pandemic's final frontier.
But with such an abrupt change in government COVID policy, many people in China are being thrown into even more uncertainty and chaos than when the pandemic first began, according to National Public Radio. With a lack of access to the global internet and conflicting messages from public health experts, continuing mass infections — and deaths — can be expected in China.