What To Know About Damar Hamlin's Critical Status After Cardiac Arrest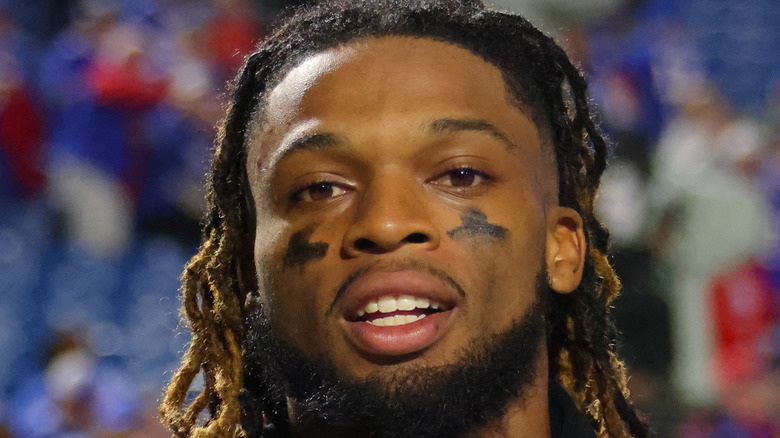 Timothy T Ludwig/Getty Images
Buffalo Bills safety Damar Hamlin is in critical condition after suffering cardiac arrest during Monday night's game against the Cincinnati Bengals, according to a statement from the Buffalo Bills. Hamlin was taken to the University of Cincinnati Medical Center after medical personnel restored his heartbeat on the field.
The NFL postponed the game, which surprised former NFL player Donté Stallworth. He told CNN that in the past, games would resume five or 10 minutes after a significant injury. According to Cincinnati.com, Buffalo Bills and Cincinnati Bengals fans held candles outside the entrance to the emergency room to show solidarity. The University of Pittsburgh and the Pittsburgh Steelers offered support for the Pennsylvania native and his family. Basketball star LeBron James and tennis legend Billie Jean King offered prayers for Hamlin's recovery (via NPR).
During the first quarter of Monday night's game, Hamlin tackled Bengals wide receiver Tee Higgins and got up from the tackle. He collapsed after his heart stopped (via CNN). Hamlin is 24 years old.
The difference between cardiac arrest and heart attack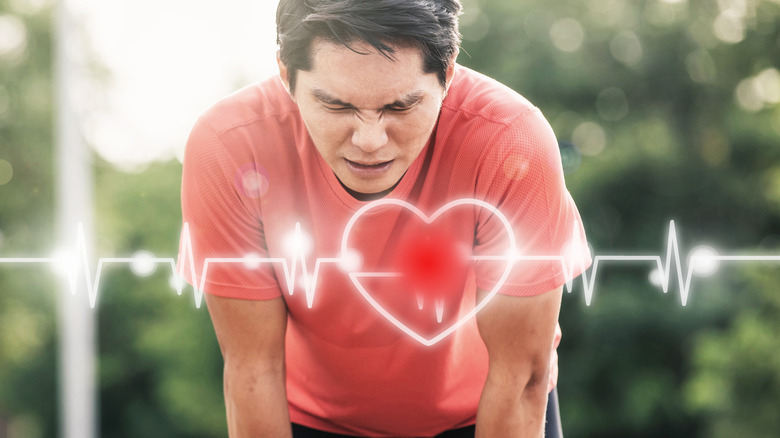 bluedog studio/Shutterstock
Although cardiac arrest and a heart attack are linked, the American Heart Association says they are not the same. A heart attack can cause cardiac arrest, and you are at greater risk for cardiac arrest after recovering from a heart attack. Cardiac arrest is, in essence, an electrical issue that can occur suddenly without warning. The heartbeat becomes irregular, and you lose consciousness because the heart can't pump blood to the brain. People can die within minutes after cardiac arrest if they don't receive CPR. Cardiac arrest results in 350,000 deaths outside of the hospital each year in the United States.
An emergency room specialist told CNN that hospital staff will be monitoring his breathing while on a ventilator to see if he can breathe on his own. The fact that medical personnel was able to restart Hamlin's heart on the field was critical for his recovery.