Why The FDA Revoked Its Emergency Authorization Of COVID Treatment Drug
Cryptographer/Shutterstock
The monoclonal antibody therapy, Evusheld, first became available towards the end of 2021 through emergency use authorization (EUA) by the U.S. Food and Drug Administration (FDA). Although not a cure for COVID-19, the drug has been used as a preventative measure amongst particularly vulnerable populations, such as those with compromised immunity.
In the years since, the FDA has continued to monitor the efficacy of Evusheld in the face of new developing variants. On January 6, 2023, the agency announced in a press release that they were awaiting data to confirm whether or not the medication was effective against the currently-circulating XBB.1.5 Omicron subvariant. Now, as of January 26, 2023, the FDA has issued a new update to the press release, announcing that the emergency use authorization of Evusheld has now been revoked in the U.S. for the foreseeable future, as research reveals the drug to be ineffective against the current strains of COVID-19.
Evusheld appears to be ineffective against current variants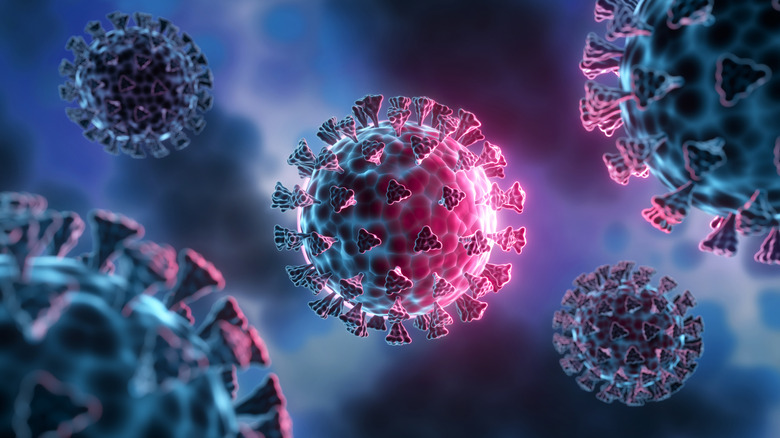 Peterschreiber.media/Getty Images
The decision comes as a result of the FDA's new qualifications regarding the use of Evusheld. As per the press release, the update states that the FDA will "limit [Evusheld's] use to when the combined frequency of non-susceptible SARS-CoV-2 variants nationally is less than or equal to 90%." With current variants now making up roughly 93% of new COVID cases, this exceeds the FDA's 90% limit, reports CNN. As of now, the agency states that the medication is not expected to neutralize the current variants, as per the press release. However, in the event that alternate variants that the drug is effective against begin to gain traction in the future, the FDA advises that all providers and facilities should keep their remaining stock of the drug in storage.
The FDA also highlighted in the press release that withdrawing the EUA of Evusheld will help limit the risk of potential side effects amongst patients during this time, including allergic reactions. Even without Evusheld authorized at this time, the agency emphasized that Paxlovid, Veklury (remdesivir), and Lagevrio (molnupiravir) are still available treatments to eligible patients who are at an elevated risk for severe cases of infection, as decided upon by their healthcare provider.