How You Can Take Part In The American Heart Association's CPR Challenge In Honor Of Damar Hamlin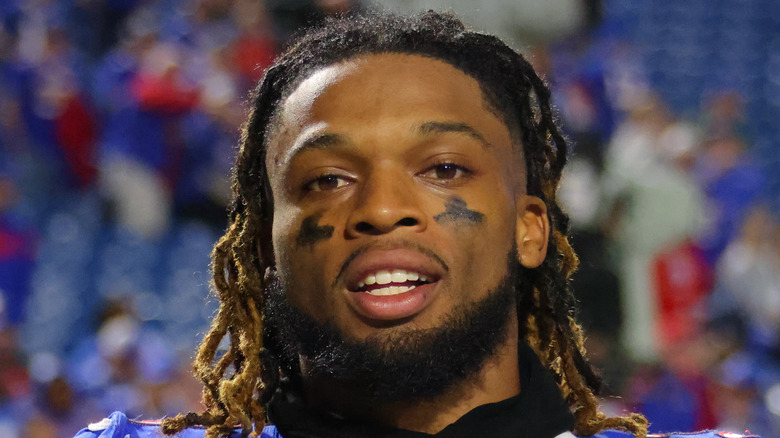 Timothy T Ludwig/Getty Images
Fans generally don't expect that they'll witness a medical emergency when they tune into an NFL game. But that's exactly what happened on January 2, 2023 when football fans sat down to watch the Buffalo Bills play the Cincinnati Bengals. Damar Hamlin, safety for the Buffalo Bills, suffered a sudden cardiac arrest on the field. Emergency personnel rushed the field, then hurried Hamlin to a hospital where doctors were able to treat and save the 24-year-old's life (via People).
Days later, Hamlin would take to his Instagram and thank everyone who had supported him in his recovery — namely, those who had saved his life the day he collapsed. Among those were the first responders that ran onto the field when Hamlin first collapsed. They performed CPR, which Hamlin credited with keeping him alive until he reached a hospital.
But Hamlin — who has already worked with Chasing M to fund a toy drive for Hamlin's home community — knows that not everyone will be so lucky. The American Heart Association explains that most cardiac arrests happen in the home. And, sadly, the majority of those happen around people who cannot perform CPR. Now Damar Hamlin is working with the American Heart Association to change that.
How to get involved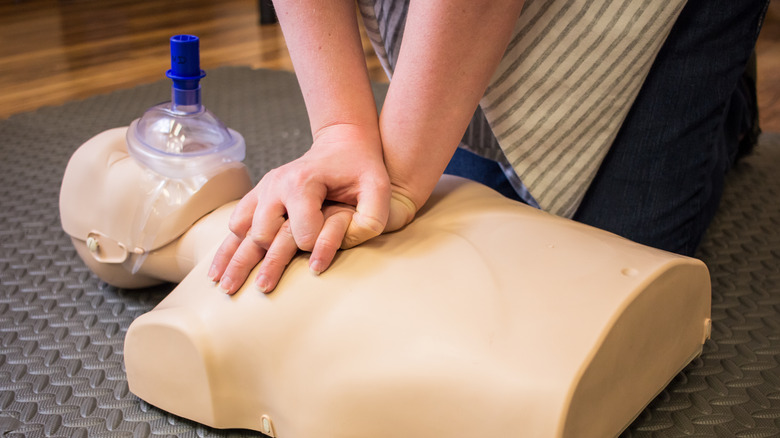 D_Townsend/Shutterstock
The initiative is known as #3ForHeart CPR Challenge, and it is Hamlin's way of helping to increase the odds that others will survive a cardiac arrest as he did. The American Heart Association's press release lists several ways that people can get involved. But for those who want to follow in Hamlin's footsteps, it works a little bit like the Ice Bucket Challenge from a few years ago.
Instead of dousing yourself in ice water, however, you just have to watch a video on hands-only CPR from the American Heart Association. Then, if you can, donate to the American Heart Association — whose funding often goes toward CPR lessons across the country. Even small donations add up quickly. Finally, tag three friends on social media and challenge them to follow the same three steps.
Hamlin kicked off his challenge by tagging LeBron James, Tom Brady, and former First Lady Michelle Obama. It's a challenge that can — and should — become as widespread as the Ice Bucket challenge, which ultimately generated around $115 million dollars in 2014 (via the ALS Foundation). And with Hamlin's challenge, there is an added benefit: As people watch the video to begin the challenge, they will already be better prepared should a loved one experience a cardiac arrest.