FDA Authorizes First US At-Home Combo Flu And COVID Test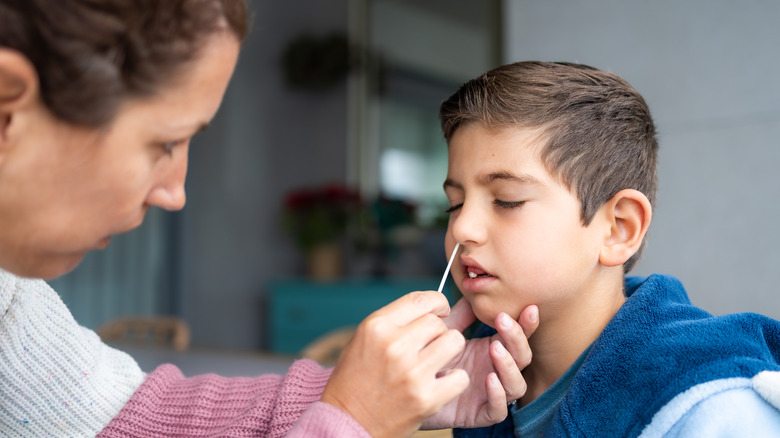 Coscaron/Getty Images
Particularly rampant during the colder months of the year, different kinds of respiratory infections can present with similar symptoms. Such symptoms include cough, fever, sore throat, fatigue, and more (via Cleveland Clinic). Both the flu and COVID-19 are among such infections that can present with these same symptoms.
For this reason, differentiating between the two illnesses can be tricky. However, doing so just became a little easier. On February 24, the U.S. Food and Drug Administration (FDA) announced in a public statement their approval for emergency use authorization of the first self-swab test that can be conducted at home to test for influenza A, B, and COVID. The test has been authorized for those at least 14 years of age, as well as those at least 2 years old (if conducted by an adult).
Dr. Jeff Shuren, director of the FDA's Center for Devices and Radiological Health, announced in the press release, "Today's authorization of the first OTC test that can detect Influenza A and B, along with SARS-CoV-2, is a major milestone in bringing greater consumer access to diagnostic tests that can be performed entirely at home."
How the combined flu and COVID test works
Carlos Pascual/Getty Images
As detailed in the press release, clinical studies revealed that the Lucira COVID-19 & Flu Home Test accurately detected over 99% of negative and over 90% of positive influenza A cases. Additionally, the test detected negative COVID-19 samples with 100% accuracy and positive samples with 88.3% accuracy. The test also correctly identified 99.9% of negative influenza B cases. Due to the fact that there were not enough actively-circulating cases of influenza B for testing at the time, the company will continue to collect real-world data.
Making the test even more convenient for users, the product does not require a prescription to obtain. Additionally, results are produced within one half-hour or less after the swab has been put in a vial to be placed in the test unit. 
To aid in public health reporting efforts, test users should report their results to their doctor. Patients should also consult with their physician if they test negative but continue to experience respiratory symptoms, as false negative and false positive test results can occur.
In the press release, FDA officials reiterated their dedication to at-home test advancement to further serve the needs of the public. "We remain committed to working with test developers to support the shared goal of getting more accurate and reliable tests to Americans who need them," Dr. Shuren stated.