Survey Finds Many Parents Have Lied About Their Child's COVID-19 Status
Zgel/Getty Images
When COVID-19 closed most schools across the United States, parents had to juggle working from home with helping their children attend school online. Once people returned to work and children were back in the classroom, guidelines regarding COVID testing and quarantine continued to stress out parents. Now, experts come to find that parents weren't being honest about their children's exposure to COVID and vaccination, explains a 2023 article in JAMA Network Open.
The study identified seven types of either misrepresenting or nonadherence to COVID policies. Misrepresentations included telling someone that their child might have or had COVID if that person came into contact with the child. Other misrepresentations were in regard to vaccination, such as telling people their children were vaccinated when they weren't or telling others their child wasn't vaccinated when they were. Nonadherence included not testing children when parents thought their children had COVID or allowing their children to shorten their quarantine.
The researchers surveyed 580 parents who had children younger than 18 years old and found that around one in four parents said they either misrepresented or didn't adhere to a COVID policy. The most common misrepresentation was failing to tell a person who was in contact with their child that the child might have (or had) COVID. About one in five parents who reported not adhering to or misrepresenting their child's COVID status said they allowed their child to break quarantine rules.
Why parents lied about their children's status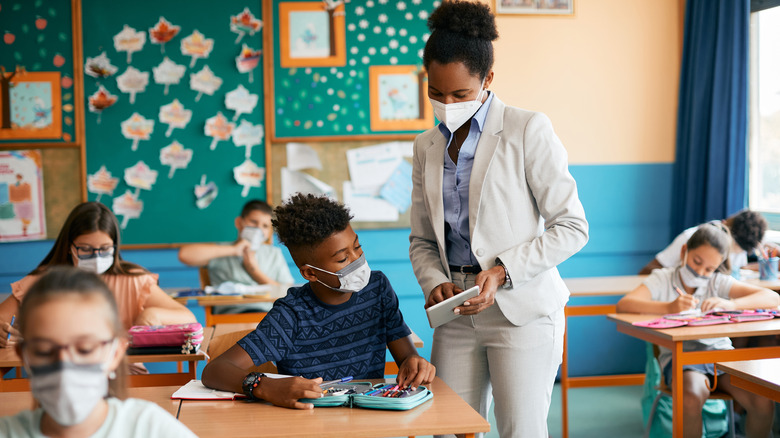 Drazen Zigic/Getty Images
More than half of the parents who admitted they misrepresented or broke COVID protocols said they wanted to exercise their personal freedom as a parent. Others said they wanted their child's life to be a little more normal or they didn't want to miss work to have their child stay home. Some parents told others that their children weren't vaccinated when they were because they were following guidance from people they trusted.
In a press release about the study, Angela Fagerlin, senior author of the study and chair of the Department of Population Health Sciences at the University of Utah Health, said that she could understand why parents wouldn't want their children to miss school. However, she said that even though parents might not believe their children were sick, they could be putting other children's health at risk by sending them into the classroom.
Even though around one in four parents admitted to lying about their children's COVID or vaccination status, the researchers believe that other parents might not have been honest about their survey responses. "Lying about lying is certainly a possibility," Fagerlin said. "If anything, 26% is probably the minimum number of parents who misrepresented their children's COVID-19 status during the pandemic."
The researchers said that employers need to do a better job of supporting their employees when it comes to their children's health, such as paid sick leave for family illnesses.