FDA Set To Greenlight Second COVID Bivalent Boosters For Seniors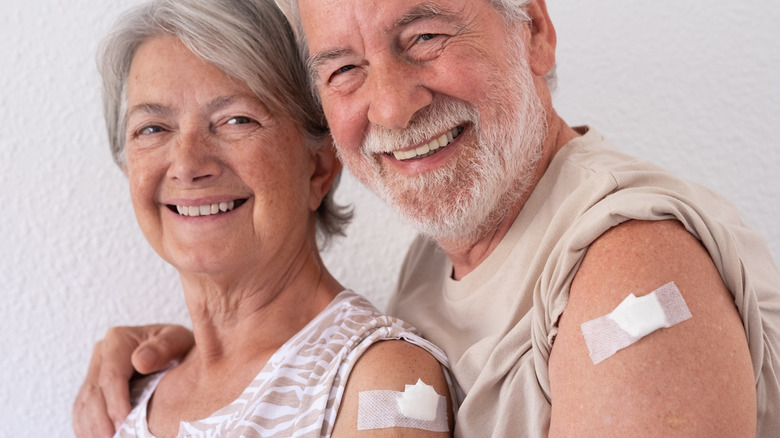 Lucigerma/Shutterstock
A second COVID-19 booster will soon be available to Americans over the age of 65, as well as those with weakened immune systems, according to The Washington Post. While the U.S. Food and Drug Administration (FDA) has yet to publicly announce the move, anonymous officials have suggested that the organization plans to do so within the next few weeks. Following the FDA's announcement, it's expected that the Centers for Disease Control and Prevention (CDC) will quickly follow suit.
The bivalent booster — which was first introduced to the public in August of this year — is designed to protect against omicron subvariants BA.4 and BA.5, as well as the original strain of the coronavirus (per WebMD). While U.S. officials previously had no plans of releasing a second round of boosters — instead focusing their efforts on an annual COVID booster campaign set to start this fall – NPR reports that they had a change of heart.
The second round of boosters will be available to eligible individuals who have had at least four months pass since receiving their last bivalent booster. This time around, the FDA is taking a "permissive" approach, making the booster available to those who wish to take it without specifically suggesting that they do (per The Washington Post). While 42% of adults over 65 opted to take the first booster, officials aren't sure how many people will be interested in the second dose — especially considering the controversial nature of the boosters.
Why a second bivalent booster is getting mixed reviews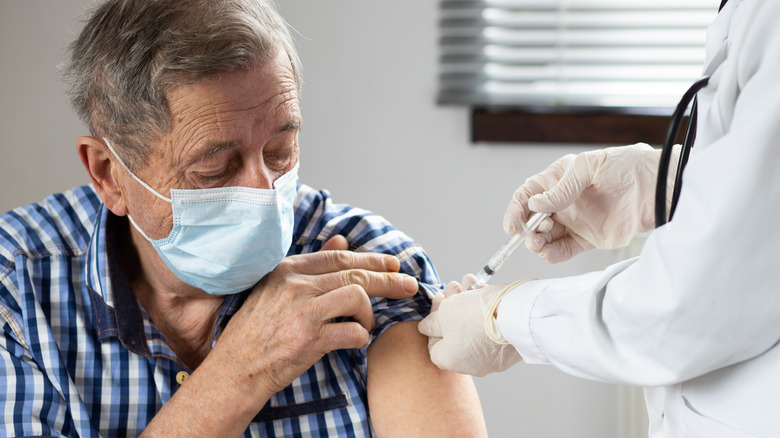 Melinda Nagy/Shutterstock
Proponents of the bivalent booster are happy with the decision, insisting that the second dose will provide high-risk individuals with further protection against COVID-19 as the effects of their previous booster begins to diminish. However, many others suggest that there is little evidence to suggest that the bivalent boosters are necessary or even effective (per The Washington Post). In fact, TIME reports that the bivalent booster is no more effective in producing antibodies against the omicron variants than the original vaccine.
What's more, according to a joint statement recently released by the CDC and the FDA, the bivalent booster has been linked to an increased occurrence of ischemic stroke in adults over 65. According to the report, in the 3 weeks after receiving the booster, people over 65 were more likely to suffer a stroke than they were in the following 22-44 days post-vaccination.
Officials told The Washington Post that individuals are expected to consult with their doctors before deciding whether or not the bivalent booster is right for them. The shots will be provided free of charge until the federal supply is gone, and even then, most people with private and public health insurance will still be able to get the boosters at no cost.