Is A Happy Viking Protein Shake Good For You?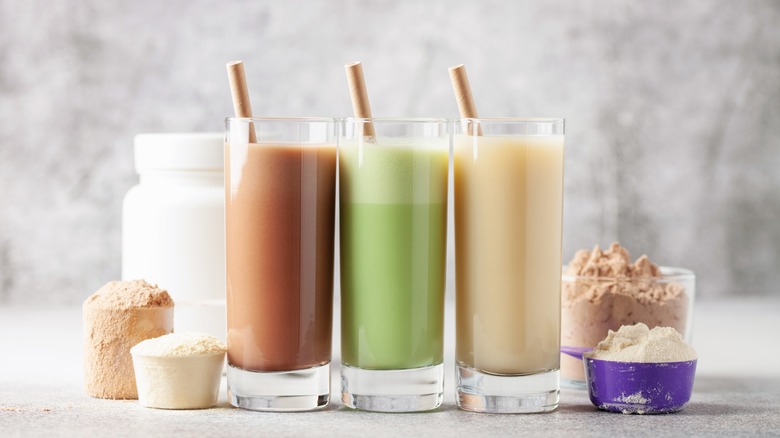 NatalyaBond/Shutterstock
When five-time Wimbledon champion Venus Williams was diagnosed with an autoimmune disease in 2011, she turned to a plant-based diet to improve her health. She created the Happy Viking protein shake as an all-in-one plant-based, meal-replacement drink that's free from dairy, lactose, soy, and gluten.
The triple chocolate shake has 150 calories, 5 grams of fat (3.5 saturated), 13 grams of carbohydrates, and 20 grams of plant-based protein. It also has 4 grams of fiber, 320 milligrams of sodium, and about 20% of your daily recommended vitamins and minerals. The shake also has one billion probiotics for gut health.
According to ReNue Pharmacy, a meal replacement shake should have at least 200 calories, so you might need to add a banana or almond milk to get some extra calories. A healthy protein shake should have at least 10 grams of protein and 3 to 5 grams of fiber, and Healthy Viking qualifies on both counts. ReNue also advises that healthier protein shake options will have no more than 10 grams of sugar and 10-15 grams of fat, so Happy Viking's 2 grams of added sugar and 5 grams of fat put it in good stead. Protein shakes are often fortified with at least 33% of the daily value of vitamins and minerals. Happy Viking runs just shy of many of these, and it also has about 10% of the daily value for calcium. It also has MCT oil and sunflower oil, which provide beneficial omega-3 fatty acids.
Other considerations for the Happy Viking protein shake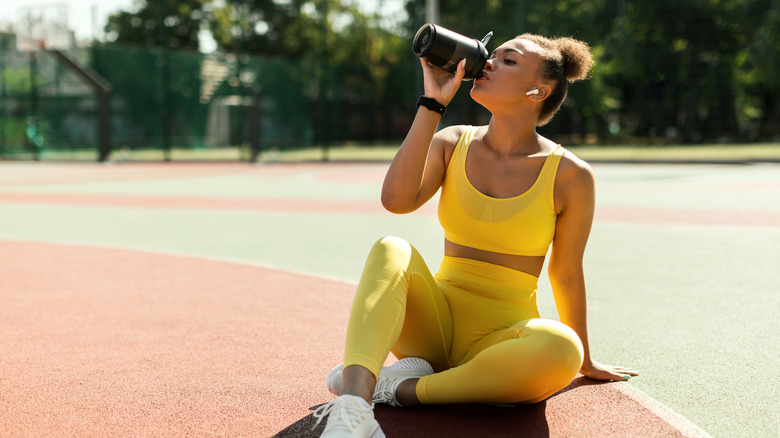 Prostock-studio/Getty Images
Happy Viking has two strains of probiotics, Bifidobacterium lactis and Lacticaseibacillus rhamnosus. According to the International Probiotics Association, Bifidobacterium lactis is typically found in yogurt, cheese, and buttermilk. This probiotic strain fights pathogens in your gut. Lacticaseibacillus rhamnosus is also a "good" probiotic because it might reduce inflammation while also preventing respiratory illness.
Happy Viking protein shakes also have sunflower oil and MCT oil. Sunflower oil is high in polyunsaturated fatty acids, which can reduce cholesterol and the risk of heart disease (via WebMD). MCT oil, which is derived from coconut oil, could make you feel more full and help with weight loss, but more research is needed. MCT oil is also digested easily so it can give you a quick source of energy, according to the Cleveland Clinic.
On the down side, although the Happy Viking protein shake has less than 2 grams of added sugar, it has erythritol. Erythritol is a sugar alcohol that can cause digestive issues because it's fermented by the bacteria in your colon (via Healthline). A 2023 study in Nature Medicine also found that erythritol in high amounts can increase the risk of blood clots.