Expert Tips On Finding The Right Mental Health Therapist For You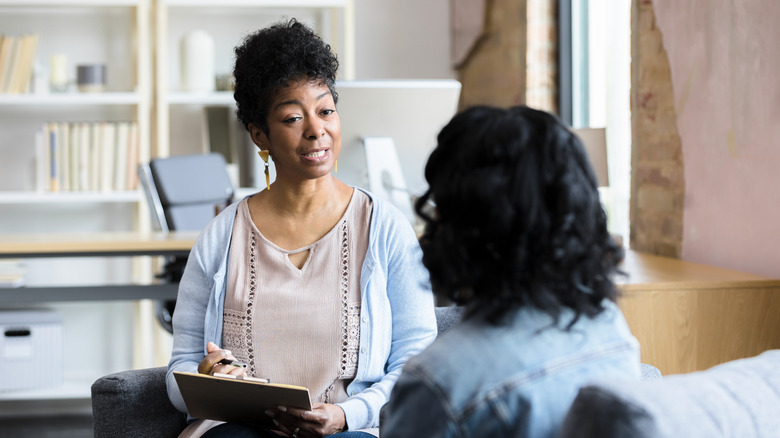 Sdi Productions/Getty Images
One out of every five people in the United States struggles with mental illness each year, according to the National Alliance on Mental Illness (NAMI). However, just half of these people seek help for their condition. It's a big step to admit you're struggling, and an even bigger step to take care of your mental health by seeking the help you need. Finding the right therapist will help you get your mental health — and your life — back on track. In an exclusive interview with Health Digest, Ohio State University Assistant Professor and Clinical Psychologist Dr. Jaryd Hiser offers his advice on what steps to take to find the right therapist.
Dr. Hiser said the first step is finding out whether your insurance covers mental health therapy. Some insurance companies have a list of mental health therapists that are covered under your plan. If you don't have insurance or your insurance policy doesn't cover therapy, you can still pay out-of-pocket for therapy. However, this can get quite expensive. He offers some suggestions for finding therapists if cost or access pose issues.
If you or someone you know needs help with mental health, please contact the Crisis Text Line by texting HOME to 741741, call the National Alliance on Mental Illness helpline at 1-800-950-NAMI (6264), or visit the National Institute of Mental Health website.
Finding a therapist at a reduced cost and better access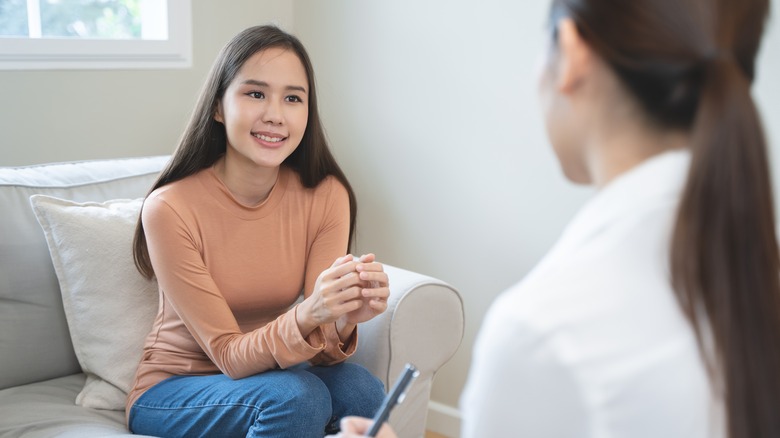 Pormezz/Shutterstock
Dr. Hiser says some therapists will base their rates on your income to help reduce costs. "Another thing people can look for is calling training clinics at university clinical or counseling psychology programs to see if they offer therapy to the public," Dr. Hiser said. "This would entail having a doctoral graduate student therapist who is supervised by a licensed therapist. This option can be substantially less expensive."
Some people in rural communities might find it difficult to access mental health care without traveling long distances. NAMI says people in rural areas often have to travel twice as far as people in suburban and urban communities. However, Dr. Hiser notes that a therapist can be just a phone or Zoom call away. "If you are in a rural area, lots of therapists are now doing telehealth visits (for example, on a secure form of Zoom) which can be used by anyone within the state of the provider," he said.
Dr. Hiser also points to some resources that may provide aid to specific communities. The Loveland Foundation focuses on supporting Black women and girls and offers a therapy fund to help pay for mental health services. Inclusive Therapists serves BIPOC and LGBTQ+ communities by allowing you to search for a therapist based on cultural knowledge, mental health focus, insurance, language, and location.
What to look for in a therapist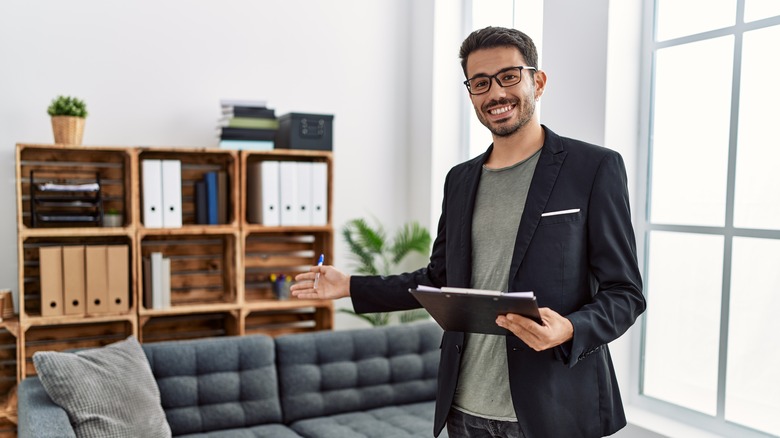 Krakenimages.com/Shutterstock
Dr. Hiser advises looking through a therapist's credentials to see if they list a specific evidence-based treatment, such as cognitive behavioral therapy. A therapist should also have methods to evaluate whether or not you're meeting the goals of your therapy.
You should look for a therapist whose qualities are important to you, but you should also feel comfortable sharing your experience with your therapist and be reassured that they are hearing and understanding your concerns. "I think open communication is vital in the therapeutic relationship, because therapists can only help you address things that they know you're dealing with," Dr. Hiser said.
Dr. Hiser also said it could be helpful if your therapist has similar cultural and lived experiences. "No two people are the same, and they don't necessarily need to be for therapy to work, but it can be helpful to seek out providers who identify as LGBTQIA+-allied, antiracist, etc., or to express a preference for a male or female therapist if you think that could help you feel more comfortable," he said.
Some therapists might not be a good fit for you, Dr. Hiser notes. If you don't find your mental health is improving or you don't feel you're being heard, find a new therapist. "It's nothing personal, and if you feel like you need to switch after a few sessions, that might be beneficial."