COVID-19's Emergency Status Has Ended. Here's What That Means For You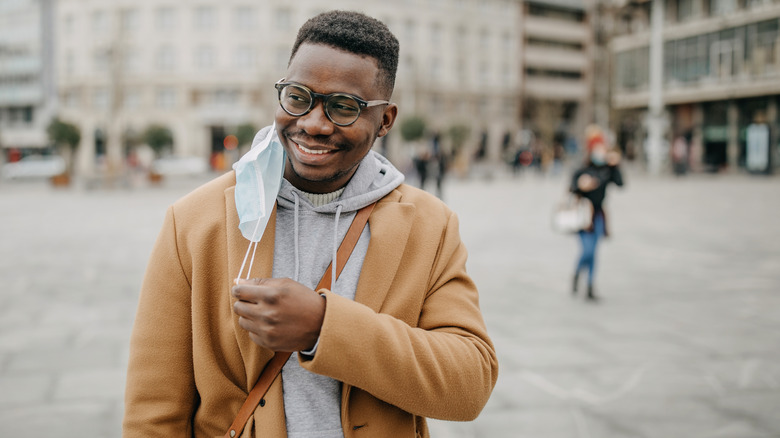 Supersizer/Getty Images
The federal Public Health Emergency (PHE) status for COVID-19 has come to an end. In a press release issued by the U.S. Department of Health and Human Services on May 9, health officials noted that the number of hospitalizations and deaths from COVID-19 have each dropped by more than 90% since the start of 2021.
While this doesn't mean that the virus has been eradicated in its entirety, it does mean that the pandemic no longer qualifies as a global emergency. "We are now in a better place in our response than at any point of the pandemic and well-positioned to transition out of the emergency phase and end the COVID-19 PHE," the agency outlined in the news release. In addition to increased access to testing and treatments, experts credited the administration's success in rolling out the country's largest adult vaccination program to date as a major contributing factor.
Similarly, the World Health Organization (WHO) recently determined COVID to no longer be a public health emergency of international concern (PHEIC), as announced in an official statement last week.
How costs may change
Portra/Getty Images
The HHS went on to outline in their press release what kinds of changes Americans can expect as a result of the PHE ending. Notably, this includes changes regarding insurance coverage of COVID-19 tests. While tests can still be obtained through COVIDtests.gov through the end of the month, full coverage by private insurance companies will no longer be required and will be decided upon at the discretion of the agency. Alternatively, test cost-sharing for Medicare Advantage plan members may change. Those with traditional Medicare coverage will only receive coverage for tests issued by a healthcare practitioner. State Medicaid programs will continue to provide coverage for tests and treatments through September 30, 2024.
Vaccine and treatment costs are also likely to change as the administration moves these products onto the traditional healthcare market in the approaching months. People may also experience changes in covered telehealth services. Those with Medicare insurance can expect continued telehealth coverage through December 2024.
As for any regulatory changes, government officials will still be able to enact Emergency Use Authorizations (EUAs) related to COVID as needed. However, they will be scaling back on the breadth of data collection. "COVID is going to be with us, but we know how to live with it in a way that need not cause disruption, need not put people in the hospital — or worse," coronavirus response coordinator Dr. Ashish K. Jha stated publicly, as reported via The New York Times.