FDA Gives The All-Clear To New Drug That Combats Menopausal Hot Flashes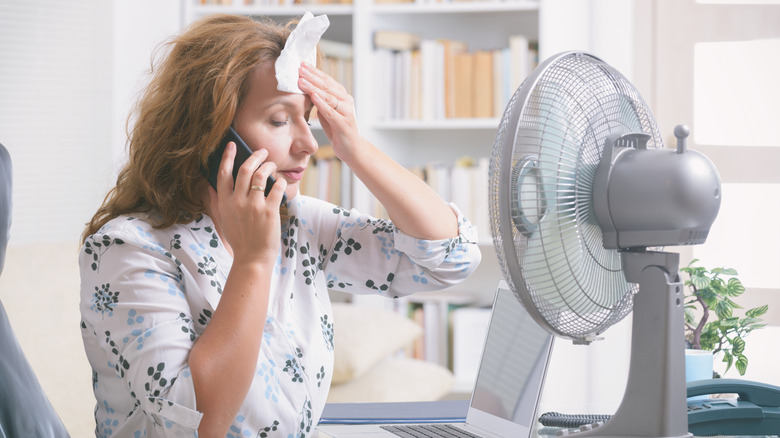 Humonia/Getty Images
For women over 40, help is on the way. The U.S. Food & Drug Administration (FDA) approved a medication to treat that temporary internal combustion known as the menopausal hot flash. About 80% of women in perimenopause or menopause experience hot flashes, which are characterized by sweating, flushes, or chills for up to several minutes. Although some women take hormone replacement therapies to treat their menopausal symptoms, some women can't take hormone therapies because of their medical history such as hormone-sensitive cancers. Unlike hormone therapies, the non-hormonal drug Veozah (fezolinetant) works by binding to the receptors in the brain that regulate body temperature.
"Hot flashes as a result of menopause can be a serious physical burden on women and impact their quality of life," said Janet Maynard, M.D., M.H.S., director of the Office of Rare Diseases, Pediatrics, Urologic, and Reproductive Medicine, in the FDA's Center for Drug Evaluation and Research, in a news release. "The introduction of a new molecule to treat moderate to severe menopausal hot flashes will provide an additional safe and effective treatment option for women."
Risks and side effects of Veozah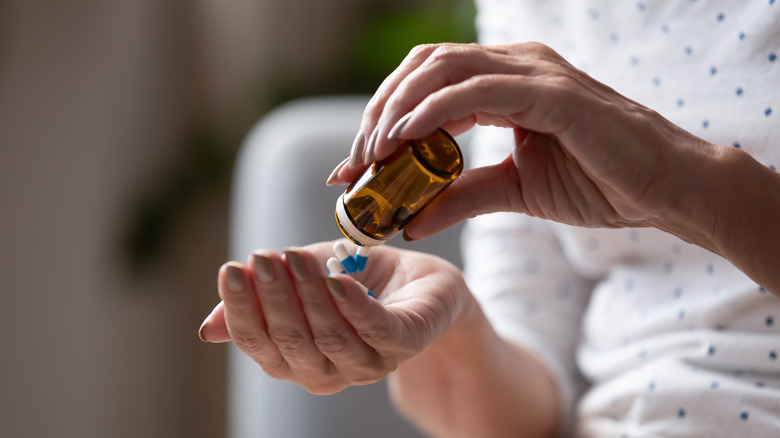 fizkes/Shutterstock
According to a 2023 study in The Lancet, Veozah was found to be safe and effective in treating moderate to severe hot flashes in more than 2,000 women. Compared to participants who took a placebo, women taking Veozah noticed a decrease in the frequency and severity of their hot flashes after just four weeks. This effect continued for a year.
Before taking Veozah, your doctor should know of any liver, kidney, or other medical issues, as well as any medications or supplements you're taking, according to a news release from the drug's manufacturer, Astellas. Because the drug can increase liver blood test values, your doctor will need to check your liver and retest every three months for the first nine months while taking Veozah. Side effects also include abdominal pain, diarrhea, insomnia, and back pain.
Although less than half of the women taking Veozah saw relief for their menopausal hot flashes, experts in women's health tell NBC News that it's a good option for those who want a non-hormone treatment. Hormone replacement therapy is 90% effective in treating hot flashes. The drug's cost — $550 a month before insurance — might also limit the drug's accessibility to many menopausal women. Because Veozah only blocks the brain's body temperature receptors, it doesn't treat other menopause symptoms such as vaginal dryness or thinning bones.