The Popular Iced Tea Brand That Has More Sugar Than A Can Of Coke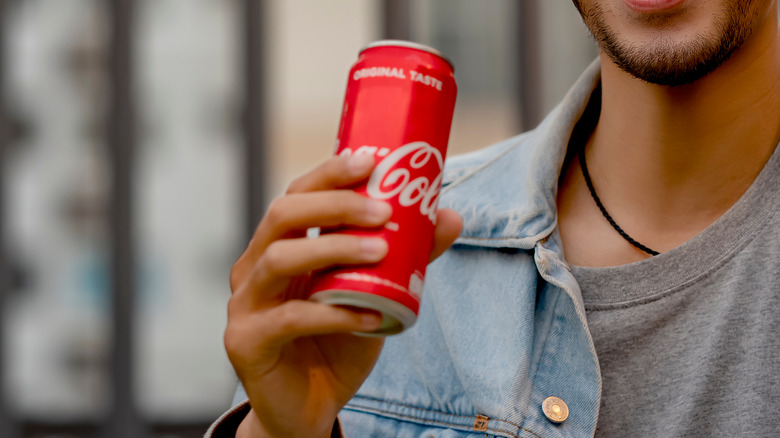 15Studio/Shutterstock
When feeling thirsty on a hot and sunny day, you might find yourself craving something a little more flavorful than just water. Is it possible that juice, iced tea, or maybe soda would hit the spot?
In a 12-ounce can of Coke, you'll find various ingredients such as high fructose corn syrup, caramel color, carbonated water, caffeine, and more (via Coca-Cola). More specifically, you'll find exactly 34 milligrams of caffeine, 45 milligrams of sodium, and 140 calories. For all its bubbly goodness, however, Coke can harbor quite a bit of sugar. According to the Harvard T.H. Chan School of Public Health, Coke falls into The Nutrition Source's "red" category, which they define as beverages that are best consumed only on occasion (as opposed to the green or yellow categories). Coke falls into the red category because it contains more than 12 grams of sugar in a 12-ounce can. In fact, one can of Coke has 39 grams of sugar.
If you're someone looking to keep their sugar intake low, you might consider reaching for a different summertime beverage, such as a refreshing iced tea. However, there is one brand of iced tea that outranks Coke when it comes to sugar content: Snapple. 
The sugar content of Snapple iced teas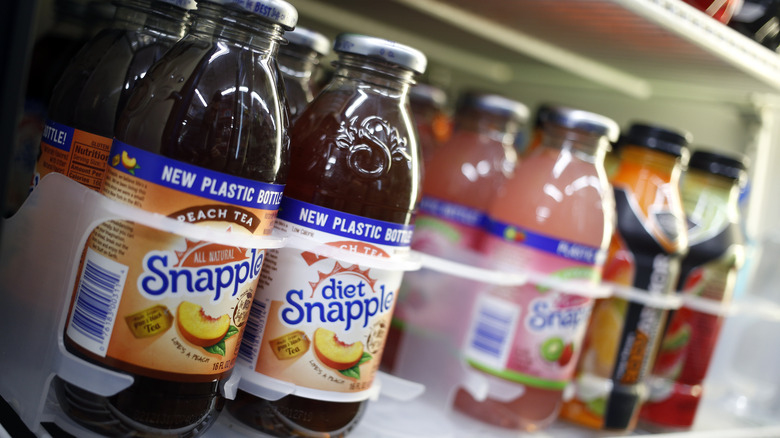 Bloomberg/Getty Images
Snapple offers a variety of different juice beverages, ranging from lemonade to grapeade and everything in between (via Snapple). While it's easy to assume that their fruity-flavored juices would be packed with the greatest amounts of sugar, many of the company's iced tea products can instead give Coke a run for its money.
In a 16-ounce bottle of Snapple Peach Tea, for instance, you'll find 160 calories and 40 grams of sugar. The same is true for Snapple's Honey Sweet Tea product. While the difference between a single can of Coke and a bottle of either of these two Snapple flavors may come down to just 1 gram of sugar, these numbers can rise when you look at some of Snapple's other iced tea flavors. For example, in a 16-ounce bottle of Snapple's Half n' Half Lemonade Iced Tea, you'll find 210 calories and 51 grams of sugar. 
Knowing this, are there any Snapple iced tea products that aren't the sugary equivalent (or more) of a can of Coke?
Snapple zero-sugar products
ZikG/Shutterstock
While still relatively high in sugar, a 16-ounce bottle of Snapple Raspberry Tea does fall below Coke's 39 grams of sugar, with a total of 36 grams of sugar (via Snapple). Additionally, Snapple also offers zero-sugar beverages, which underwent rebranding in 2022 from what was previously known as Diet Snapple, reports Food & Wine. Zero-sugar options are available in Snapple's Raspberry Tea, Half n' Half Lemonade Iced Tea, Takes 2 to Mango, Trop-A-Rocka, Lemon Tea, and Peach Tea.
"The decision to reposition Diet Snapple to Snapple Zero Sugar was a choice made to deliver on our consumer's needs," said Katie Webb, vice president of brand marketing for Keurig Dr Pepper, the company that owns Snapple, in an interview with Food & Wine. "We're committed to the innovation behind the better-for-you zero sugar that still delivers the same great taste that our consumers have known and loved for decades."
Even so, some health experts believe consumers may be better off with different brands of iced tea altogether, such as Pure Leaf's Unsweetened Black Tea, writes registered dietitian Heather Martin (via TODAY). That, and good old-fashioned H2O, of course.