V8 Juice Has More Protein Than You'd Expect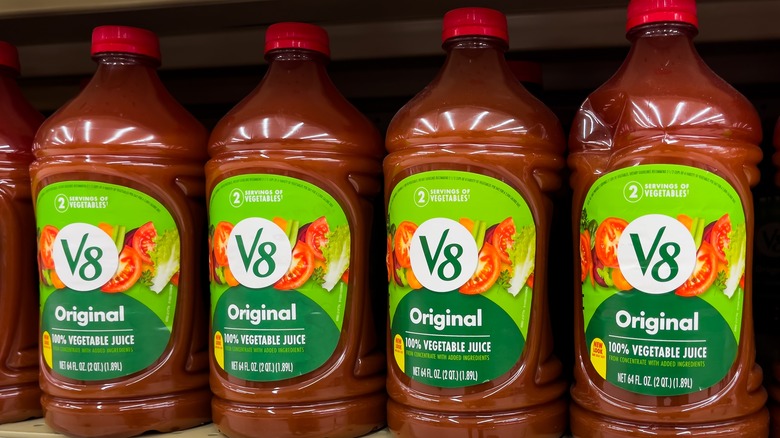 The Toidi/Shutterstock
If you've never been a fan of vegetables — cooked or raw — it doesn't mean you're out of luck when it comes to getting all the nutrients that veggies have to offer. Rather, there is a third option: drinking your vegetables. Companies like V8 have created beverage products specifically for this purpose. "At V8, our mission for over 80 years has been simple: make it easy for everyone to get tasty veggies," their website reads.
Resembling a bottle of tomato juice, drinking an 8-fluid-ounce serving of V8 is the equivalent of eating two servings of vegetables (via V8). Rich in vitamin A and C, you'll also find 2 grams of fiber, 40 milligrams of calcium, and 470 milligrams of potassium. While it makes sense that a vegetable juice would contain higher levels of these nutrients, you might be surprised to know that V8 harbors a decent amount of protein, too.
Different V8 beverages have different amounts of protein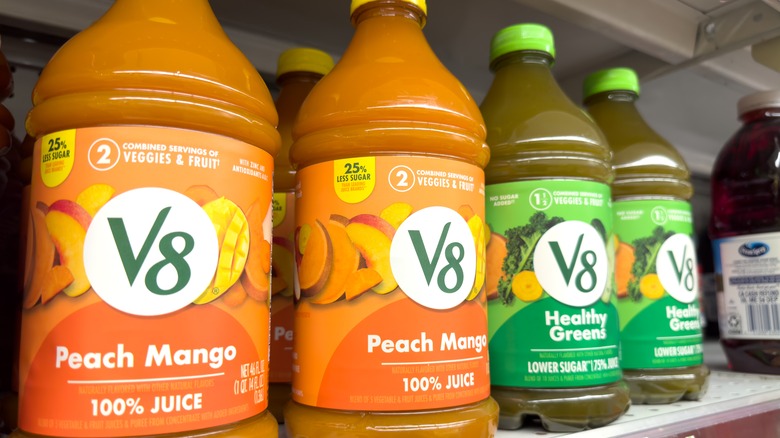 The Image Party/Shutterstock
Everyone's protein needs will be different. Factors that influence one's recommended daily protein intake include weight, how old a person is, whether they are diagnosed with any health conditions, and much more (via Healthline). Generally speaking, however, it's suggested that the average person consume approximately 50 grams of protein each day. In an 8-ounce serving of V8 Original 100% Vegetable Juice, you'll find 2 grams of protein. With that amount, starting your day off with a V8 Vegetable Juice beverage gives you a nice little head start.
However, not all V8 juice drinks are made equal when it comes to protein. For example, in an 8-ounce serving of V8 Pomegranate Blueberry Juice, you'll find less than 1 gram of protein (via V8). The same is true for V8 Peach Mango Juice, V8 Acai Mixed Berry Juice, and V8 Strawberry Banana Flavored Juice. Even worse, if you're a fan of energy drinks, you'll find no protein whatsoever in V8 +Energy Drinks. This includes their Sparkling Orange Pineapple, Sparkling Strawberry Kiwi, Sparkling Black Cherry, and Sparkling Lemon Lime energy drink flavors.
You'll get the most protein out of V8 Vegetable Juice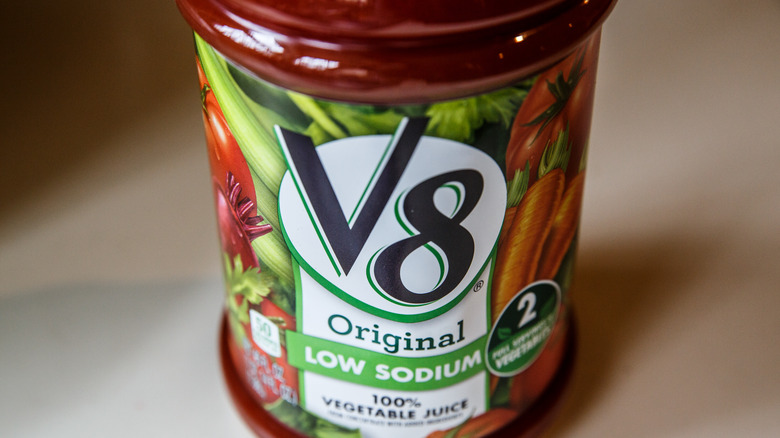 Julie Thurston Photography/Getty Images
You'll do a little better with products such as V8 Beet Ginger Lemon Juice or V8 Healthy Greens Juice, both of which contain 1 gram of protein (via V8). If you want the most protein that V8 has to offer, however, you're better off sticking with V8 Spicy Hot Vegetable Juice, V8 High Fiber Vegetable Juice, V8 Low Sodium Vegetable Juice, or, as previously mentioned, V8 Original 100% Vegetable Juice. All of these beverages contain 2 grams of protein.
Although V8 Vegetable Juice has more protein than you might have expected, it's important to be aware that these beverages also pack a fair amount of sodium. Caitlin Wong, a master's candidate at the Friedman School and a Frances Stern Dietetic Intern, notes this in the Tufts University Health & Nutrition Letter. "If there is anything to worry about with V8 Juice, it is probably the sodium content ([640] milligrams per serving), which might lead you to pick low-sodium V8 (140 milligrams per serving) instead."