Suzanne Somers' Cause Of Death Explained
Jamie Mccarthy/Getty Images
Suzanne Somers, the actress who co-starred in the 1970s show "Three's Company," died of breast cancer on Sunday at her home in Palm Springs, California. She was 76.
Somers passed away with her family by her side. They had originally gathered together to celebrate Somers' 77th birthday on October 16, and her husband said they had spent six weeks prior in the Midwest for intense physical therapy before returning home (via People).
According to her publicist, Somers had dealt with "an aggressive form of breast cancer for over 23 years." She was first diagnosed with breast cancer in 2000, using traditional and alternative therapies to restrain the disease. Somers said in a statement to Fox News that her cancer returned this July. "Like any cancer patient, when you get that dreaded, 'It's back,' you get a pit in your stomach," she said. "Then I put on my battle gear and go to war. This is familiar battleground for me, and I'm very tough."
She added that she adopted a lifestyle that included organic food, which can reduce the risk of breast cancer, and used beauty and cleaning products that were free from toxic chemicals.
Invasive breast cancer is more likely to recur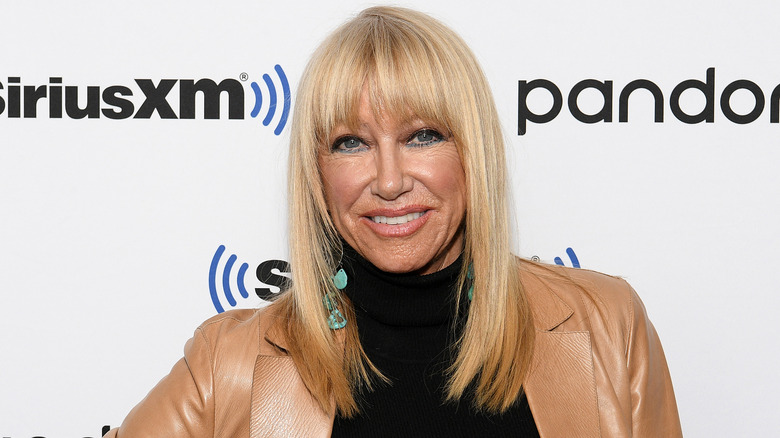 Dia Dipasupil/Getty Images
Suzanne Somers' first encounter with breast cancer was "treated with a lumpectomy and radiation," according to Cure. She resisted chemotherapy, and instead relyed on a healthy lifestyle free of chemicals (via Associated Press).
According to Healthline, aggressive breast cancers are more likely to recur and more difficult to treat. Inflammatory breast cancer (IBC) blocks lymph vessels in the breast and accounts for up to 5% of people with breast cancer. Triple-negative breast cancer (TNBC) is the second type of aggressive breast cancer and affects 10% to 15% of people with breast cancer. If your breast cancer is treated with a lumpectomy and radiation, your risk of breast cancer returning can be as low as 3% and as high as 15%. The likelihood of breast cancer recurring is within two years after you were first diagnosed, and your risk declines over time.
Somers also battled hyperplasia in her uterus, which is a precancerous condition. She then developed malignant melanoma in her 30s (via CBS News).