Where Is GOGA Goat Yoga From Shark Tank Season 10 Today?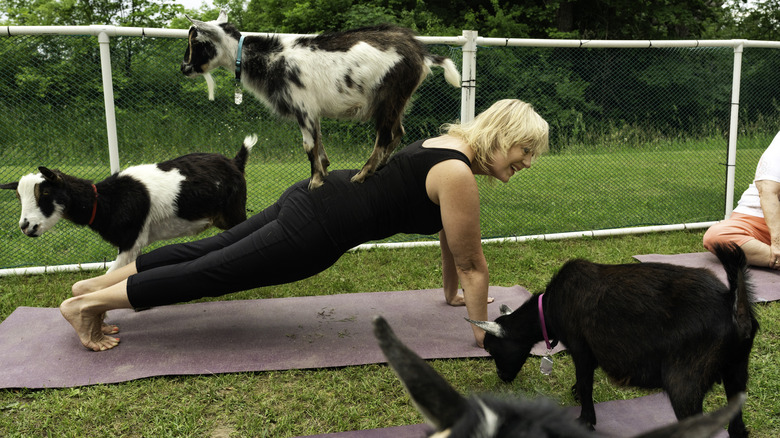 Wanderluster/Getty Images
GOGA Goat Yoga, a company that combines the serenity of yoga with the charm of baby goats, has captured the imagination of many since its inception in 2017. Founded by Rachael Phillips and Trey Kitchen in the heart of Austin, Texas, the pair's journey into the world of goat yoga was inspired by Phillips' introduction to goats through Kitchen's mother, Roxie Banker, a true "crazy goat lady." After Hurricane Harvey in Texas, the founders of GOGA came up with the idea to raise funds for the victims. 
At its core, goat yoga is a unique and joyful experience that combines the serenity of yoga practice with the presence of adorable and mischievous baby goats. This unconventional concept has rapidly gained popularity for its ability to create an atmosphere of fun, relaxation, and well-being. The goats, with their playful antics and affable nature, add an extra layer of charm to the traditional yoga experience. GOGA Goat Yoga's innovative approach not only helped them achieve their goal but also earned them recognition from various local and regional media outlets that led to their appearance on Shark Tank.
What happened to GOGA Goat Yoga on Shark Tank?
John Lamparski/Getty Images
In 2019, GOGA Goat Yoga ventured into the high-stakes waters of Shark Tank during Season 10. Phillips and Kitchen faced the panel of investors requesting $500,000 in exchange for a 15% equity stake in their growing enterprise. They kicked off the pitch with an energetic introduction to their unique business model, where yoga enthusiasts could practice surrounded by adorable baby goats. 
The Sharks were quite engaged throughout the pitch, providing both praise and skepticism. Robert Herjavec and Lori Greiner brought humor and spontaneity when they were willing to try goat yoga during the meeting. Guest Shark Alli Webb asked about the benefits. 
"Animals naturally bring you to the present, and they are very therapeutic," Phillips answered. "So a lot of the times, we have people come to our classes and say, 'This is exactly what I needed after a stressful week" or, "I just had a death in the family, and this really helped me cope with that."
Webb and Herjavec stated that the idea seemed "gimmicky." Despite his skepticism about the business model, Mark Cuban provided some valuable advice on how to expand the company. Ultimately, they didn't secure any investment but left the tank with valuable feedback and insights from the experienced panel of investors.
GOGA Goat Yoga after Shark Tank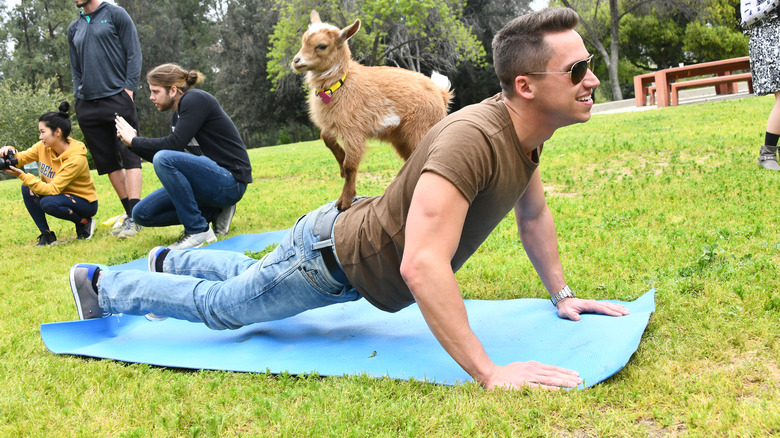 Araya Doheny/Getty Images
Even though the Sharks didn't invest, the founders never gave up, and the business kept on growing. Their passion for their one-of-a-kind idea showed in their efforts to broaden their class offerings and connect with new customers. This helped them share their fun and creative experiences with more people, and they've been thriving ever since. The feedback and insights provided by the experienced entrepreneurs on the panel were valuable, and GOGA Goat Yoga took them to heart, using them to refine and strengthen their business model. 
"In terms of what's next for us, we plan to increase our Goat Yoga class offerings, as well as focusing on getting our yoga studio in the Hill Country Galleria off the ground," Phillips and Kitchen told Culture Map in a statement. "After that, we can hopefully get a full time yoga studio in the downtown area up and running, then maybe a couple more in the greater Austin area."
Is GOGA Goat Yoga still in business?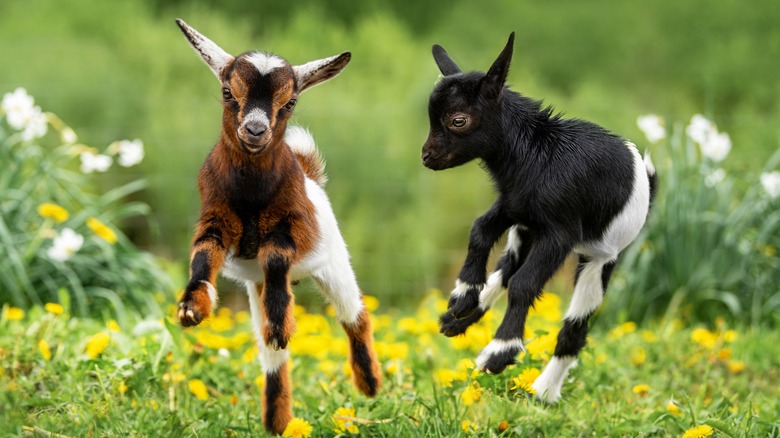 Rita_Kochmarjova/Shutterstock
GOGA Goat Yoga has remained in business since its inception and memorable appearance on Shark Tank. Phillips, Kitchen, and Banker worked tirelessly to overcome all the challenges and opportunities of entrepreneurship, and their hard work has paid off. Today, GOGA Goat Yoga continues to thrive, proving the enduring appeal of its unique concept.
According to their website and social media pages, GOGA Goat Yoga currently operates only one studio, which is located in the Hill Country Galleria in Bee Cave, Texas. The studio offers heartwarming and entertaining goat yoga classes for $30 per person, with private event options available. The experience is truly one of a kind, and a testament to the founders' unwavering commitment to providing unique and amazing wellness experiences.
It's important to note that the baby goats that participate in events hosted by GOGA Goat Yoga are Banker's beloved pets that reside at her property in Hamilton, Texas. The goats are pampered and well-loved, and it shows in their playful and affectionate behavior during the classes.