Here Are The Potential Side Effects Of A COVID-19 Vaccine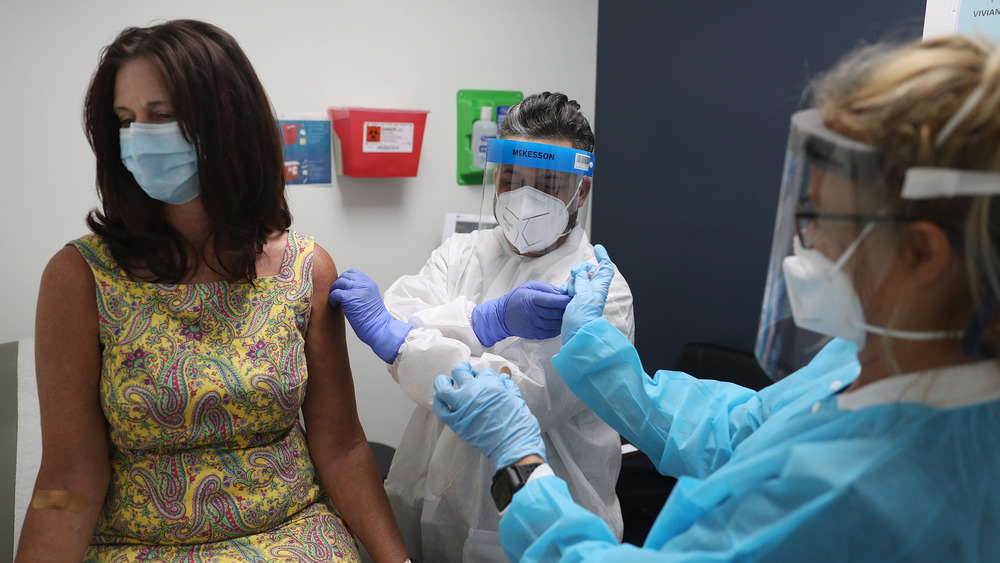 Joe Raedle/Getty Images
As two potential COVID-19 vaccines show promising results, health officials say there's another hurdle to their two-dose process: The side effects might be so unpleasant after the first dose that people might not want the second one (via CNBC).
The two potential COVID-19 vaccines that Moderna and the team of Pfizer and BioNTech have developed each will require two doses. That's not unusual, say infectious disease specialists, noting that multiple doses of a vaccine at the outset are fairly standard to trigger the immune system's protective response effectively.
Both Moderna and the Pfizer/BioNTech teams say that their vaccines have shown to be about 95 percent effective in clinical trials with no major safety concerns. But getting Americans to take the second dose might be difficult because of the side effects, officials from the Centers for Disease Control and Prevention's Advisory Committee on Immunization Practices (ACIP) said in a virtual meeting.
"We really need to make patients aware that this is not going to be a walk in the park," Dr. Sandra Fryhofer of the American Medical Association, who is an ACIP liaison, said during the meeting. "They are going to know they had a vaccine. They are probably not going to feel wonderful. But they've got to come back for that second dose."
Side effects are similar to mild COVID-19 symptoms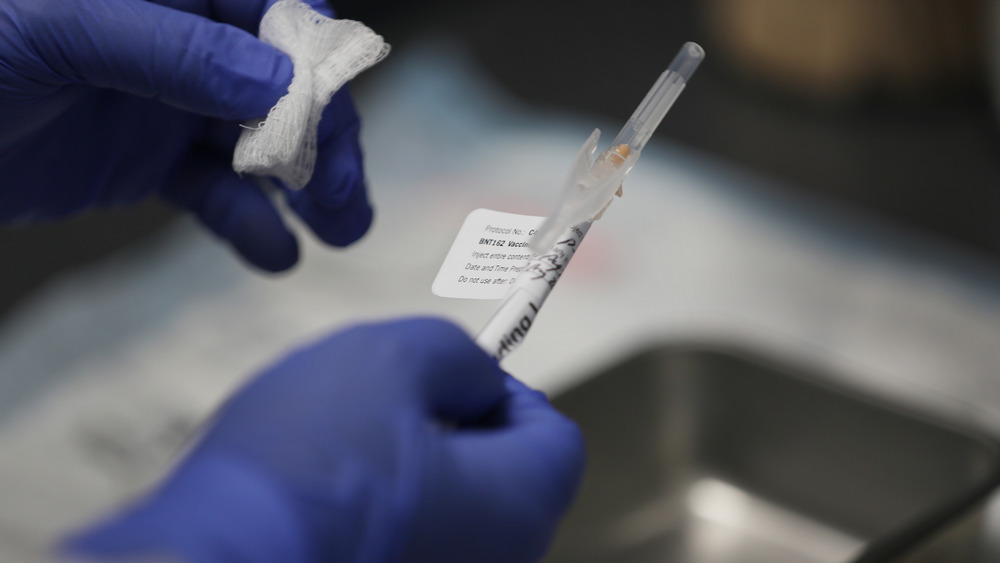 Joe Raedle/Getty Images
Volunteers in both Moderna and the Pfizer/BioNTech vaccine trials told CNBC that they experienced body aches, exhaustion, bad headaches, and other symptoms after receiving the vaccines. The symptoms were uncomfortable and at times intense, but the volunteers said they often eased after a day. The pharmaceutical companies have acknowledged that the vaccines have side effects similar to mild COVID-19 symptoms, including chills, headache, and muscle pain — and this is by no means exclusive to COVID-19 vaccinations, as many vaccines have similar minor side effects (via CDC).
In a poll from Ipsos released Tuesday, 51 percent of respondents said they would take a first-generation coronavirus vaccine immediately once it becomes available (via The Hill). Seventy percent of respondents said they would take such a vaccine with the endorsement of public health officials.
According to Johns Hopkins University of Medicine, which is tracking cases worldwide, the coronavirus has infected more than 12 million people nationwide this year and led to more than 250,000 deaths in the United States. Currently, 11 vaccines are in late-stage trials, including four in the United States (via The New York Times).
Officials already have noted there are other potential concerns about the two-dose vaccine process (via The Verge). Essentially, those who want the vaccine would need to book time off work, arrange for childcare, and get an appointment for the injection itself — twice. Also, the Pfizer vaccine would need storage and distribution in extreme cold, which means there is an extra need for medical-grade freezers and dry ice.