How To Do Banded Squat Variations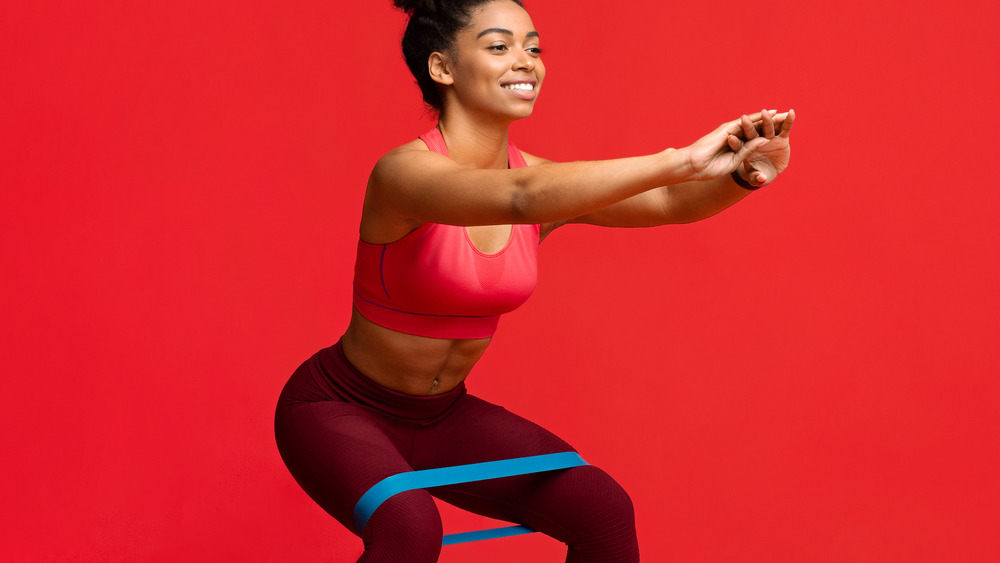 Shutterstock
Squats are a great exercise to work your glutes and lower body, but they can become too easy over time. Banded squats can add some difficulty and work more muscles, but what about when that gets too easy? Try some banded squat variations to add difficulty again.
Get the proper form down to avoid injury and make sure you're getting the most out of your squat exercise. Keep your back straight, face forward, feet hip-width apart (sometimes a bit more for these banded squats), core engaged, and hands in front of you or on your hips (via Prevention). If you find that you're hunching your back or buckling your knees, start over. Use a lighter band and focus on your form. Avoid these common squat mistakes. If you can't do it properly, you may need to keep doing more traditional banded squats before returning to the variations in a couple of weeks.
You'll need some looped resistance bands for these exercises. They usually come in a package of four or more, and each band has varying strengths from extra light to extra heavy (via Verywell Fit). The extra light will be easiest, so start with that one until you can switch it out for a more difficult one. You will also need a mini resistance band for a few of these squat variations that call for the band to be above the knees.
Four banded squat variations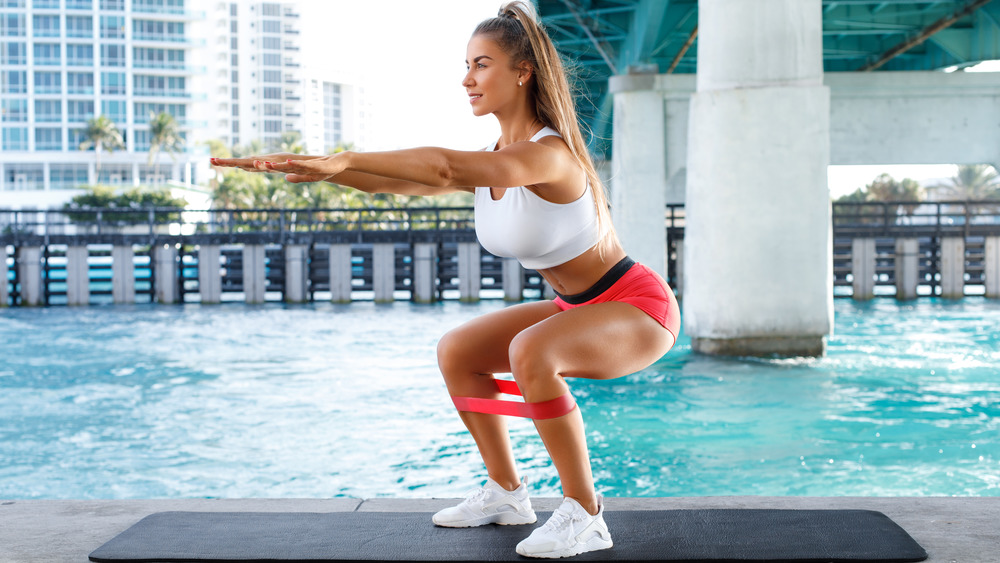 Shutterstock
Work your outer thighs and hamstrings with a banded squat with leg lifts. Put your looped band around your ankles. Perform a squat, and when back in the standing position, lift your right leg behind you — alternate legs for each lift.
Target your outer thighs with a lateral banded squat walk. Put the looped band around your ankles and lower yourself into the squat position. Pause there and step to the right with your right foot, then left, then right, then left. Then walk sideways in the other direction.
Banded squats with side leg lifts will also target your outer thighs, hamstrings, and hip abductors. Place your mini looped band around your legs just above your knees. Do a squat as usual, but lift one leg out to the side when you come into the standing position. Switch legs each time (via ProsourceFit).
Banded butterfly squats target your calves, inner thighs, quads, and hip abductors. Place your mini looped band just above your knees. Lower yourself into a squat and pause. Lift your heels and pivot on the balls of your feet to move your knees outward. Bring your heels back to the floor and pivot your knees so they are facing forward again. Return to the starting position.