The Surprising Way Experts Say The Super Bowl Could Be A Superspreader Event
Shutterstock
With the spread of the COVID-19 virus in 2020 now rolling over into 2021, both state and federal government officials are urging citizens to limit contact with those outside of their own households. Being in close physical contact with others is the No. 1 way to spread the virus and the risk increases when not wearing proper Personal Protective Equipment (PPE), like face masks, or not abiding by social distancing guidelines. Over the course of the holiday season, from Halloween through New Year's, we saw cases of COVID-19 spike across the country as friends and families gathered for special occasions. Though the bulk of the celebratory months are behind us, experts urge us to continue to be cautious and to not let our guard down when it comes to social gatherings. Another popular event is fast approaching on Sunday, February 7th, and that's the highly anticipated Kansas City Chiefs vs. Tampa Bay Buccaneers Super Bowl Sunday game.
According to TMZ Sports, Los Angeles coronavirus experts have urged citizens to refrain from gathering for football celebrations as it is likely that such parties will lead to the increased spread of the virus. With L.A. currently experiencing some of the highest numbers of COVID-19 cases in the country, officials are raising public awareness of just how urgent the situation is. L.A. County public health director Barbara Ferrer had this comment to make in a recent announcement, "It will be tragic if the Super Bowl becomes a super-spreader of coronavirus."
What is a superspreader event?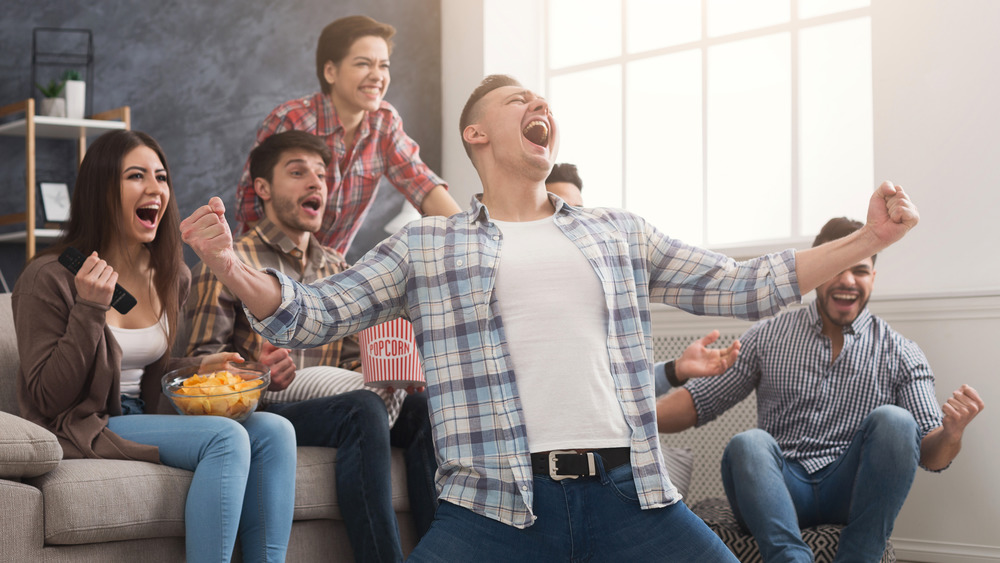 Shutterstock
As defined by experts at the Cleveland Clinic, "superspreader events are gatherings of people where even just a single infection spurs a large outbreak among attendees." While smaller, more intimate gatherings do still pose a risk, with larger events, the risk of transmission increases. Infectious disease doctor Donald Dumford, M.D., gives an example of what can be considered a superspreader event by sharing the findings of a Washington State study, where over the course of a two-and-a-half hour choir practice composed of 61 people, the attendance of one symptomatic individual resulted in a subsequent 32 confirmed COVID-19 cases as well as three hospitalizations and two deaths (via CDC).
As we approach the one year mark of the initial outbreak of the coronavirus, many of us are feeling the emotional effects of pandemic fatigue. Even so, experts continue to press the importance of abiding by official guidelines and protocols in order to keep ourselves and our loved ones safe. Avoiding potential superspreader events like weddings, birthday parties, and Super Bowl parties have major potential to help slow the rate of spreading, and to decrease those high numbers of cases in major cities such as New York or Los Angeles.