Don't Post A Photo Of Your Vaccine Card. Here's Why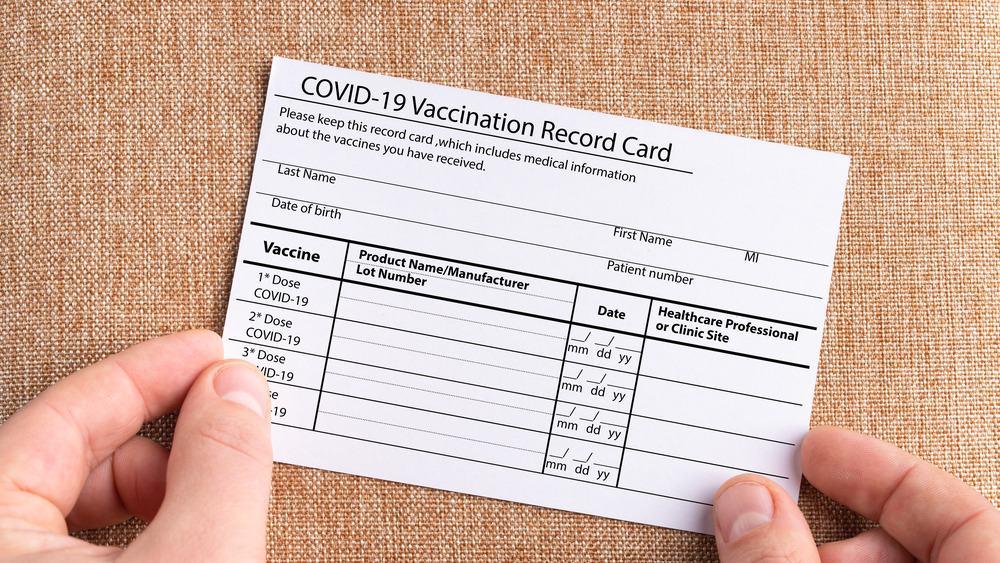 Shutterstock
Your COVID-19 vaccine card is essential: it helps you remember which vaccine you received, the date you received your first shot, and where you received it. When you get your first dose, you're probably going to be excited and want to share it with the world via social media — and many people have. But your vaccination card has personal information on it — your full name, date of birth, and where you got the COVID-19 vaccination. It may not seem like a big deal, but that info is enough for scammers to steal your identity and open up illegal accounts (via Fox 4 and the Better Business Bureau). 
In the United Kingdom, scammers have sold fake vaccination cards on eBay and Tik Tok, claiming that 10 percent of the sales went towards National Health Services Charities Together, and that's not true. Thousands of these fake cards have been sold on eBay since the beginning of this year, according to The Sun. And while these sales have been removed from eBay, it doesn't mean the scammers won't keep trying. If you see any of these scams, report them to the selling site so they can take them down. 
How to safely share your COVID-19 vaccination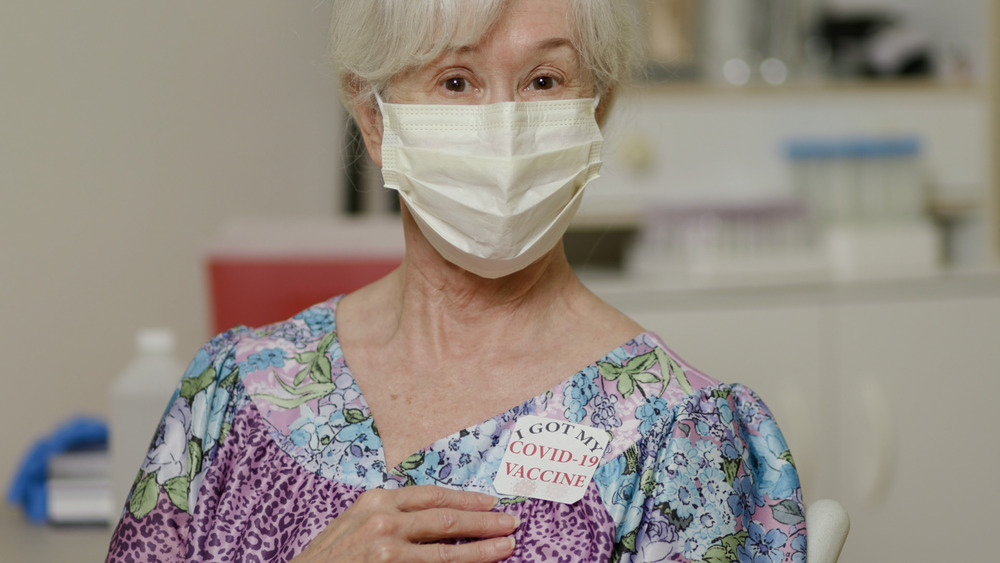 Shutterstock
There are safer ways to share that you got your COVID-19 vaccination without giving away your personal information. You can take a selfie with your vaccination sticker, you can use a filter on your social media profile photo, or just create a general post to tell everyone — and always check your social media accounts' privacy settings to see who can see what you're sharing. If you only want family and friends to see your info, make sure you update those settings. If your information and posts are public, scammers will likely take advantage (via the Better Business Bureau).
It is vital to keep your COVID vaccination card to know where and when to get your next shot and which shot to get. There are currently two coronavirus vaccines (and others might be coming down the pipeline) — Moderna and Pfizer, and you have to get both shots from the same manufacturer. When you get your second shot, you can bring your vaccination card and have it marked again. You'll also want to keep it in your records in case you need it for work or travel (via Healthline).