When You Always Wear Nail Polish, This Is What Happens To Your Nails
Shutterstock
While summer is the season for showing off fresh brightly-colored toenails, winter is the season for covering them up. If you're someone who spends the majority of the colder seasons bundled up in fuzzy socks and heavy boots, it's easy to let the days... or weeks... or months roll by since you last got a good look at your toes. As a result, sometimes our polish stays on longer than it should. Although the idea of always having our nails fashionably at the ready may sound appealing, leaving polish to sit for long periods of time without regular removal can cause nail damage underneath.
Though our nails have a seemingly hard surface, they're actually quite absorbent (via Cleveland Clinic). Much like a sponge, without moisture, our nails can dry out, which is why lotion is key to keeping our nails hydrated (via Health). But lotion isn't the only substance our nails can absorb. They can also absorb the chemicals found in different nail products, and the absorption of those chemicals can result in discoloration or staining of the nail surface (via Today). In particular, you may notice a yellowing of the nails if you're someone who tends to prefer darker polish colors (via Piedmont Healthcare).
Regularly removing nail polish prevents discoloration and infection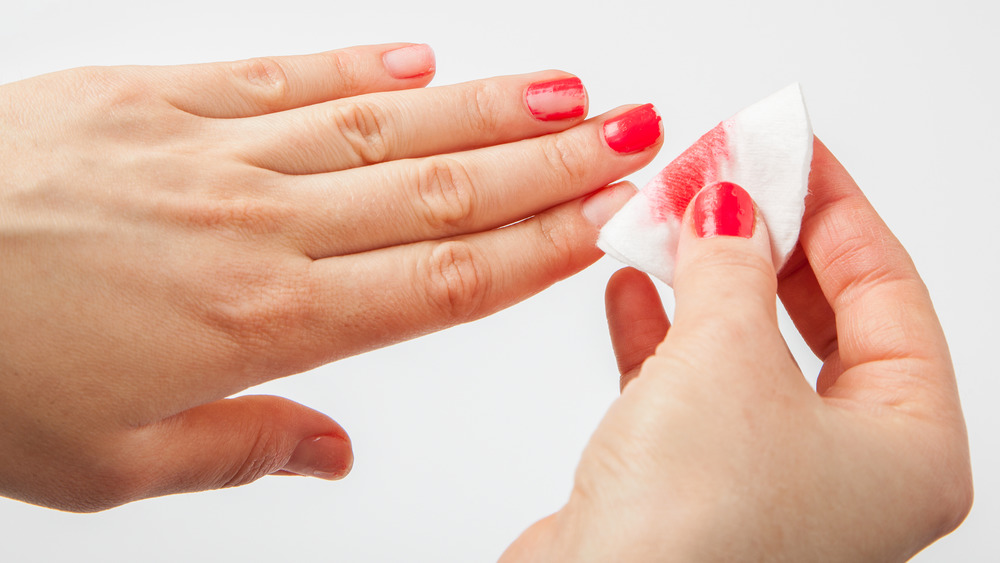 Shutterstock
If left on for long periods of time, nail polish can also dry out the topmost layers of the nail. As a result, the nail can become brittle and frail and less able to protect against the growth of fungus or bacteria underneath. If left untreated, the infection can spread and potentially infect neighboring nails or other areas of the body. Consult with a doctor to explore medical treatment options such as oral anti-fungal medications, creams, or other topical solutions, and consider bringing your own personal nail polish stash to the salon if you're concerned about spreading.
In an interview with Cleveland Clinic, foot specialist Dr. Joy Rowland suggests giving your nails a periodic break. "I always recommend to my patients that it's best to leave polish on for a few weeks, and then remove the polish and go without for a few weeks," she explained. She further suggests the use of either vitamin E oil or coconut oil directly on the nail to help lessen any discoloration, as well as the frequent changing of fresh socks to keep feet clean and dry. In doing so, we can prevent side effects such as staining, breakage, or infection.