The Egg White Oatmeal You Can't Live Without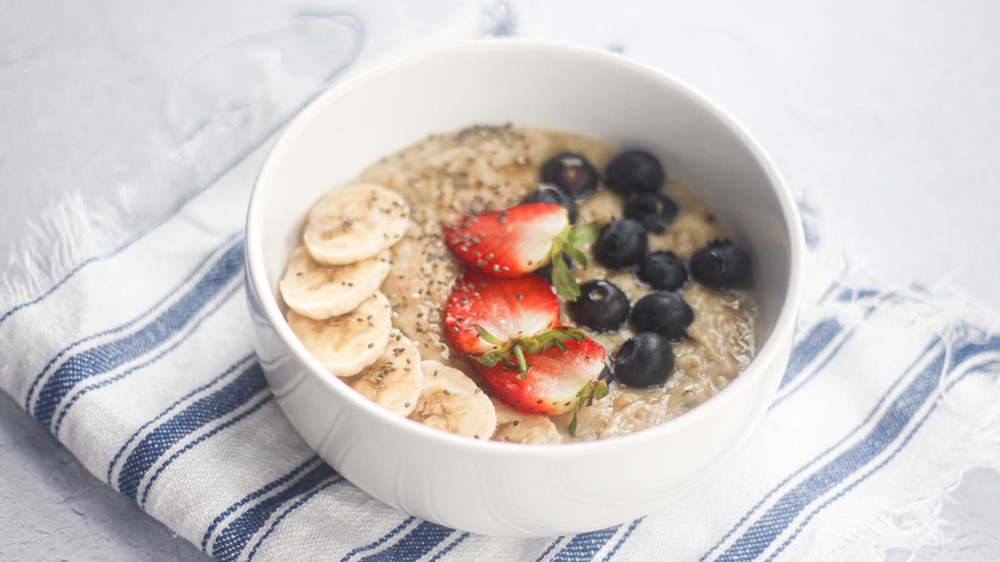 Susan Olayinka/Health Digest
There's not much better than a bowl full of yummy warm egg white oatmeal to jumpstart your morning. When prepared properly, oatmeal can be a nutritional powerhouse offering many major health benefits. Oats and oatmeal alike are packed with protein, fiber, vitamins, and minerals. A bowl of oatmeal can be dressed up with fresh fruit for an extra health kick or sweetened with simple agave syrup.
Just half a cup of dry Quaker Old Fashioned Oats, for example, has four grams of dietary fiber and only one gram of total sugars. It also has just three grams of total fat and 150 calories. The soluble fiber in oats helps reduce LDL cholesterol levels, and beta-glucan, a type of dietary fiber found in oats, could potentially improve blood sugar control.
When you add in high-protein egg whites to the mix, you boost the protein level and overall nutrition of this oatmeal. Follow this recipe from Susan Olayinka of The Flexible Fridge, and you'll be feeling great all day.
Gather up the ingredients for this egg white oatmeal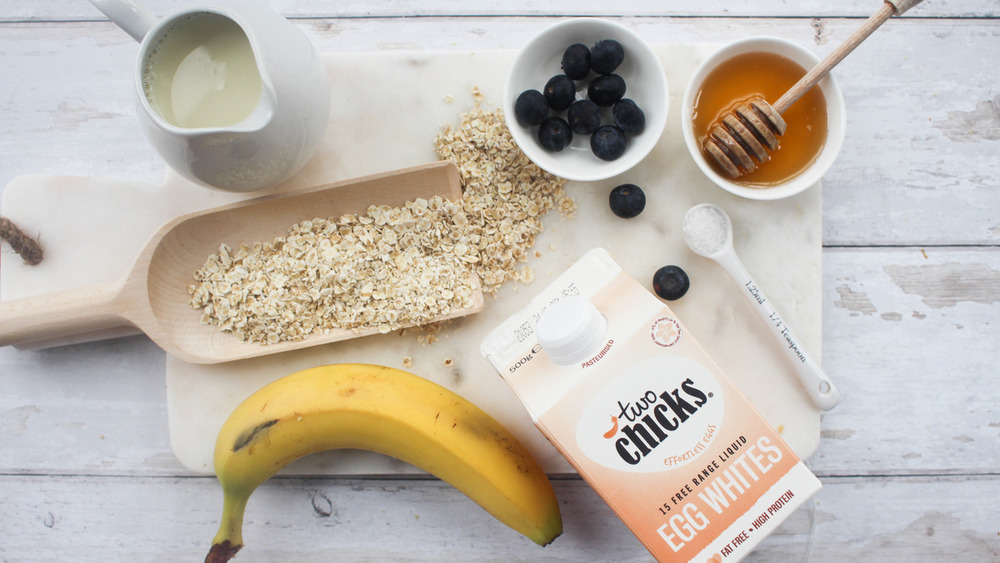 Susan Olayinka/Health Digest
Fortunately, this uber-healthy breakfast dish does not require too many ingredients or too much time to whip up. It also only takes five minutes to prepare and ten minutes to cook. Olayinka's recipe serves two, but she said it can be doubled to feed more people. To make egg white oatmeal, you will need egg whites, oats, milk, water, and maple syrup.
"Adding egg white makes it so creamy. I also find that the texture is much better and less stodgy and heavy. It also adds extra protein for those of us who are working out," Olayinka said.
All of the ingredients can easily be found at the grocery store, but if you want an all-natural maple syrup, check out your local farmers market. Olayinka says raw honey can be used in place of the maple syrup, which also can be found at local bee farmers or farmers markets.
What type of oats should you use for egg white oatmeal?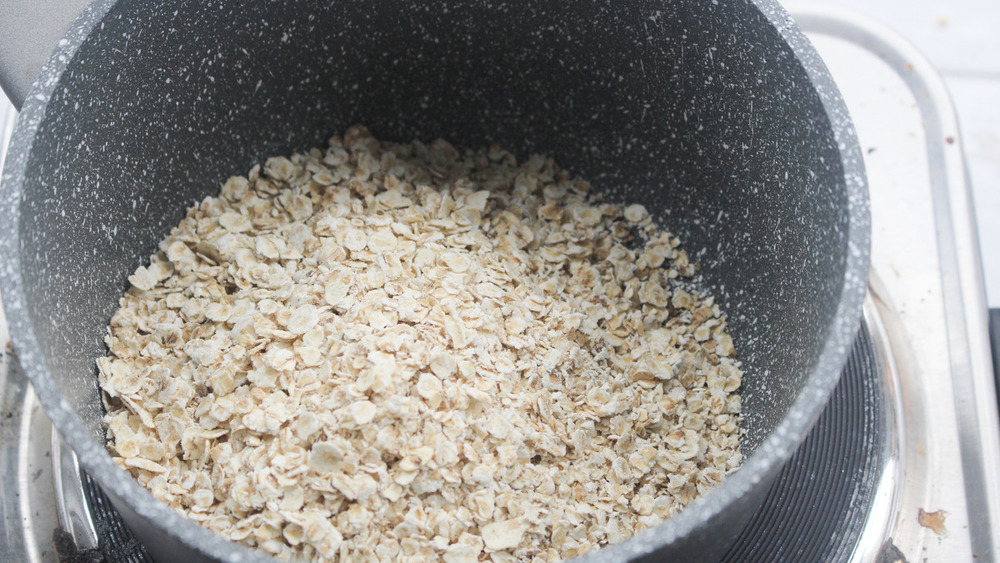 Susan Olayinka/Health Digest
Take one cup of oats, one cup of milk, and three-fourths of a cup of water, and add them to a pot. Turn the heat up to medium heat. As small bubbles being to form around the edge of the pot, turn the heat down to low and stir consistently. After five to six minutes of stirring, the oatmeal should be thicker.
There are lots of different kinds of oatmeal out there, so you may be wondering which kind to get when you're at the grocery store. Steel-cut oats aren't the best for this recipe, so you'll want to avoid those. On the other end of the spectrum, instant oats might cook too quickly to give you the texture you want. Rather, "organic rolled oats work perfectly for this egg white oatmeal," Olayinka confirmed.
Cow's milk or no for this egg white oatmeal?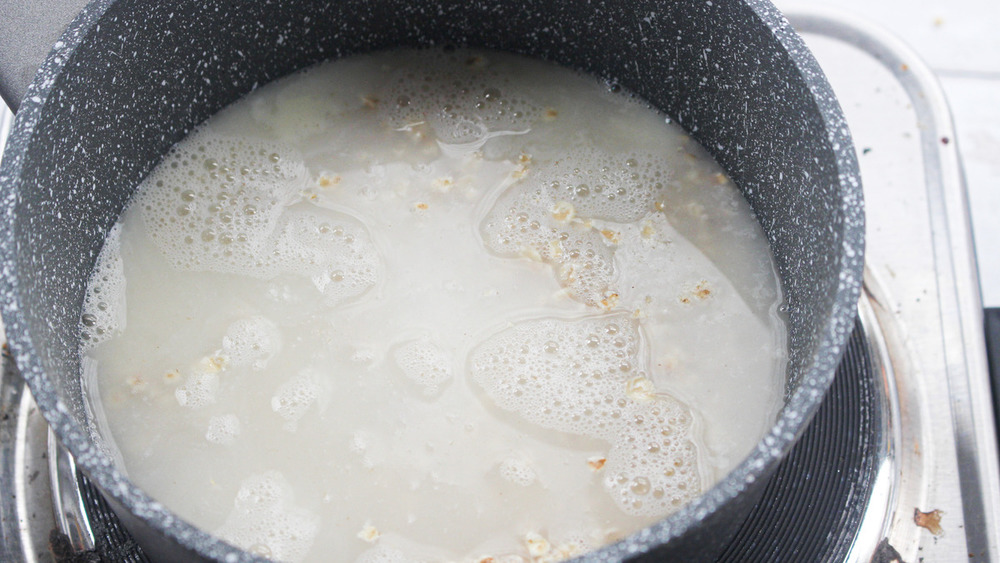 Susan Olayinka/Health Digest
While you're welcome to use dairy milk in this recipe, plant-based milks work just as well. "I used oat milk with this one, as I feel that oat milk makes it much more creamer," Olayinka said. Oatly is probably the most well-known oat milk brand on the market, but there are tons of other options out there. And if you're not a huge fan of oat milk, you have plenty of other options as well. From almond milk to coconut milk to soy milk, feel free to use whatever you like best.
Benefits of egg whites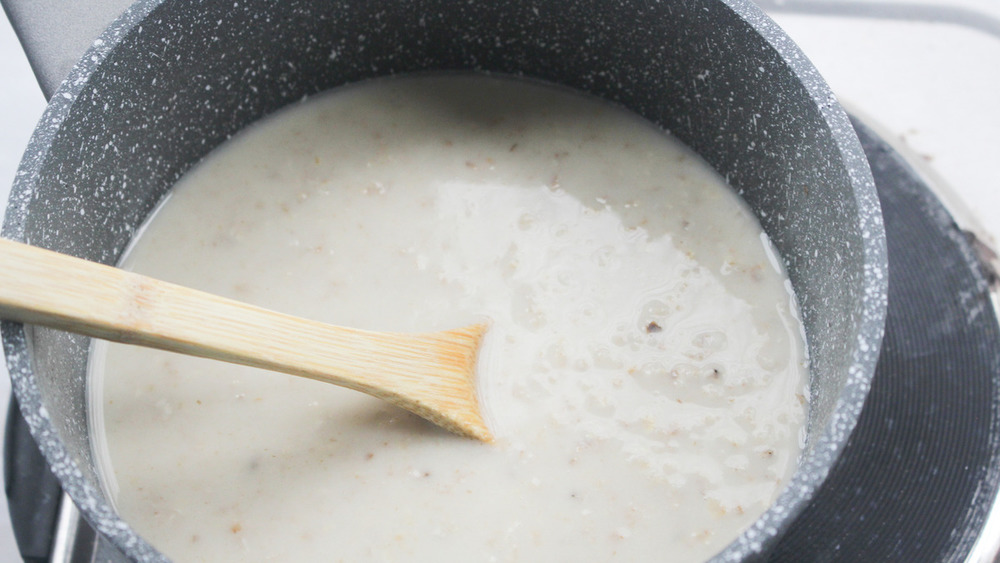 Susan Olayinka/Health Digest
Pour a quarter of a cup of egg whites into the pot and stir fast so the egg whites do not scramble. The thickness of egg whites adds to this breakfast bowl's creaminess and texture, Olayinka notes. Egg whites contain about four grams of protein per egg. Egg whites also serve as substantial sources of riboflavin and selenium, along with potassium. 
And instead of wrestling with separating the yolk from the egg whites, you can buy liquid egg whites at the store, making it easier to infuse this bowl of oatmeal with egg whites. If you would rather separate the yolk for this recipe and you don't feel comfortable doing it with the eggshells, you can crack the egg not into a bowl but your hand. Then, let the white part slip through your fingers into the pot.
Toppings for egg white oatmeal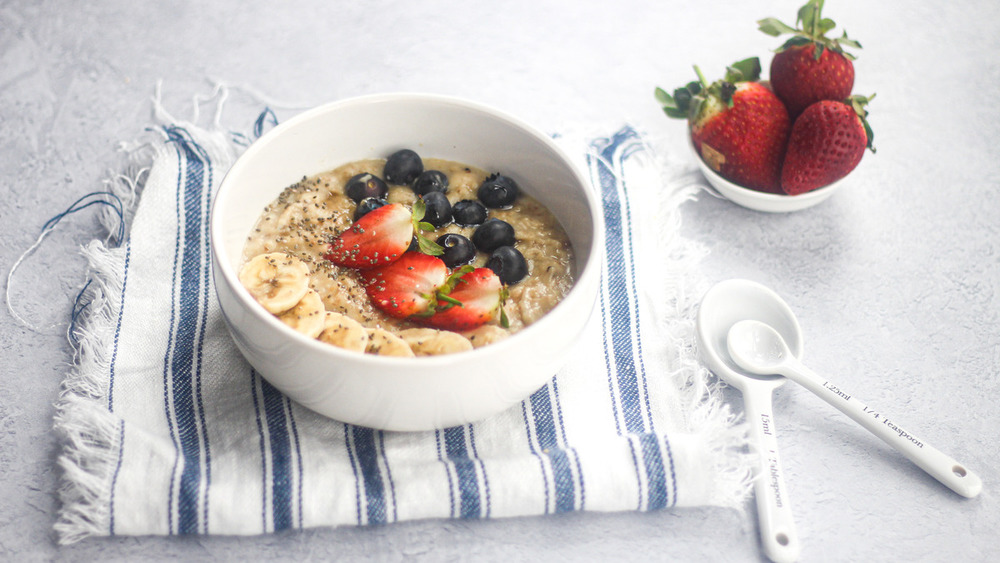 Susan Olayinka/Health Digest
Before you take your oatmeal off the heat, add some maple syrup in to make things sweeter. You could also opt for honey if that's what you have in your pantry.
Then, the sky's the limit when it comes to toppings for oatmeal. But since this is a healthy egg white oatmeal recipe infused with additional protein from the egg whites, it's best to adorn it with equally healthy toppings. Sliced fruit such as strawberries, bananas, and peaches are perfect with just the right amount of sweetness. A handful of blueberries, raspberries, or another small whole berries would taste terrific sprinkled across the top.
Olayinka adds chia seeds to her oatmeal. Chia seeds are considered a superfood rich in polyunsaturated fats, fiber, protein, calcium, phosphorus, and zinc. Other seeds and nuts, including pumpkin seeds, sliced pecans and almonds, and diced walnuts make terrific toppings such as well.
The Egg White Oatmeal You Can't Live Without
There's not much better than a bowl full of yummy warm egg white oatmeal to jumpstart your morning. Make some to get your day off to a great start.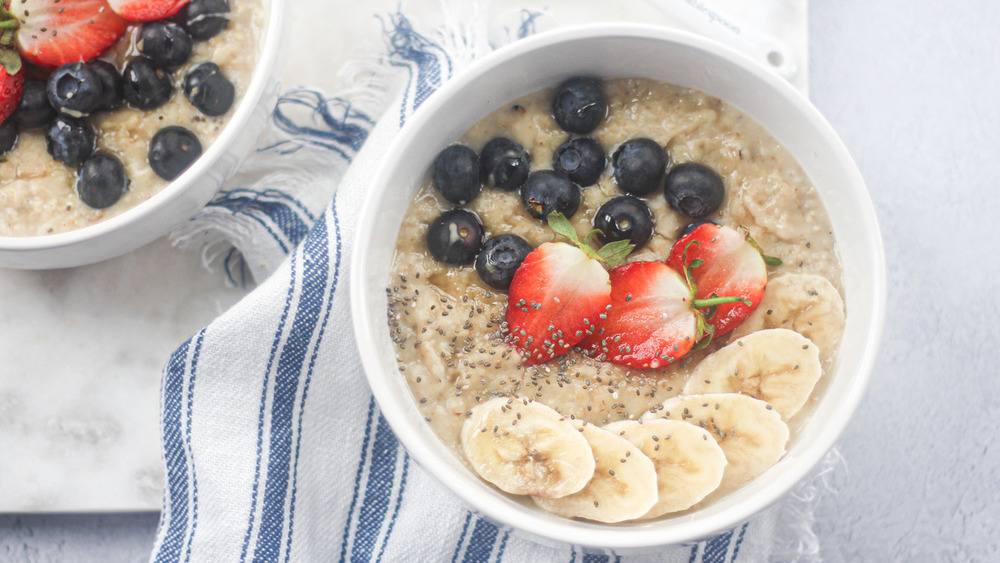 Ingredients
1 cup of oats
1 cup of milk
¾ cup of water
5 tablespoons maple syrup
¼ cup egg whites
Directions
Add oats, milk, and water to the pot.
Turn the heat up to medium.
As small bubbles start to form around the edge of the pot, turn down the heat to low and start stirring.
After 5 to 6 minutes of stirring, the porridge should be a thicker consistency.
Pour in the egg whites and continue stirring fast so that the egg whites do not turn into a scramble.
Pour in maple syrup.
Pour oatmeal in serving bowls.
Top with desired toppings.
Nutrition
| | |
| --- | --- |
| Calories per Serving | 524 |
| Total Fat | 9.4 g |
| Saturated Fat | 3.2 g |
| Trans Fat | 0.0 |
| Cholesterol | 12.2 mg |
| | |
| --- | --- |
| Total Carbohydrates | 91.3 g |
| Dietary Fiber | 8.3 g |
| Total Sugars | 36.6 g |
| Sodium | 114.0 mg |
| Protein | 20.3 g |