3-Ingredient Chia Seed Pudding You'll Want Every Morning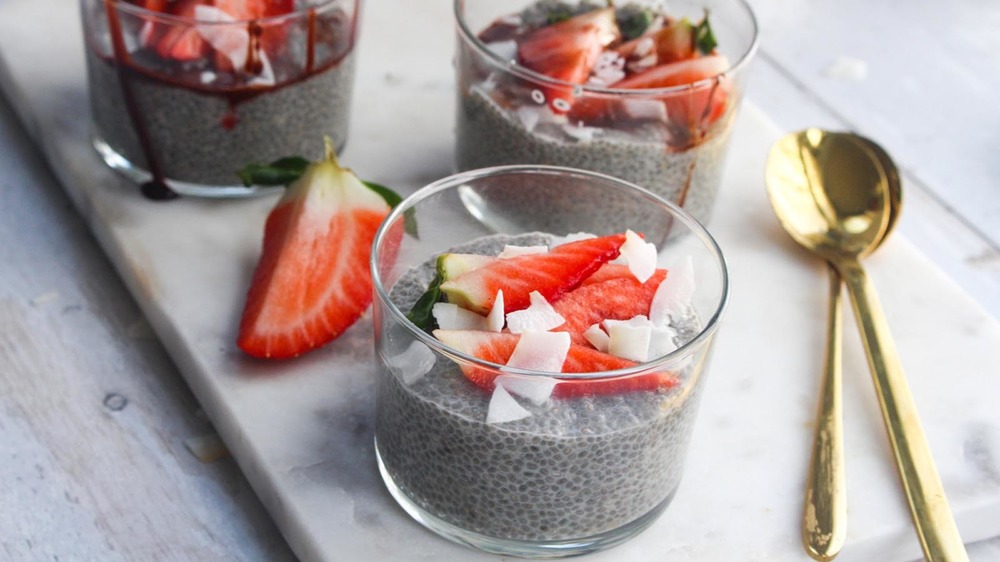 Susan Olayinka/Health Digest
Chia seeds arguably took off in popularity when they debuted as the basis for the once ultra-popular, collectible clay figurines called Chia Pets. But in reality, chia seeds are an incredibly healthy food, packed full of complete proteins, antioxidants, and heart-healthy omega-3 fatty acids. In this version of chia seed pudding from recipe developer Susan Olayinka of The Flexible Fridge, chia seeds are the star of this good-for-you and good-tasting pudding. 
It may be odd to say healthy and pudding in the same sentence, but Olayinka has created a delicious tasting and sweet pudding using chia seed, natural sweeteners, and healthy, colorful fruit toppings. This recipe takes a speedy one minute to prepare and 10 minutes to cook, yielding two to three homemade pudding cups that you will simply swoon over. Even better is the matter that this recipe not only is healthy, but the pudding cups do not need to be set up in the refrigerator overnight. This means that this delicious 3-ingredient chia seed pudding can be devoured practically right after you fix it. This recipe also is so easy that you can recruit the kiddos to help prepare it and have a fun experience together in the kitchen.
What are chia seeds?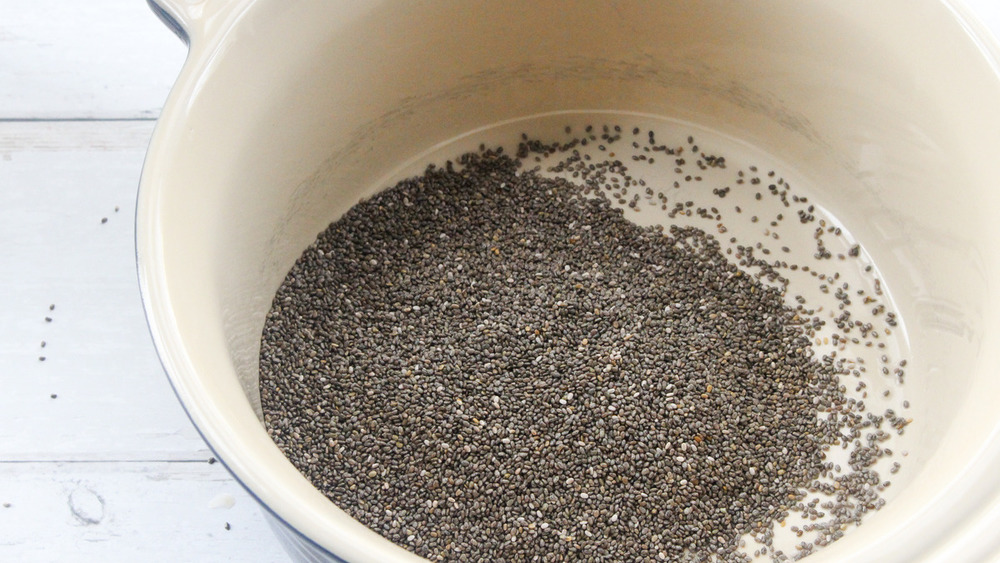 Susan Olayinka/Health Digest
According to the Academy of Nutrition and Dietetics, the small white or black chia seeds are harvested from a desert plant called Salvia hispanica, a close relative of the more familiar mint plant. Their earliest known use was as an edible product consumed by the ancient Aztecs of modern-day Central America. The Aztec people had the right idea. The biggest health boost from chia seeds is quite possibly the 10 grams per ounce of dietary fiber packed into each serving. Chia seeds also have been touted as an excellent source of omega-3 fatty acids, protein, and minerals like iron, calcium, and magnesium. 
So, how exactly are you supposed to eat chia seeds? Turns out, this ingredient is pretty versatile. "Chia seeds can be used in porridge, as a vegan egg replacer, in breakfast bars, and in smoothies," Olayinka says.
They can also be popped by the handful raw like a nut or used in a variety of dishes to boost the health benefits. Just like flaxseed, chia seeds can be dusted across yogurt or cereal in whole or ground form. You can even get creative and add them to salads, casseroles, soups, and any number of other recipes. But, if this happens to be your first foray in the kitchen using chia seeds, rest assured that this recipe is super easy and tastes great.
Gather up the ingredients for chia seed pudding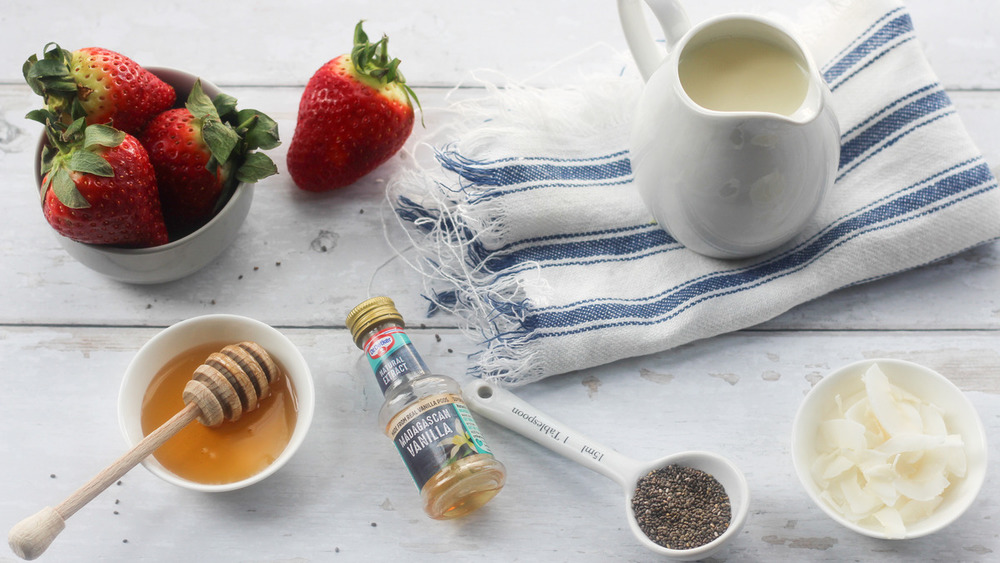 Susan Olayinka/Health Digest
Thankfully, this recipe only requires three ingredients that can all be pretty easily be found at the grocery store. A fourth optional ingredient, vanilla extract, is an option that helps to infuse additional flavor into this recipe. 
The first thing you will need is, naturally enough, a half cup of chia seeds. These are commonly found in the baking section or health section of the store. you will also need one and one-quarter cup of milk and three tablespoons of honey. You can use either dairy milk or plant-based milk in this recipe.
Needing just three or four ingredients means this dessert is incredibly affordable though, since there aren't too many brands of chia seeds, you may pay a little extra for this limited ingredient. Thankfully, however, chia seeds keep pretty well and you're likely to use them up for repeats of this pudding recipe anyway. Ultimately, you will probably decide the price is worth it after you dive into this delicious dessert.
What type of milk to use for chia seed pudding?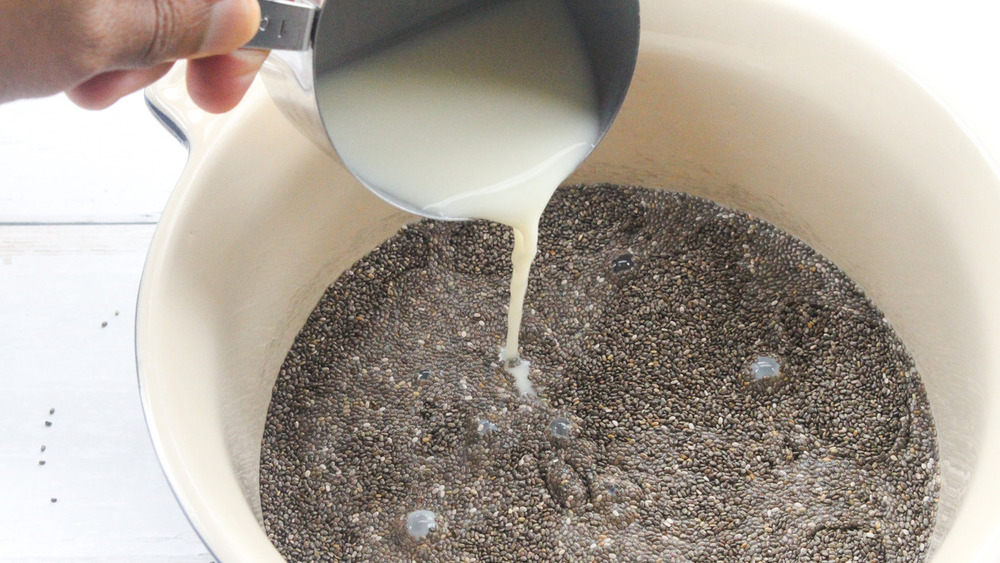 Susan Olayinka/Health Digest
For this 3-ingredient chia seed pudding, any type of milk can be used, according to Olayinka. Both dairy or plant-based milk will suffice. This means that non-dairy options like almond milk, cashew milk, or coconut milk would work well in this recipe. Whatever milk you choose, it will work here to help support the creamy consistency you want to achieve in the finished pudding. 
If you want to boost the nutritional value of chia seed pudding, you can also try using full-fat canned coconut milk. It will make the pudding even thicker, too, though take a look at the nutritional label first to make sure that it's in line with your particular dietary needs. If you desire an even creamier and smoother chia pudding, you can also pop this mixture into the blender. It'll have less of a seedy texture like a tapioca pudding, and will instead be smoother like a more traditional pudding.
Honey and other sweeteners for chia seed pudding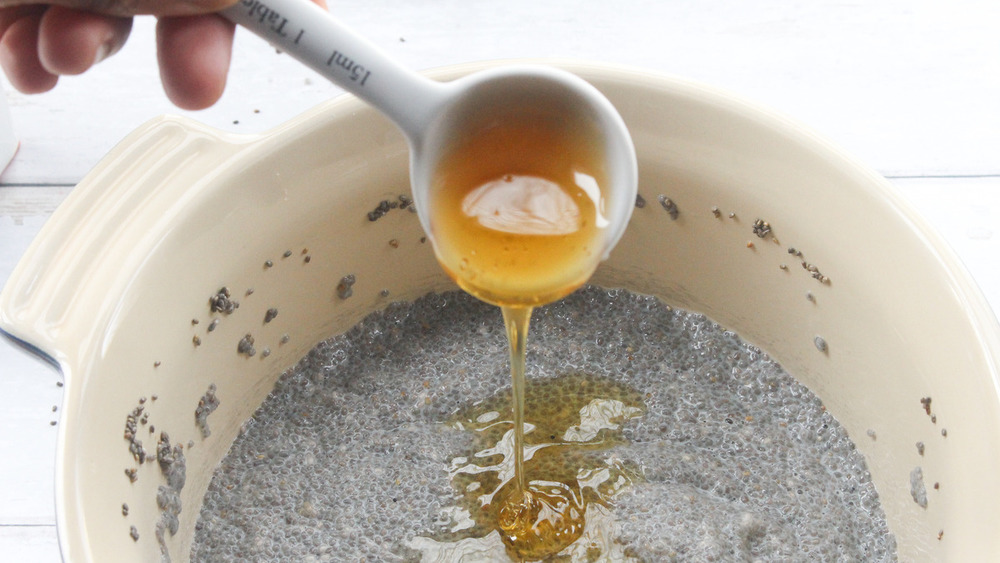 Susan Olayinka/Health Digest
Olayinka opts to use regular honey for the 3-ingredient chia seed recipe, but note that agave and maple syrup would also work well in its place. In case you grew up with the bear container of honey in your cupboard like many people, you may not realize that there are different types of honey. According to The Spruce Eats, these types include a variety of different flavors, most influenced by the type of plant frequented by the bees in question. Broadly speaking, there's also raw and unfiltered honey straight out of the hive, processed honey, and ultrafiltrated honey (which is basically just a honey-flavored sweetener).  
If you decide to use agave syrup as your sweetener, know that it may have fewer calories than granulated sugar but still is processed and isn't necessarily a healthier choice. And, if you go with something like maple syrup, be sure to read the ingredient label and select the all-natural version that doesn't have additional elements like high fructose corn syrup.
Simple steps to make chia seed pudding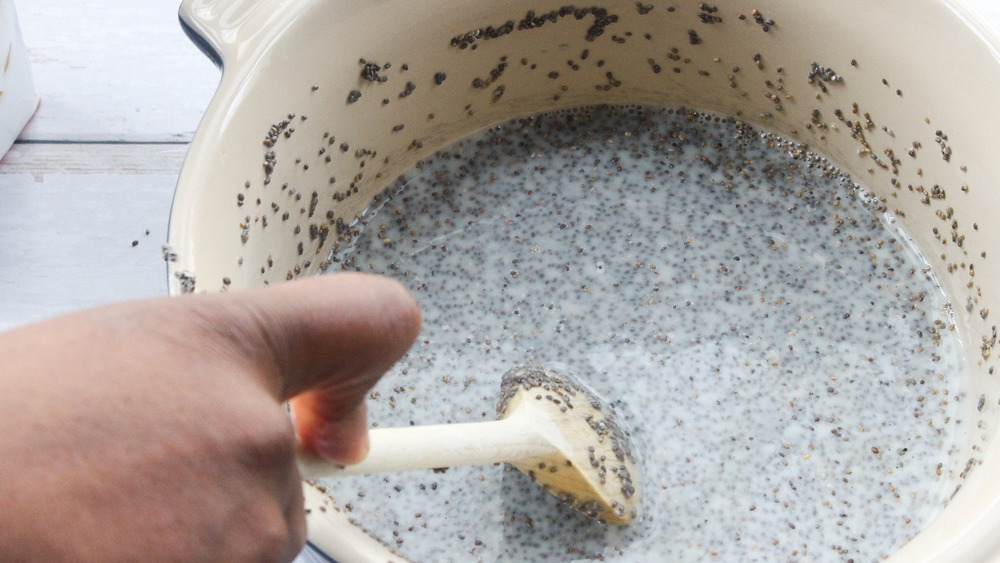 Susan Olayinka/Health Digest
Pour 1/2 cup of chia seeds into a decent-sized mixing bowl. Then pour the 1 1/4 cup of milk on top of the chia seeds. Mix the two ingredients for approximately one minute. This will help prevent the chia seeds from clumping together, which can happen easily and would produce a frankly weird texture in the final pudding. As the chia seeds help to thicken the mixture, look for a creamy — not liquid — texture.
"After a minute, the mixture will have thickened slightly to a pudding-type texture," Olayinka says. At this point, mix in 3 tablespoons of honey, and then, if you so choose, add in 1 teaspoon of vanilla extract.
Tasty toppings for chia seed pudding
Susan Olayinka/Health Digest
Olayinka reports that she uses chia seeds every day and loves adding them to oatmeal when she's not using them for this pudding recipe. For the toppings, she prefers berries, sliced bananas, chocolate shavings, dried coconut and lime, and peanut butter. You also can add raspberries, pineapple, or other fruits and blend them for an additional infusion of flavors. 
An extra dash of maple syrup with chopped walnuts sprinkled on top is another possible combination, along with slices of apple and a dash of cinnamon. Pomegranate seeds, sliced strawberries, whole blueberries, pumpkin puree, and almond slices taste fantastic with this recipe, too.
3-Ingredient Chia Seed Pudding You'll Want Every Morning
In this version of chia seed pudding from recipe developer Susan Olayinka, chia seeds are the star of this good-for-you and good-tasting pudding.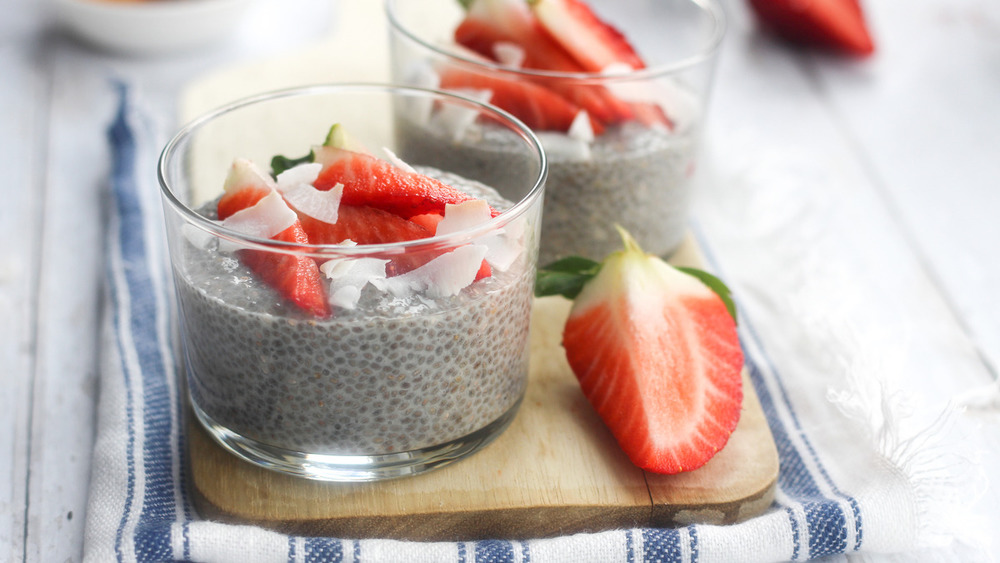 Ingredients
½ cup chia seeds
1 ¼ cup milk (dairy or plant-based)
3 tablespoons honey
Optional Ingredients
1 teaspoon vanilla extract
Directions
Put the chia seeds into a mixing bowl.
Pour the milk into the mixing bowl and mix for about a minute. Make sure that the chia seeds do not clump together.
After a minute, the mixture will have thickened slightly to a pudding texture.
Mix in the honey and optional vanilla extract.
Top with fresh fruit, nuts, chocolate shavings, or another ingredient of your choice.
Nutrition
| | |
| --- | --- |
| Calories per Serving | 281 |
| Total Fat | 13.1 g |
| Saturated Fat | 3.0 g |
| Trans Fat | 0.0 g |
| Cholesterol | 10.2 mg |
| | |
| --- | --- |
| Total Carbohydrates | 35.7 g |
| Dietary Fiber | 11.1 g |
| Total Sugars | 22.4 g |
| Sodium | 49.7 mg |
| Protein | 8.6 g |