Can You Still Get COVID-19 After Getting The Vaccine?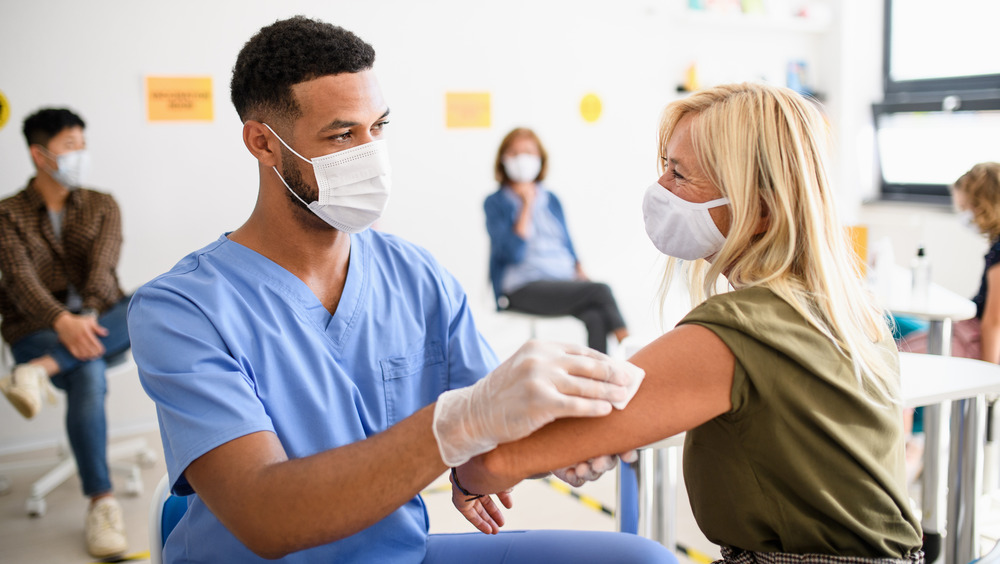 Shutterstock
Although it's rare, you can still contract COVID-19 after receiving the vaccine. This doesn't mean that the vaccine doesn't work, however. It takes a few weeks after getting fully vaccinated for your body to build up immunity against the virus, making it possible to contract COVID-19 during this window of time and still get sick (via CNN). You are not considered fully vaccinated until two weeks after the second dose of both the Moderna and Pfizer-BioNTech vaccines, and two weeks after the single-dose Johnson & Johnson shot, according to the Centers for Disease Control and Prevention.
While all three vaccines are safe and effective, none of them have an efficacy rate of 100 percent. Vaccine efficacy measures how well the vaccine works during the clinical trial phase. "There are going to be some people who are not protected, even by two doses of the vaccine, but they should have more mild disease," Dr. Bill Moss, a pediatrician and professor of infectious disease epidemiology at the Johns Hopkins Bloomberg School of Public Health in Baltimore, told Today. 
According to Moss, the amount of the virus currently circulating around the country is particularly high and is largely due to the high rates of transmission and steady surge in new cases. "The vaccines are really highly protective against severe disease, so even those who get COVID-19 after two doses of vaccine are much more likely to have mild disease. Once community transmission starts going way down, we'll see fewer cases in general, and as a result, fewer (outbreaks)."
Can you spread COVID-19 after getting the vaccine?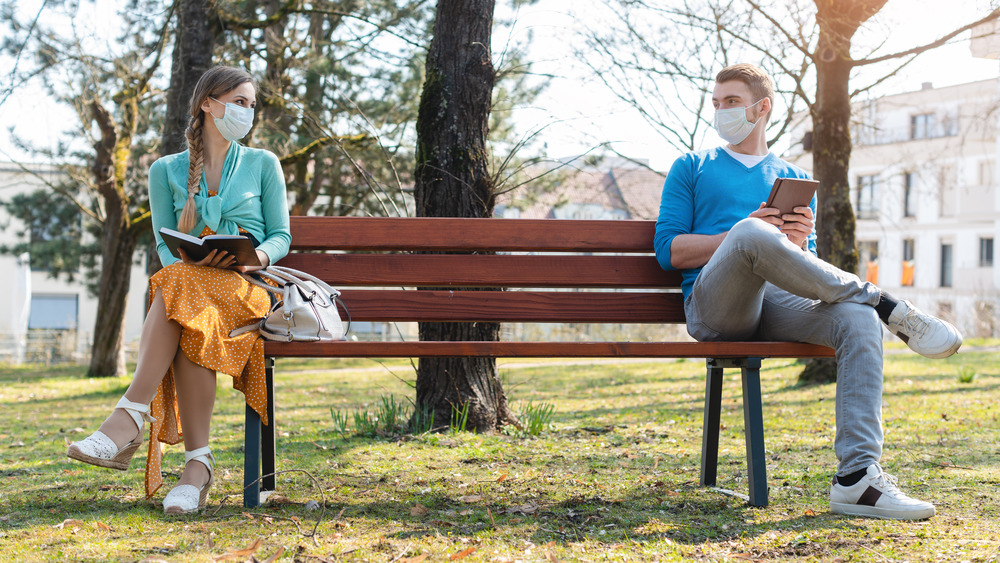 Shutterstock
A recent observational study conducted by the CDC found that both the Moderna and Pfizer vaccines are 90 percent effective at preventing infection. This data is separate from the findings in the clinical trials. The observational study measured how well the vaccines work under real-world conditions by monitoring and testing nearly 4,000 health care workers and first responders over the course of 13 weeks (via Health). The study found that the vaccines provided substantial protection, even after the first dose, and significantly reduced the risk of infection for both symptomatic and asymptomatic infections. This means that the vaccines are 90 percent effective at preventing fully vaccinated people from both contracting and spreading the virus. 
However, fully vaccinated people still run the risk of getting COVID-19 and potentially spreading it to others. Since the vaccines are not 100 percent effective, some people may still be able to contract the virus. Although this is rare, it's not impossible. Between January and March 2021, 246 fully vaccinated people in Michigan tested positive for COVID-19 (via Insider). According to the Michigan Department of Health and Human Services, all 246 people tested positive more than 14 days after their second and final dose of the vaccine. Although the cases are still under review, Michigan health officials have already noted that, among the infected, some may have been exposed to the virus before they were fully vaccinated, while others may have needed more time to build up a full antibody response. 
How to stay safe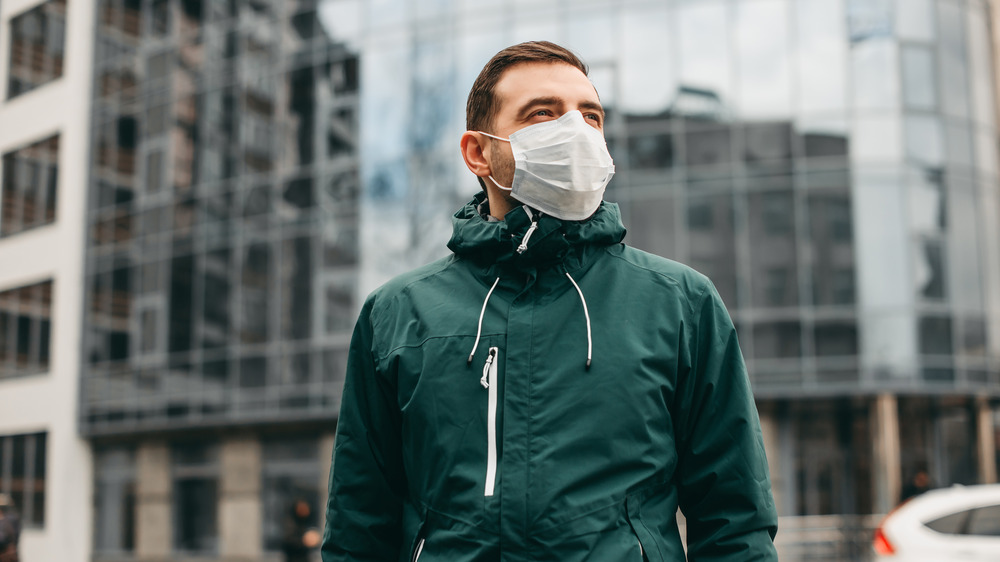 Shutterstock
Although the breakthrough cases in Michigan may seem alarming, they only represent a fraction of the people who have been fully vaccinated in the state. Out of the 1.7 million Michigan residents who have received both doses of the vaccine so far, only 246 people have contracted COVID-19 (via Insider). This is only .0001 percent of the vaccinated population in Michigan. That being said, it's always better to err on the side of caution. It is still uncertain when the United States will reach herd immunity, so in the meantime, the CDC recommends that fully vaccinated people continue to follow the agency's COVID-19 safety guidelines. While the risk of a fully vaccinated person contracting and spreading the virus is low, they won't be able to spread it to others at all if they don't get infected in the first place. 
That's why it's important to continue taking the necessary and proper safety precautions to stay safe after getting the vaccine. If you're fully vaccinated, you should still continue to wear a face mask in public, avoid crowds and large gatherings, stay 6 feet apart in public, and wash your hands frequently for at least 20 seconds at a time. However, there are some perks to being fully vaccinated (via Mayo Clinic). After you've received the second or last dose of the vaccine, you can finally gather indoors with other fully vaccinated people, or unvaccinated people from one household who are at low risk, without wearing a mask.