3-Ingredient Keto Mug Cake Everyone Will Love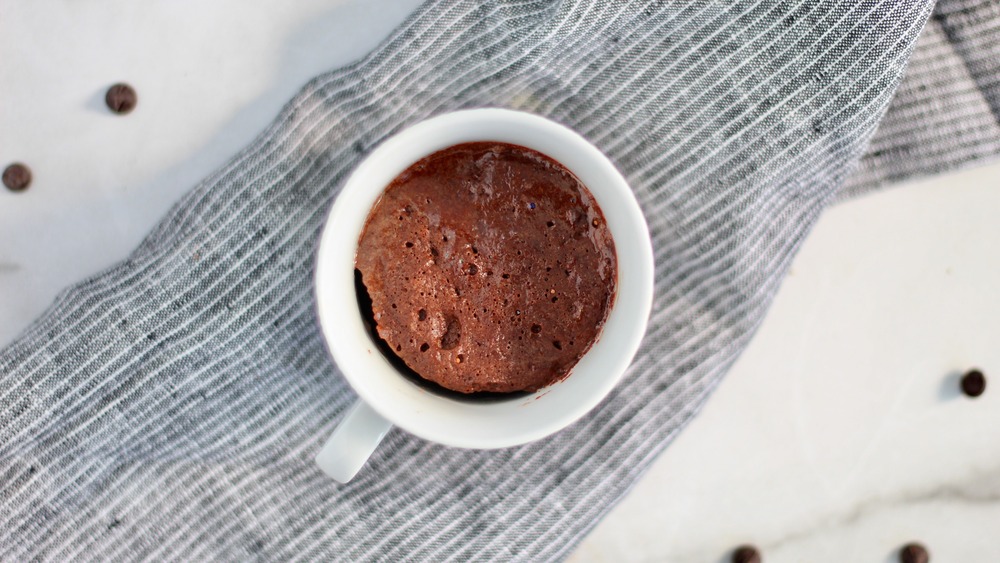 Mackenzie Burgess/Health Digest
A mug cake is a single-serving dessert where a sweet batter is mixed together in a coffee mug and microwaved to cook it. While the origins of this quick and easy dessert is difficult to trace, mug cakes have gained so much popularity throughout social media and video tutorials. Viral videos of mug cakes continue to trend throughout TikTok, YouTube, and Instagram.
We were inspired to create a lower sugar, low-carbohydrate version of this scrumptious treat. For this keto mug cake recipe, you only need three ingredients and a few minutes of your time. It really couldn't be easier than that! Chances are, you already have all the ingredients on hand, too.
Registered dietitian nutritionist Mackenzie Burgess of Cheerful Choices notes, "As a dietitian, I believe in finding a sustainable and nourishing eating pattern that works for you and your lifestyle. If that's keto, great! If not, but you are still wanting to enjoy a lower sugar dessert, that's great, too!"
Gather your ingredients for keto mug cake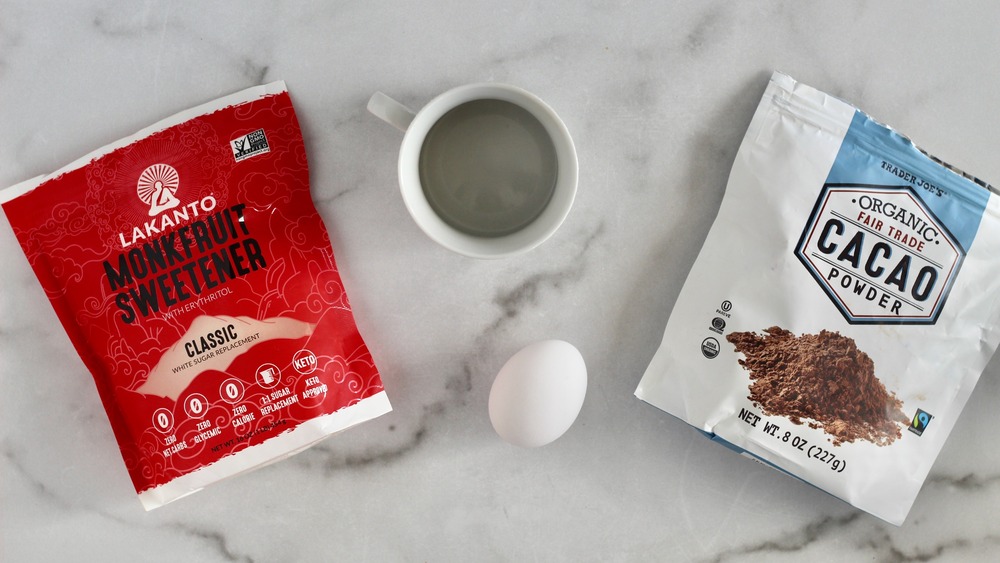 Mackenzie Burgess/Health Digest
There are just three simple ingredients used in this mug cake recipe: cocoa powder, eggs, and monk fruit sweetener. The recipe as written makes enough for one mug cake serving. If you want to make more servings, simply multiply the recipe and use several mugs.
Most mug cakes call for mashed banana, but to make this mug cake lower in sugar, we are using monk fruit sweetener instead. With this simple swap, each mug cake contains just 4 grams of carbohydrates and only 2 grams of net carbs.
What is monk fruit?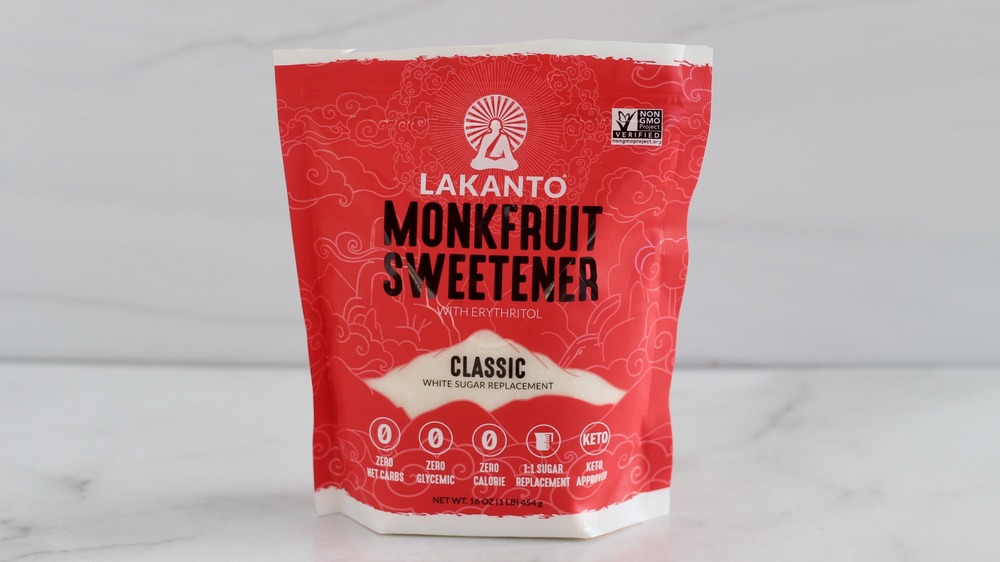 Mackenzie Burgess/Health Digest
You can find monk fruit sweetener online or at your local grocery store. It's a sweetener derived from monk fruit (luo han guo), which is rooted in Southeast Asia. Monk fruit doesn't have any calories and has no impact on blood sugar levels, unlike regular sugar (via Healthline). For this reason, it may be helpful for individuals who want to lose weight or have diabetes. However, overall, more research is needed to know the true health benefits of monk fruit.
If you don't have monk fruit, you can use another zero-calorie sweetener like stevia or sucralose. Just be sure to look for one that measures cup for cup with regular sugar.
Choosing the right cocoa powder for your keto mug cake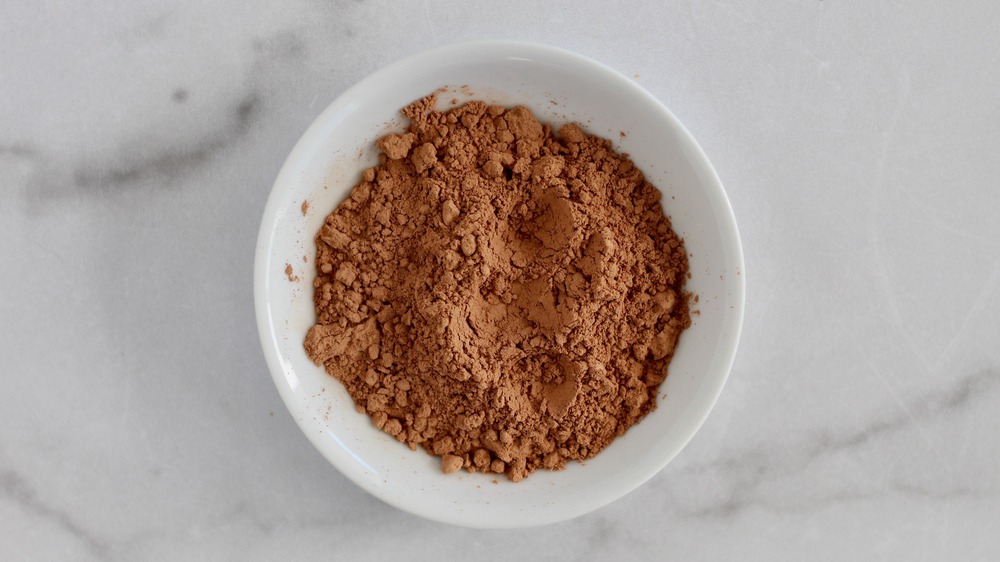 Mackenzie Burgess/Health Digest
When buying cocoa powder, be sure to turn over to the nutrition label to ensure there are no added sugars and cocoa powder is the only ingredient. You may also come across cacao powder, which is a little bit different. Cacao powder is made from beans that have not been roasted. They are also processed at a low temperature before being milled into a powder (via Pure and Plant Based). This allows them to be slightly higher in nutrients but also quite bitter. Cocoa powder is made from beans that are both fermented and roasted. They are then processed at a much higher temperature. This allows for a slightly lower nutrient content, but also a less bitter flavor (via Pure and Plant Based).
Overall, we recommend using cocoa powder for this recipe to provide a sweeter flavor for the mug cake. Cocoa powder is also perfect to add to energy bites, smoothies, and avocado mousse.
Choosing the right chocolate chips for your keto mug cake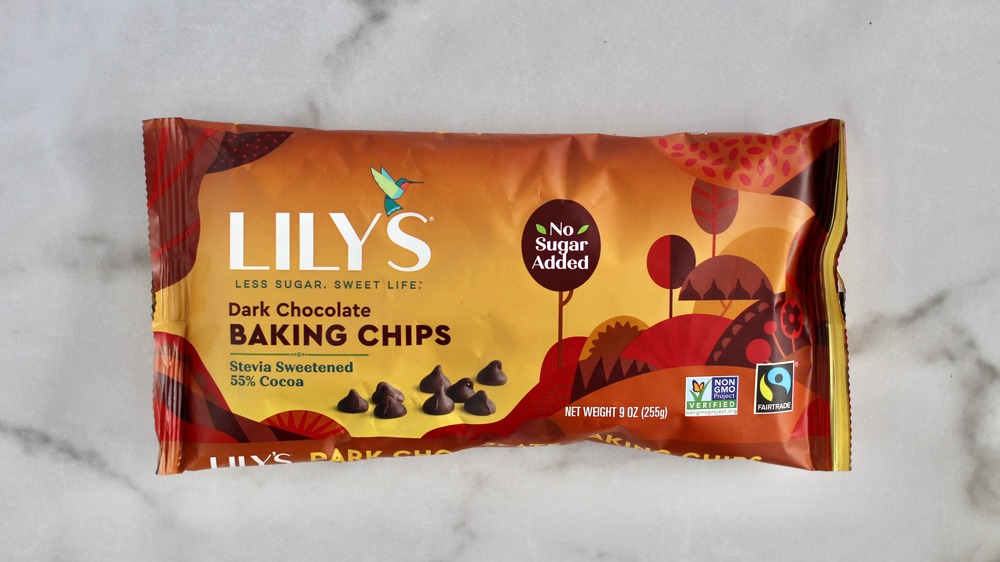 Mackenzie Burgess/Health Digest
We like to add a spoonful of chocolate chips to this mug cake for extra sweetness and creaminess. Chocolate chips can often pack in sneaky added sugars, so, instead, we like to use stevia sweetened chips. One of our favorites is Lily's Dark Chocolate Baking Chips, which contain about 55 calories per heaping tablespoon and zero added sugars.
You could also opt to use the chocolate chips you have on hand. To go for lower sugar, your best bet is to look for a higher percentage of cocoa. For example, 90 percent cocoa dark chocolate chips will contain minimal sugars.
Stir all of your ingredients together in a mug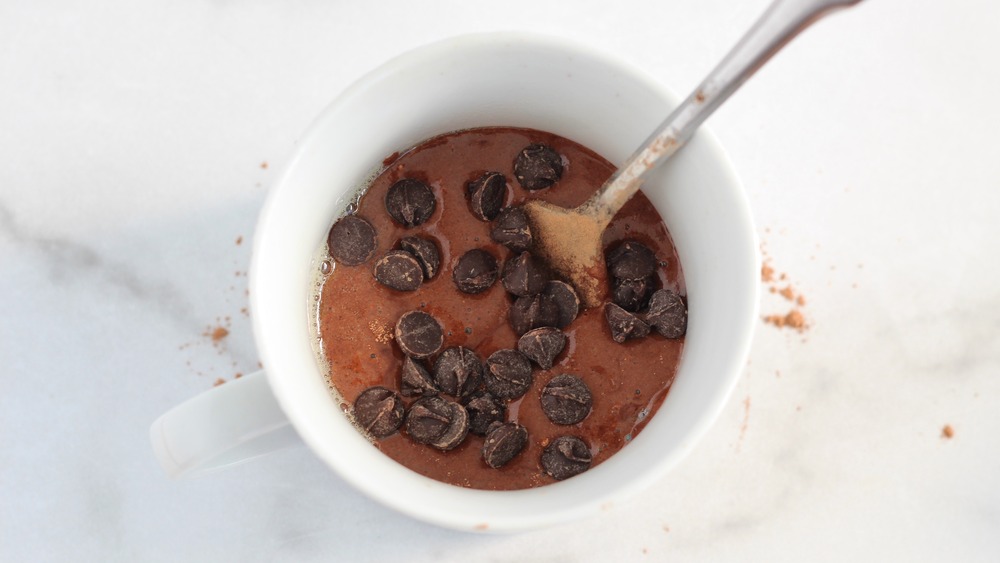 Mackenzie Burgess/Health Digest
The best part about this recipe is you are only dirtying up one dish. Stir everything up into one large mug until fully combined. It takes a little bit of extra stirring to get everything to combine together, so be sure to stir for one to two minutes. It's also important to choose a larger mug, because the cocoa powder tends to fly up and can make a mess when stirring in a small mug. After it's all combined and comes together in a thick batter, microwave for 45 to 60 seconds, or until you achieve a cake-like texture.
What to serve with this keto mug cake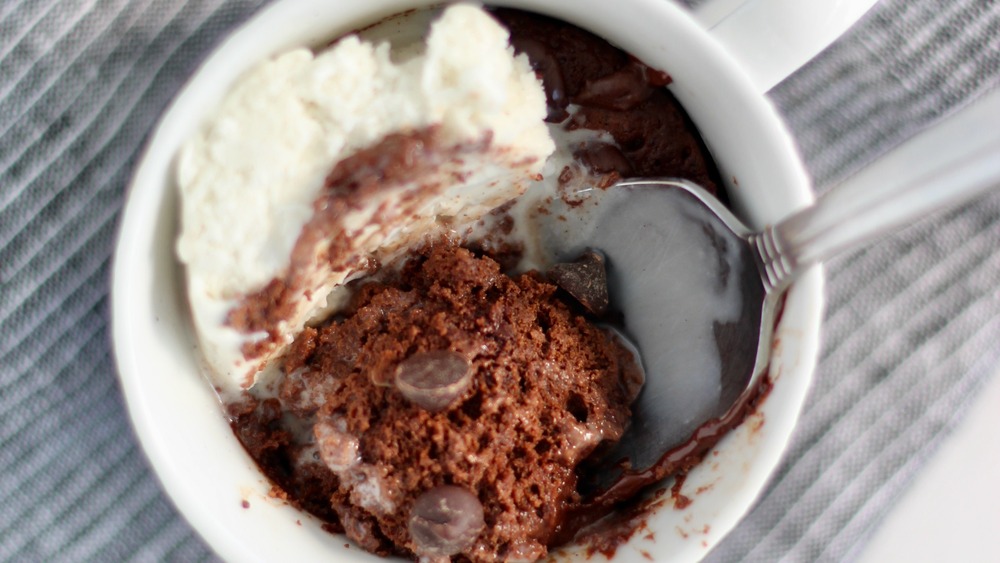 Mackenzie Burgess/Health Digest
This mug cake can be enjoyed on its own, but it's even better with delicious toppings. Try serving it with strawberries, raspberries, chia seed jam, peanut butter, more chocolate chips, whipped cream, or keto-friendly ice cream.
We recommend eating this mug cake right away, because it dries out as it sits. To save time, you can stir everything together in the mug ahead of time so all you have to do is pop it in the microwave.
So, what are you waiting for? Whip up this healthy, low-sugar sweet treat in just a few minutes!
3-Ingredient Keto Mug Cake Everyone Will Love
This low-carb version of the viral mug cake is a must-try. With cocoa powder and chocolate chips, it's sure to sweeten up your palate.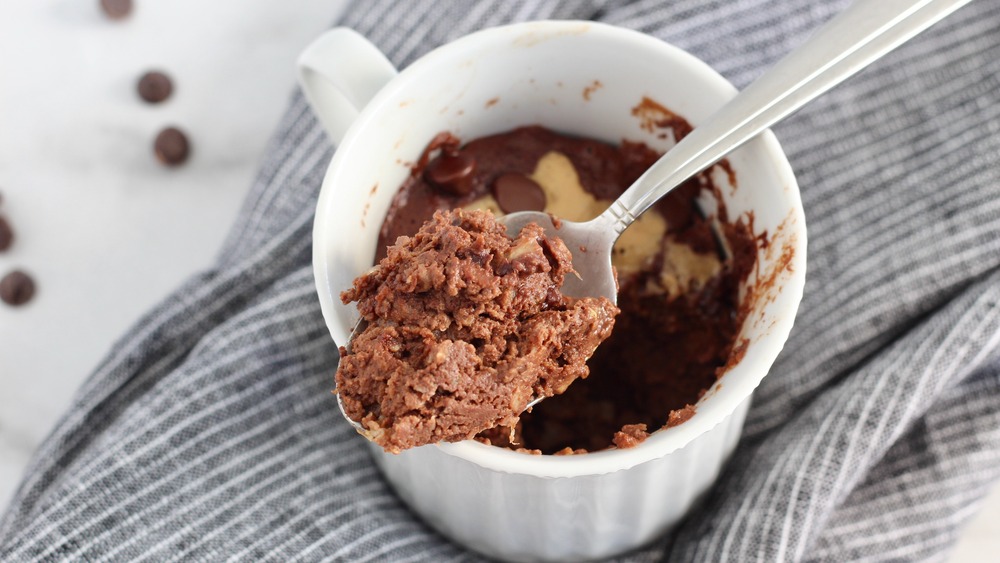 Ingredients
1 large egg
2 tablespoons cocoa powder
2 tablespoons monk fruit sweetener
Optional Ingredients
1 tablespoon sugar-free chocolate chips
raspberries
peanut butter
whipped cream
keto-friendly ice cream
Directions
Spray a large mug with cooking spray.
Add 1 large egg, 2 tablespoons of cocoa powder, 2 tablespoons of monk fruit, and 1 tablespoon of sugar-free chocolate chips, if desired. Mix until everything is combined and the batter is thick.
Microwave mug for 45 to 60 seconds, or until you achieve a cake-like texture.
Top with more chocolate chips, berries, peanut butter, whipped cream, or ice cream, if desired.
Nutrition
| | |
| --- | --- |
| Calories per Serving | 52 |
| Total Fat | 3.1 g |
| Saturated Fat | 1.2 g |
| Trans Fat | 0.0 g |
| Cholesterol | 93.0 mg |
| | |
| --- | --- |
| Total Carbohydrates | 4.2 g |
| Dietary Fiber | 2.0 g |
| Total Sugars | 1.0 g |
| Sodium | 40.9 mg |
| Protein | 4.2 g |