Easy Baked Cinnamon Apples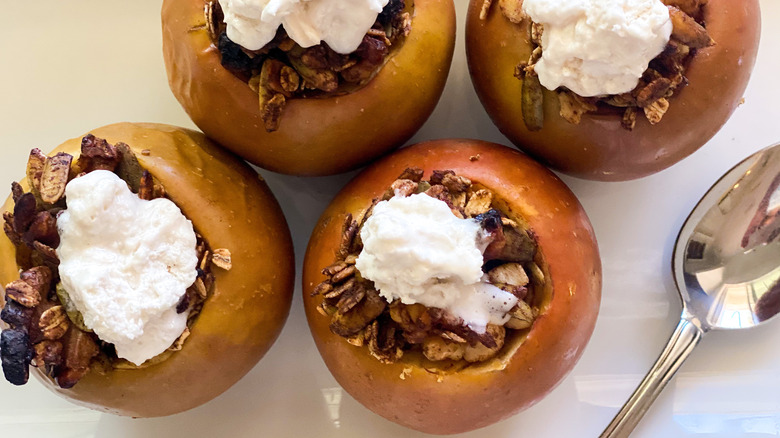 Miriam Hahn/Health Digest
There's something about the aroma and taste of baked apples that feels like a hug from grandma. It's like all the good parts of the holidays (warm desserts, cinnamon, and whipped cream) wrapped up into a single serving-sized package that's delicious and healthy. This recipe, developed by wellness coach Miriam Hahn of YouCare-SelfCare, works great as a dessert or as a breakfast side paired with hearty options like oatmeal or quiche. Hahn suggests you make them whenever you're hosting guests for dinner (especially during the cooler fall and winter seasons), because the aroma of baked apples really gives that welcoming touch to your home. But also, don't shy away from serving the apples as a side with pork chops or baked chicken — the stuffed apples offer a nice, sweet balance to these savory meats, and would work alongside green beans, fingerling potatoes, or bacon-wrapped asparagus spears as other sides.
Gather your ingredients to make easy baked cinnamon apples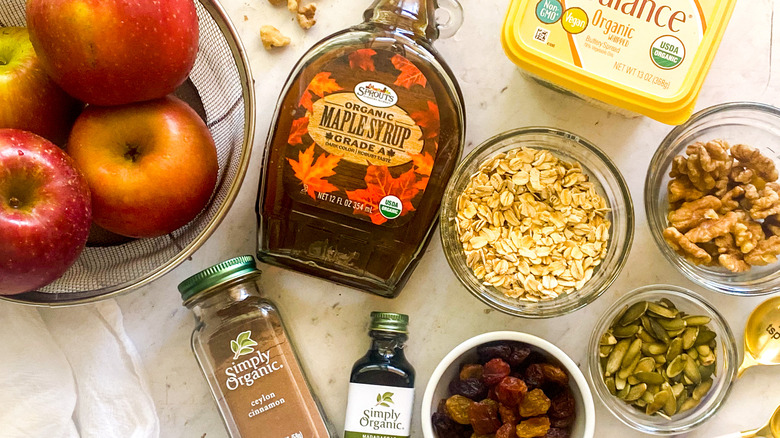 Miriam Hahn/Health Digest
Aside from the apples themselves (Hahn suggests Fuji apples, although she says Honeycrisp and Pink Lady work, too, as they won't get too mushy), the main ingredients you need to gather are for the filling. In all likelihood, you probably have most of the ingredients on hand since they tend to be pantry staples, like rolled oats, cinnamon, maple syrup, raisins, vanilla, and butter (or Earth Balance spread if you're looking for ways to make the dish healthier). The only items you might have to double check on are the walnuts and pumpkin seeds.
You also need ¾ cup of boiling water for this recipe, so go ahead and put your pot on the stove and heat up your water. It needs to be ready to go by the time you put your apples in the oven. You might want to boil a cup of water so if some of the water evaporates by the time you're ready to use it, you still have ¾ cup available. 
Turn on the oven, and prep your apples for this baked cinnamon apples recipe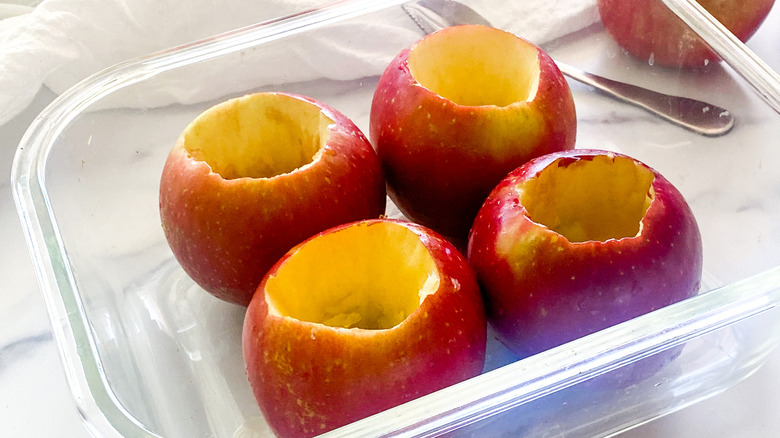 Miriam Hahn/Health Digest
From start to finish, you'll need about 45 minutes to an hour to make your baked apples, but most of that time is used for the actual baking. Your prep work will only take 15 minutes, making it a simple side or dessert to prepare. Start by turning on your oven to 375 degrees Fahrenheit, then while it's heating up, prep your apples. You'll need to use a spoon or paring knife to cut out the apple cores (Hahn suggests using a grapefruit spoon with serrated edges to make this easier), but make a point of leaving an inch at the bottom of your apple. If you don't leave an inch of apple at the bottom, as it bakes, the apple might open and leak its fillings into your baking pan. 
Mix your crumble stuffing for easy baked cinnamon apples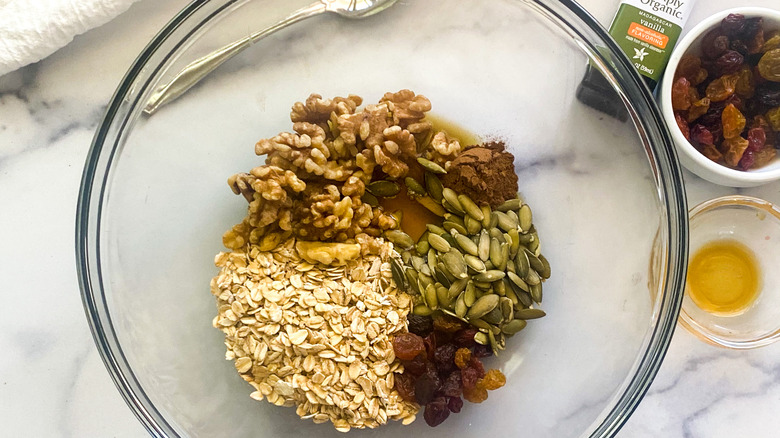 Miriam Hahn/Health Digest
Once your apples are prepped, simply mix together the crumble mix. In a medium-sized bowl, simply add all the ingredients — oats, walnuts, pumpkin seeds, cinnamon, syrup, raisins, and vanilla — and mix well. Really try to combine the ingredients well, so the syrup and vanilla are evenly dispersed between the dry ingredients. And of course, if you have a personal preference for slightly different ingredients, like subbing honey for syrup, or pecans for walnuts, or sunflower seeds for pumpkin seeds, or dried cranberries for raisins, there's no reason not to give it a try. 
Stuff your apples, and top them with butter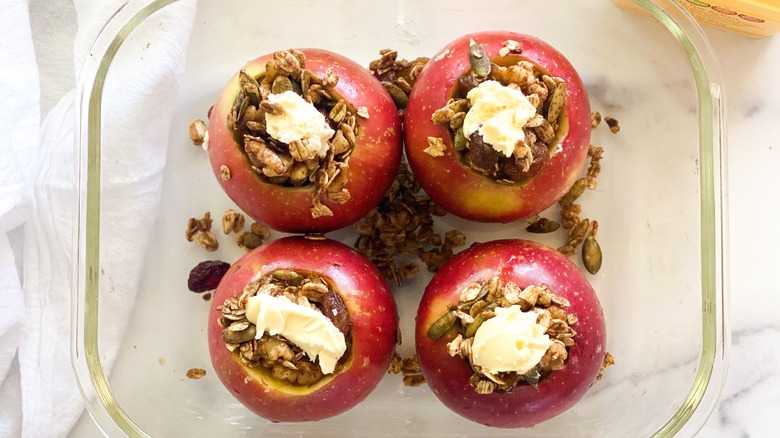 Miriam Hahn/Health Digest
Of course, this next step is simple — spoon equal portions of your delicious crumble into each apple. You'll then top each apple with about ½ teaspoon of Earth Balance spread, or if you prefer, unsalted butter. Hahn points out that Earth Balance is the healthier of the two options, but either way works, given that it's only a ½ teaspoon amount per serving. And to get the best flavor, it's best not to skip the butter altogether. "The butter on the top of the crumble mix makes it more like a brittle or granola with a rich flavor," says Hahn.
Bake your stuffed apples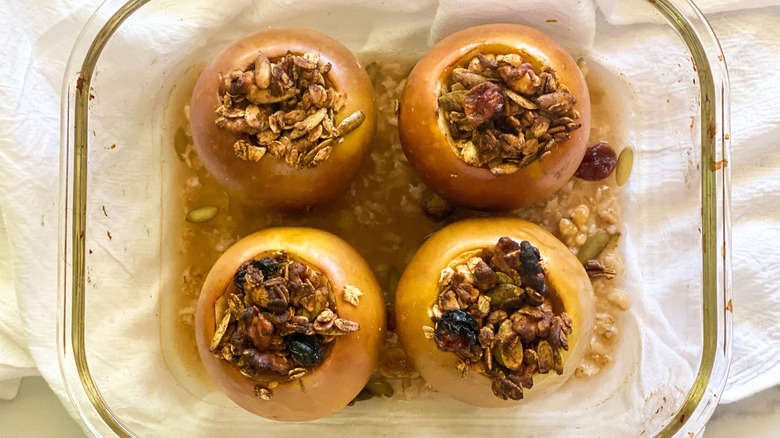 Miriam Hahn/Health Digest
Almost all that's left is baking your apples! Place them in an oven-safe dish. If you're baking four apples, as the recipe calls for, put them in an 8-inch by 8-inch casserole, and if you're doubling the recipe, opt for a rectangular dish — the point is to choose the dish that's closest in size to the apples, while still allowing a little space between each piece of fruit and the sides of the dish. 
This is when it's time to add the boiling water you were prepping on the stove — simply pour the water into the bottom of the dish. "It's important to pour boiling water into the bottom of the pain so that when it goes into the oven, steam is created quickly and keeps the apples from drying out," says Hahn. 
Total cook time will range from 30 to 45 minutes, depending in part on the size of your apples, as well as your personal preference for how well-cooked the apples are. That being said, you should aim for them to come out tender, not mushy. 
Serve your baked cinnamon apples hot with optional toppings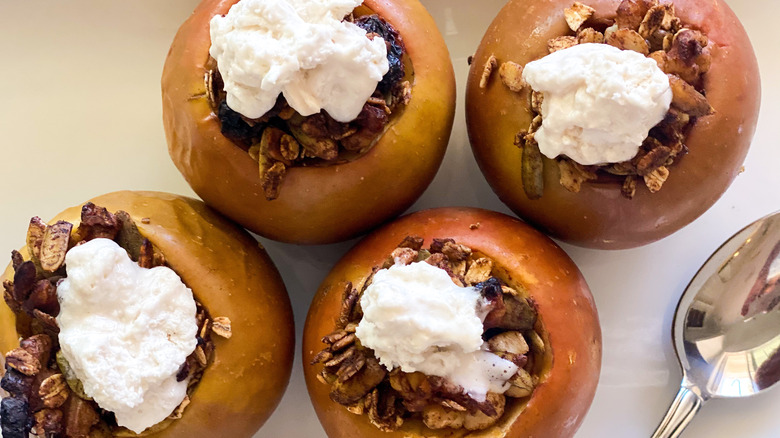 Miriam Hahn/Health Digest
When you're happy with the consistency of the apples, go ahead and take them out of the oven. They'll be hot, so give them at least a few minutes to cool before serving. And if desired, add extra syrup or whipped cream as toppings. (Or, if you're going for more of a decadent apple-crumble dessert-like flavor, a small scoop of vanilla ice cream would be delicious, too.) Just remember, whipped cream (or ice cream) will melt quickly on the top of the hot apples, so add these items right before serving.
Easy Baked Cinnamon Apples
These cinnamon baked apples work great as a dessert or as a breakfast side paired with hearty options like oatmeal or quiche.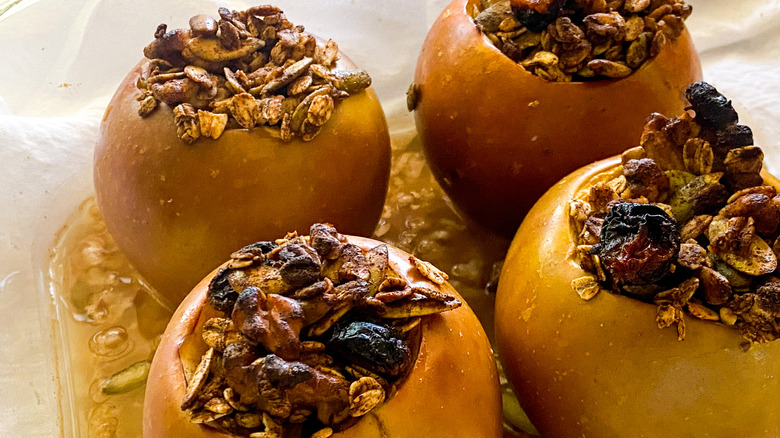 Ingredients
4 Fuji apples
¾ cup boiling water
½ cup rolled oats
½ cup walnuts, chopped
¼ cup pumpkin seeds
1 teaspoon cinnamon
2 tablespoons maple syrup + extra (optional) for topping
1 tablespoon golden raisins
1 teaspoon vanilla
2 teaspoons Earth Balance Butter (or regular butter)
Optional Ingredients
additional maple syrup
whipped cream
Directions
Preheat oven to 375 degrees Fahrenheit.
Using a grapefruit spoon or paring knife, cut out the apple cores, leaving at least one inch at the bottom intact. You can use an apple corer, but you will need to make the whole larger with a paring knife.
Mix together ½ cup of rolled oats, ½ cup of chopped walnuts, ¼ cup of pumpkin seeds, 1 teaspoon of cinnamon, 2 tablespoons of maple syrup, 1 tablespoon of golden raisins, and 1 teaspoon of vanilla.
Stuff this mixture inside each apple hole and top with about ½ teaspoon of butter.
Put the apples in an oven-safe dish and pour ¾ boiling water into the bottom of the dish.
Bake for 30 to 45 minutes until the apples are tender, but not mushy.
Take out of the oven and add extra maple syrup or whipped cream as toppings.
Nutrition
| | |
| --- | --- |
| Calories per Serving | 356 |
| Total Fat | 16.5 g |
| Saturated Fat | 2.9 g |
| Trans Fat | 0.1 g |
| Cholesterol | 5.1 mg |
| | |
| --- | --- |
| Total Carbohydrates | 48.9 g |
| Dietary Fiber | 7.0 g |
| Total Sugars | 31.2 g |
| Sodium | 6.8 mg |
| Protein | 6.6 g |