Healthy Avocado Chicken Salad Recipe That's Totally Guilt-Free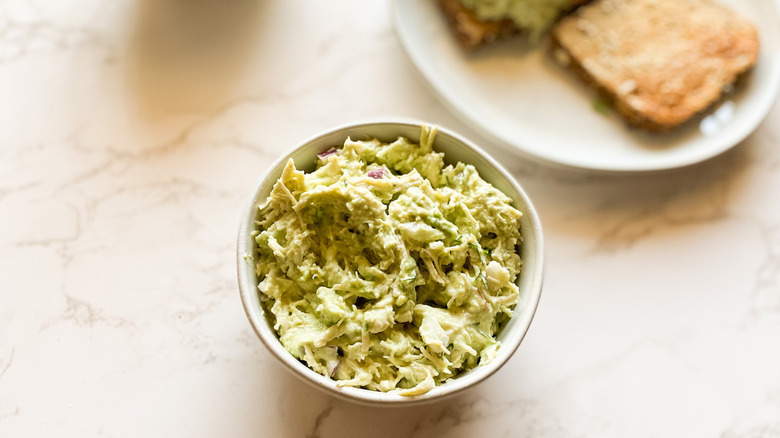 Kristen Carli/Health Digest
Whether you're working from home or going into the office, it's easy to get into a lunchtime rut, most especially if you want options that are quick, tasty, and healthy to boot. But with recipe developer Kristen Carli as your guide, a wealth of choices await. Her play on chicken salad isn't just easy to assemble — it's brimming with flavor, texture, and nutrients. You can make quickly it in the morning when you get up for an easy lunch that you can take with you, or you can whip it up on the weekend for a refreshing lunchtime treat.
Carli's tasty recipe combines a base of cooked, shredded chicken with a touch of red onion for both crunch and zing. For the creamy sauce, Carli substitutes almost all of the traditional mayonnaise with avocado, an excellent source of healthy fat and fiber to keep you full all afternoon long (via Healthline). Seasoned with lemon juice, fresh dill, and a touch of salt, the resulting salad is perfect to help you "power through busy workdays," according to Carli. 
Serve it on its own or on multigrain toast for a standout sandwich you'll love or even on top of a bed of fresh greens. This chicken salad is even great to have prepared in the fridge to pull out and serve on rosemary flatbread crackers.
Gather the ingredients to whip up this tasty chicken salad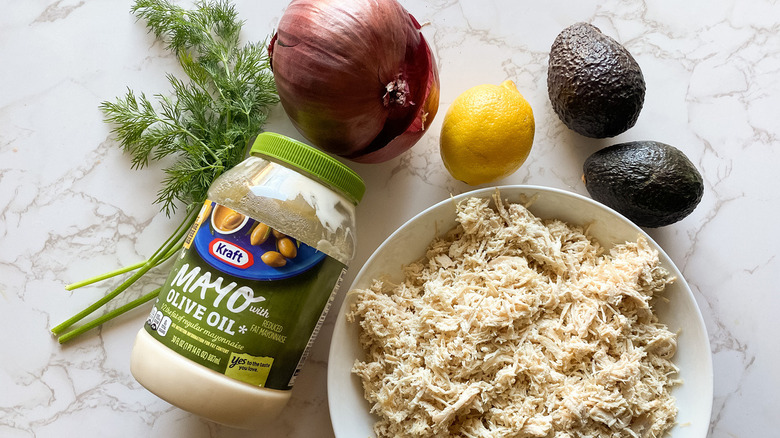 Kristen Carli/Health Digest
To make this delicious chicken salad, you will, of course, need chicken. You can use store-bought rotisserie chicken or cook some chicken breasts ahead of time to make the recipe. It's actually a real snap to pull together during a busy workday.
"My favorite way to cook chicken is to put it in the Instant Pot for ten minutes with about ½ cup of water or chicken broth," suggests Carli. "Naturally release, and then shred in a stand mixer." She notes that using the paddle attachment shreds the chicken quickly and finely. "It takes about one minute, vs shredding with forks [would take] much longer," she says.
The cooked, shredded chicken is tossed with diced red onion and fresh dill. A sauce that's made of lemon, avocado, and a touch of mayo brings everything together quite nicely. Carli recommends using mayo made with olive oil or avocado oil. Let's have real talk: Fresh onion and fresh dill both give such an amazing taste to just about every dish.
Mash the avocados for your chicken salad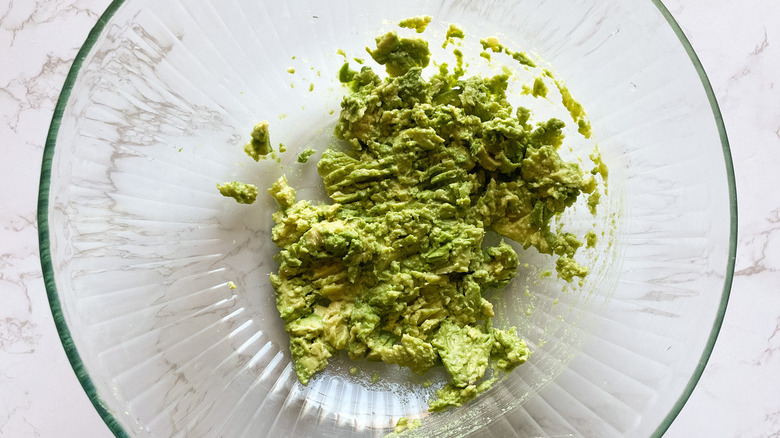 Kristen Carli/Health Digest
Avocados form the bulk of the dressing for this chicken salad, adding a lovely creaminess and a slight earthy flavor. The only downside? The avocados' tendency to oxidize once cut. This means that, unlike with a purely mayo-based salad, this chicken salad recipe doesn't have a super long shelf life. It will only last for about a day in the fridge. Luckily, it's so quick to make, that probably won't be a deterrent. Plus, it's so tasty, that you may not end up with any leftovers at all!
Use a fork to smash the avocados until they're nice and smooth, creating the perfect base for the other ingredients.
Add the other ingredients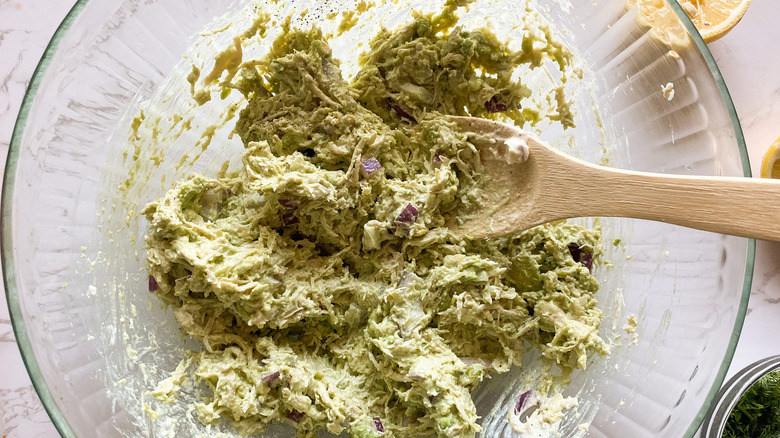 Kristen Carli/Health Digest
Once the avocados are mashed, there's very little left to do in this recipe! Add the onion, chicken, mayo, salt, lemon juice, and dill, and stir until the chicken is nicely coated in the sauce and the onion is well distributed.
With the chicken salad made, it's time to decide how to serve it. Carli loves piling it on multigrain toast, but you can also serve it on a wrap or with crudités or crackers for dipping. She also suggests piling the chicken salad atop lettuce, tomatoes, and sunflower seeds for a gluten-free option that's tasty and filling. Just be sure to choose your favorite breads or crackers when you shop for the ingredients. Chicken salad tastes great on so many things, you really can't go wrong.
Healthy Avocado Chicken Salad Recipe That's Totally Guilt-Free
This healthy chicken salad recipe is brimming with flavor, texture, and nutrients. The addition of avocado makes it extra delicious.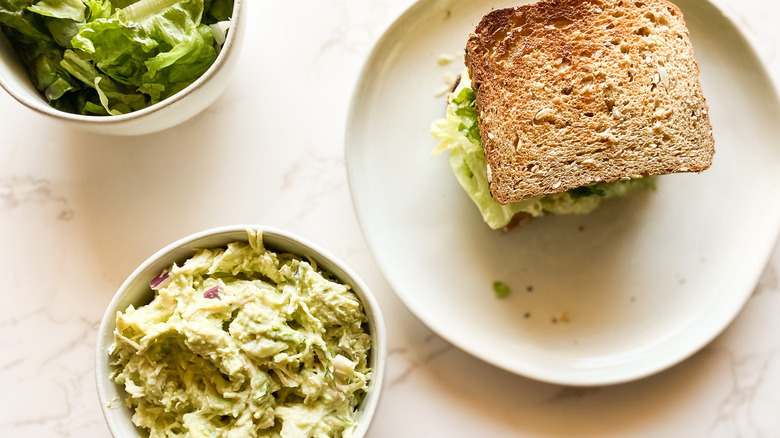 Ingredients
1 cup shredded chicken
2 avocados
¼ cup mayo
¼ red onion, diced
2 teaspoons salt
juice of one lemon
1 teaspoon fresh dill, chopped
Optional Ingredients
multigrain bread for serving
Directions
In a large bowl, mash the 2 avocados with a fork.
Add the shredded chicken, onion, mayo, salt, juice of 1 lemon, and fresh dill. Stir to combine.
Serve on multigrain bread or however you choose to enjoy!
Nutrition
| | |
| --- | --- |
| Calories per Serving | 343 |
| Total Fat | 31.2 g |
| Saturated Fat | 5.3 g |
| Trans Fat | 0.0 g |
| Cholesterol | 31.9 mg |
| | |
| --- | --- |
| Total Carbohydrates | 10.7 g |
| Dietary Fiber | 7.3 g |
| Total Sugars | 1.4 g |
| Sodium | 400.7 mg |
| Protein | 8.8 g |