The Real Reason Children's Coronavirus Cases Are On The Rise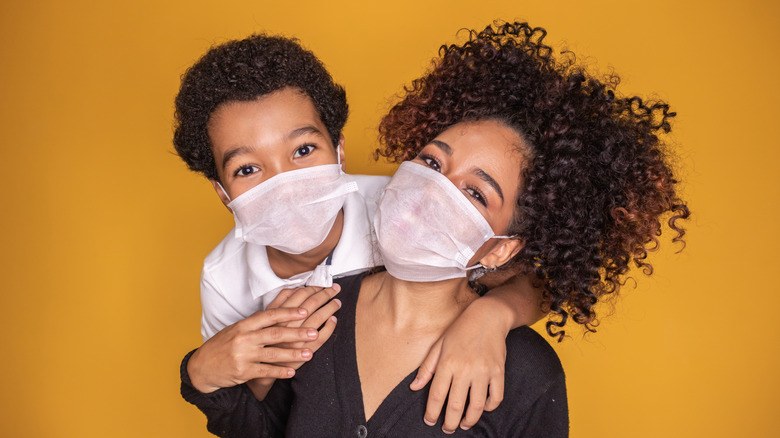 Shutterstock
In April of 2020, children only accounted for about 3% of new COVID-19 cases. But in 2021, that percentage is on the rise. Currently, 22.4% of new COVID-19 cases are in children, according to the American Academy of Pediatrics (AAP), and this recent spike in child cases has raised some questions. 
There are a few factors at play when it comes to the rise of coronavirus cases in kids — the fact that there are no vaccines yet for kids, the emergence of a new COVID-19 variant (the B.1.1.7), and the fact that schools are starting to lessen COVID-19 related restrictions. In both the U.K. and Israel, both countries were found to have a number of B.1.1.7 COVID-19 variant cases (via Healthline). However, once enough people in those countries were vaccinated, statistics showed that the number of cases decreased significantly. In the United States, only a little over 30% of the population are currently fully vaccinated (via Centers for Disease Control and Prevention). Experts agree there will be a decrease in the number of COVID-19 cases in children when more of the population has been fully vaccinated. 
Additionally, more kids are now attending school in person rather than remotely. This, combined with the presence of the new variant and the rate of adult vaccinations, could be why more kids are testing positive for COVID-19. From December to January, there was a spike in cases across all age groups, which has since decreased within the past few months.  
How we can decrease child COVID-19 cases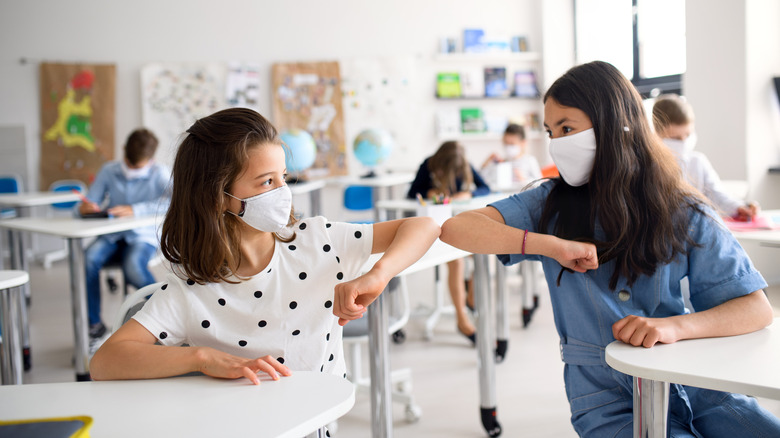 Shutterstock
While more children are testing positive for COVID-19, they typically experience mild to no symptoms. COVID-19 related hospitalizations and deaths in children haven't gone up significantly, as the virus has a hard time binding to children's receptors because they're not yet fully developed (via Healthline). 
Fortunately, there may be a vaccine available soon available soon. Pfizer has completed their vaccine studies on children ages 12 through 15, and they've submitted their findings to the FDA. Pfizer says their results are 100% effective, stating that not one of the 2,260 children participating in the studies contracted COVID-19 (via Pfizer). If the vaccine gets emergency use approval from the FDA, and people continue getting vaccinated, the U.S. should see a significant drop in COVID-19 cases in children. Additionally, Pfizer is now further expanding their studies to include children from six months to 11 years old. 
When the country reaches herd immunity through vaccinations, there'll be a significant drop in cases in children as well as in the entire population.
What parents can do to help their kids
Shutterstock
You can help reduce the risk of your child contracting COVID-19 by making an appointment for your own vaccination. Should you receive the Pfizer or Moderna vaccine, be sure to get both doses at the proper time. Use the CDC's vaccine locator to find a vaccination location near you and set up your first appointment. When the vaccine is available for your child's age group, take them to get vaccinated as well. 
If your child is attending school in person, make sure they're taking precautions to reduce the risk of transmission. The CDC has released guidelines for schools to follow regarding social distancing, wearing face masks, cleaning and disinfecting, and testing for any students showing any COVID-19 symptoms.
Watch your child for symptoms related to COVID-19 — fever, headache, cough, chills, sore throat, body aches, fatigue, nausea, vomiting, congestion, or loss of taste or smell are most common. Should they develop any of these symptoms, call your pediatrician right away and keep them home. For more severe symptoms, call 9-1-1 if your child shows signs of chest pain, difficultly breathing, confusion, blueish skin or lips, or if they're unable to stay awake or wake up (via Johns Hopkins Medicine).