This Is What Kaley Cuoco Does At The Gym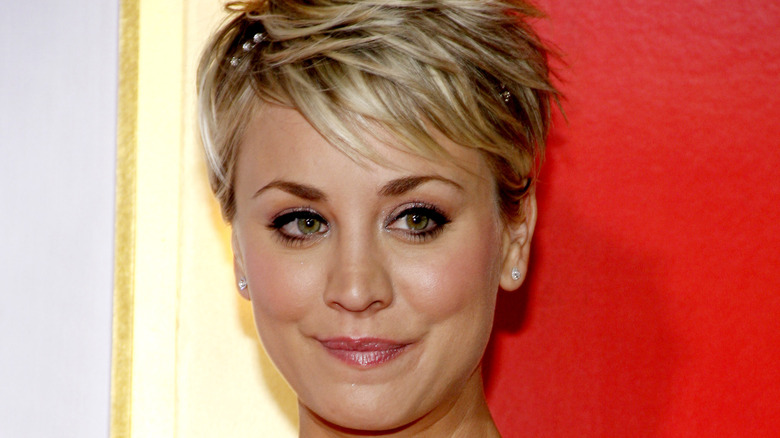 Shutterstock
Actor Kaley Cuoco is known for many things. You may know her best as Penny in "The Big Bang Theory," or as the star of the HBO drama, "The Flight Attendant." While we're impressed with her acting resume, we're even more impressed by her healthy lifestyle. Her Instagram account shows she's passionate about riding horses, snuggling with her dogs, and having a good laugh. But what we're really interested in is what she does at the gym that keeps her looking so strong and healthy. 
Eat This, Not That! shares that Cuoco's trainer of three years, Ryan Sorensen, keeps his client's stomach muscles activated through a series of balance and floor exercises including planks, arabesques, and leg lifts. "Kaley's favorite workouts are the ones that challenge her. Like if she has a hard time doing something at first, she'll want to do that exercise every single time until she gets it," Sorensen tells TODAY Health.
Cuoco doesn't stick with just one routine
Note that Sorensen said "workouts" — as in plural. It's clear from Cuoco's interview with Women's Health that she is not a fan of sticking to one routine for too long. "If I get a little bit bored, I'll switch over to SoulCycle, which I love too," she says. "It's all or nothing. I'm hot or cold. I'm not in a gray area. So if I'm doing yoga, we're doing it every day this week....Then I'm like, 'Oh my god, I have to switch.' Then I'm going crazy on SoulCycle....'Okay, I have to switch,'" she says.
Cuoco works out with her trainer in her own home gym that HELLO! described as both "epic" and "futuristic looking." But even with all that gym equipment right at her fingertips, Cuoco likes to turn to a playground classic to burn some calories. "My newest obsession during COVID/quarantine! All you need is 20 mins, a jump rope, and good music," she captions on her Instagram page.
Cuoco's love of variation and challenge appears to be working for her. Her strong and healthy looking physique leaves us wondering if maybe it's time to shake the dust off of our own current routine. Luckily for us, we can follow in Cuoco's footsteps and implement any number of her various exercise routines into our own workouts, sans any acting credits.