The One Thing You Always Want To See On Your Supplement Bottle
Shutterstock
Nutritional supplements in the form of tablets, capsules, powders, and liquids are more popular now than ever before — and growing. The supplement market was worth more than $167.8 billion as of 2019, and is expected to reach a whopping $306.8 billion by 2026 (via Globe News Wire). Supplements can be helpful in many ways, including supporting a vitamin deficiency, boosting the immune system, and increasing your protein intake. 
The downside of the dietary supplement industry is that the products are not required to have the strict safety and efficacy requirements that OTC or prescription "drugs" are, such as information from clinical trials, side effects reports, and ingredient regulations (via American Cancer Society). Without these regulations, you risk taking a supplement which may not offer the benefits it claims.
While there is much skepticism surrounding nutritional supplements, for many they are still worth a shot, as the National Center for Integrative and Complementary Health reports that there are supplements that have been proven to be good for your health. To stay on the cautious side, before you purchase your next bottle of vitamins, here is what you need to look for.
Look for these symbols when purchasing supplements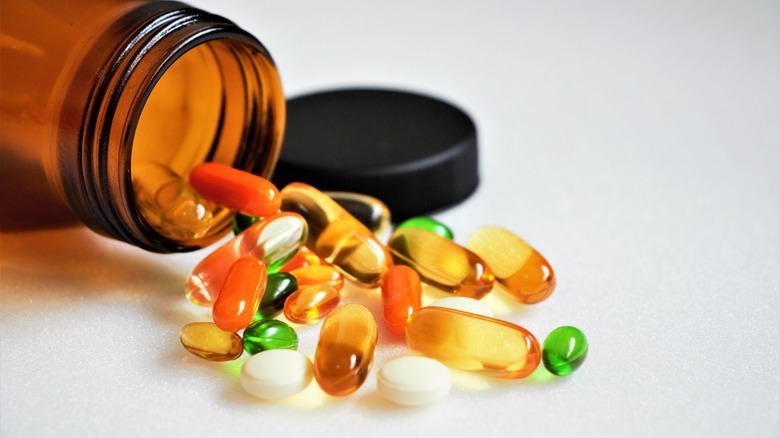 Shutterstock
According to Best Life, when purchasing a dietary supplement such as melatonin or vitamin D, check the container for a seal of approval from the United States Pharmacopeial Convention, which is a yellow and green symbol that reads "USP Verified." This represents the product has been tested for purity and ingredient accuracy, and is free from harmful additives. Furthermore, this little USP symbol means the product has been reviewed by an independent group to ensure it "has been made according to [Food and Drug Administration] FDA current Good Manufacturing Practices using sanitary and well-controlled procedures."
Best Life reports the seal is only found within a small number of manufacturing companies, and warns to steer clear of companies that state the letters "USP" on the bottle without the symbol. 
In addition to the USP verification, you can also look for the "NSF" symbol on your products, a blue and white seal, which, according to the NSF website, means "...the product has been tested by one of the most respected independent certification organizations in existence today." The NSF also has a verification for sports supplements like creatine and pre-workout, to ensure there are no illegal additives, such as steroids.