This Is What Happens When You Eat An Acai Bowl Every Day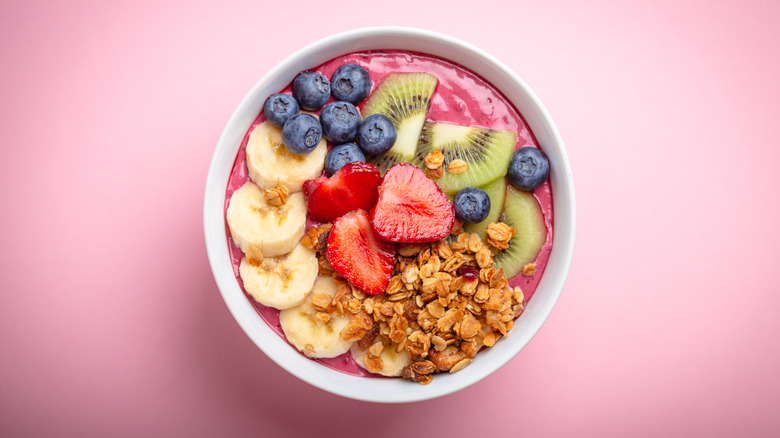 Shutterstock
Acai bowls are thick and creamy smoothie bowls loaded with toppings and acai berries. Known for their vibrant colors and fruity taste, acai bowls have become one of the most popular food trends in the health and wellness community and beyond — but are they actually good for you? Made from fruits, nuts, seeds, granola, and acai berry puree, acai bowls are filling and nutrient-dense (via Healthline). Packed full of vitamins and minerals, acai bowls are high in fiber, antioxidants, and vitamin C. They're also a great source of potassium and manganese.
Despite these important nutrients, however, most acai bowls tend to be high in calories and added sugar (via Shape). Depending on the size and ingredients, acai bowls can have upwards of 50 grams of sugar per bowl. This is the same amount of sugar as the daily recommended intake for those following a 2,000-calorie diet. The average store-bought acai bowl also contains around 490 to 600 calories each. Eating a sugar-loaded acai bowl every day may increase blood sugar levels or result in weight gain. 
How to make a healthier acai bowl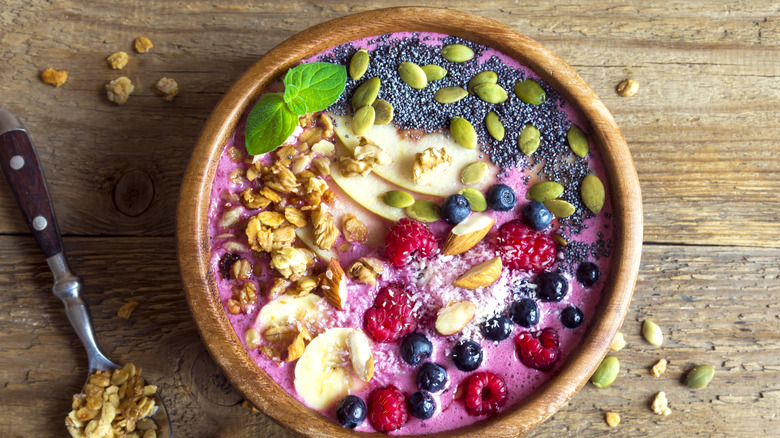 Shutterstock
Fortunately, you can make your own acai bowl at home, where you can control the ingredients and calorie and sugar content. One way to make a healthier acai bowl is to swap out some fruit and add in a helping of vegetables (via Well+Good).
Kale, cauliflower, and zucchini are all vegetables that can easily blend into the base of your acai bowl without affecting or overpowering the bowl's fruity flavor. This can help cut down on the sugar content and add in even more nutrients. You can also use pumpkin puree in the base to add more fiber and flavor without adding too much sugar.
Another way to make a healthier acai bowl is to pack it full of protein and healthy fats. Topping your bowl with chia seeds, Greek yogurt, pumpkin seeds, almond butter, hemp protein powder, or avocado can help regulate your blood sugar levels and keep you feeling full longer.