Summer Corn Salad Recipe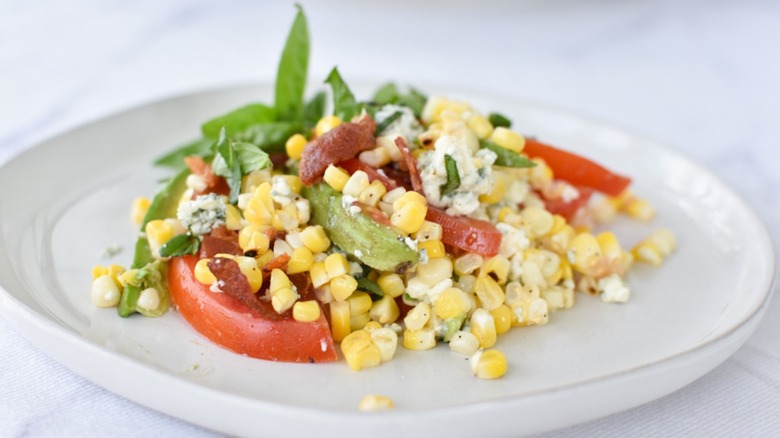 Stephanie Rapone/Mashed
When we think of summer produce, usually fresh berries are what comes to mind right away, along with stone fruits like plums, peaches, and ripe apricots, and of course, the picnic-friendly watermelon. While summer veggies might not get to play a starring role in cocktails and desserts the way that summer fruits do, they don't always need to be relegated to a lesser status. Case in point: this delicious summer corn salad from recipe developer Stephanie Rapone.
While you could make this salad with frozen corn should you get a craving for it in winter, it's best if made with fresh corn that's been cooked on the cob, and as this is something you can usually only find during the warmer months of the year, you'll need to eat your fill while its all-too-brief season lasts.
While plain grilled or steamed corn on the cob is a joy that never grows old, fresh corn can be even more amazing when you dress it up a bit. Rapone layers grilled corn with avocado, bacon, and blue cheese crumbles for a salad that could either make for a super hearty side or stand on its own as a veggie-forward main dish.
Assemble the ingredients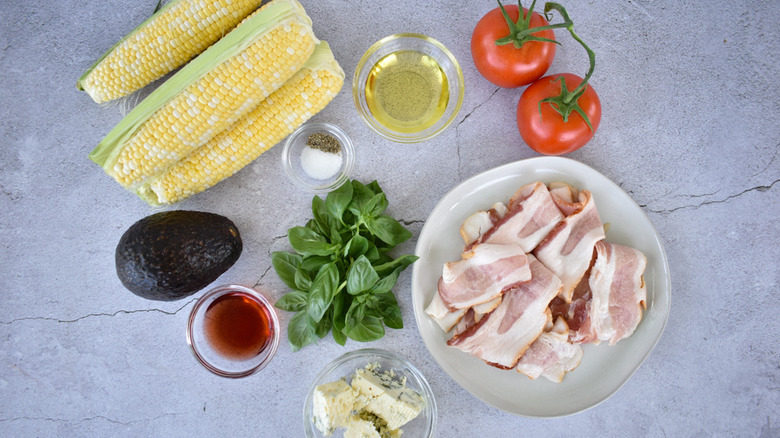 Stephanie Rapone/Mashed
To make this summer corn salad, you'll start with a few ears of fresh corn. You will also need olive oil, bacon, an avocado, a couple of fresh tomatoes (also at their best in summer!), and some fresh basil. In this recipe, the basil serves a decorative purpose as well as adding a little flavor, but if you can't find the fresh stuff, it's probably better to skip it than to substitute the dried kind. A few other ingredients you'll need are salt (either sea or kosher), black pepper (Rapone favors fresh-ground), and some blue cheese crumbles.
Not into meat or dairy? That's okay — this summer corn salad can work for you, too. As Rapone tells us, "This is also amazing without the bacon or the blue cheese for a vegan or super light dish!"
Grill the corn (or cook it however you prefer)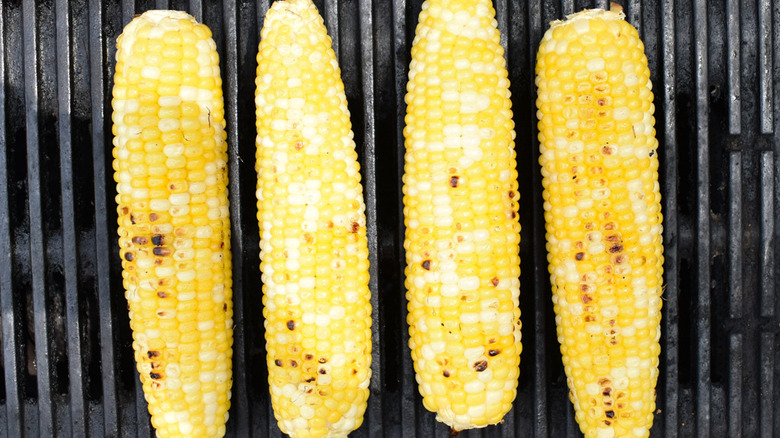 Stephanie Rapone/Mashed
Rapone cooked her corn on a grill, which she preheated and cleaned before starting the cooking. As the grill heated, she shucked the corn and drizzled the ears with a tablespoon of olive oil. She then reduced the heat to medium and grilled the corn for about three minutes on each side, turning it a few times. All in all, she says, it took about 12 minutes until, as she describes it, "the kernels get bright yellow and you have some yummy brown caramelized pieces."
If you don't have a grill, that's no problem at all. Fresh corn is just as delicious if you steam it or boil it, and corn is also one of the few types of food that might actually be at its best if you cook it in the microwave. However you cook your corn, set it aside and let it cool.
Cook the bacon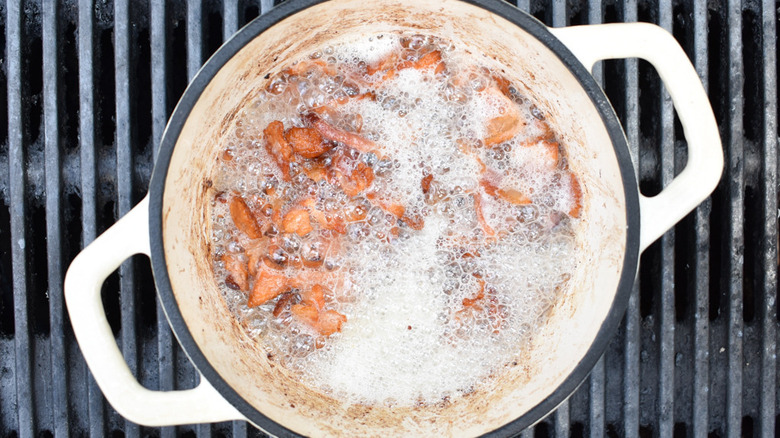 Stephanie Rapone/Mashed
The bacon, again, is an ingredient that you can cook any way you wish. If you are grilling the corn, you could always put a grill-safe pan on the grates and cook your bacon the outdoorsy way. You can also microwave it, bake it, or fry it over the stove. Rapone says hers took her about 15 minutes to cook, and she tells us she chopped the bacon before cooking it. You can do this too, or you could always crumble it into small pieces after you're done cooking. Just make sure those bacon bits are nice and crispy!
Prep the veggies for the summer corn salad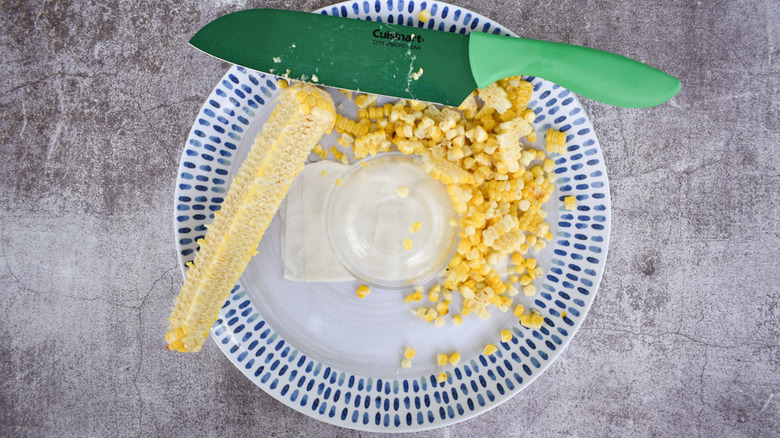 Stephanie Rapone/Mashed
Peel and slice the avocado, slice the tomatoes, and chop the basil (or chiffonade it, if you prefer). Once you're done cooking the bacon and prepping the avocado, tomatoes, and basil, your corn should be cool enough to handle. (If not, grab some gloves or just try running it under some cold water, then patting it dry with a paper towel.) Now it's time to cut those kernels off the corn!
If corn kernel cutting is something you've got your own go-to method for, then go for it. If not, Rapone suggests using a small bowl turned upside down and placed on top of a rimmed plate or a larger bowl. "If your small bowl is sliding around," she says, "just put a damp folded paper towel between it and the plate to provide some traction."
Assemble the salad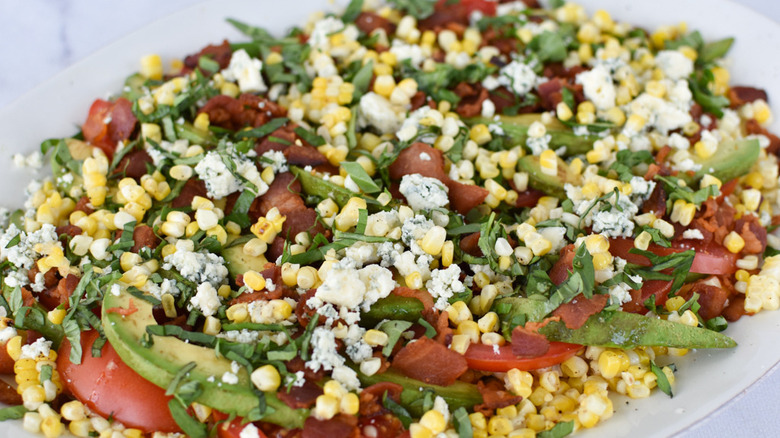 Stephanie Rapone/Mashed
Once the corn kernels are all off their cobs, toss them with a tablespoon of olive oil, a tablespoon of vinegar, a quarter of a teaspoon of salt, and an eighth of a teaspoon of pepper. Mix well, then remove half a cup of corn and set it aside. Spread the rest of the corn on a serving platter. Top the corn with the sliced tomatoes and the avocado, then drizzle all the veggies with another tablespoon of olive oil and another tablespoon of vinegar. Sprinkle with the remaining quarter teaspoon of salt and eighth of a teaspoon of pepper.
As a final layer, add the bacon, the blue cheese, and the basil. Then, as a crowning touch, sprinkle the summer corn salad with the reserved corn. This final garnish is done, as Rapone says, "So everyone knows the corn is the star of the show!"
Summer Corn Salad Recipe
We layer grilled corn with avocado, bacon, and blue cheese crumbles for a salad you'll want to enjoy all summer long. Give it a try.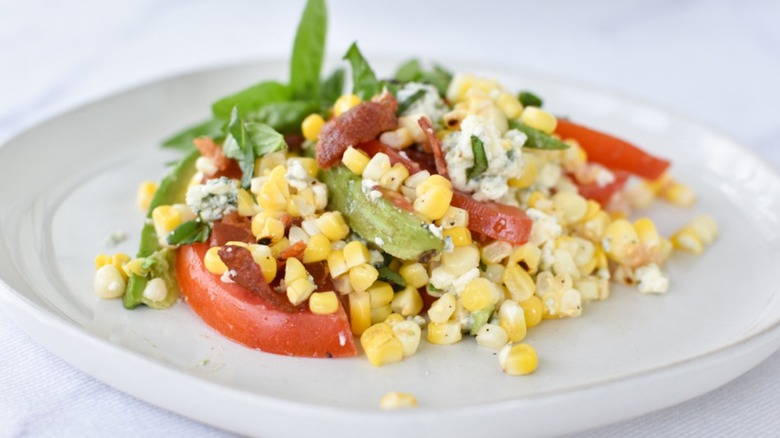 Ingredients
4 ears fresh corn
3 tablespoons olive oil, divided
½ pound bacon
1 avocado
2 medium or 1 large ripe fresh tomatoes
¼ cup fresh basil
2 tablespoons red wine vinegar, divided
½ teaspoon sea salt or kosher salt
¼ teaspoon black pepper
⅓ cup crumbled blue cheese
Directions
Heat grill over high heat and scrape clean.
Remove husks from corn.
Drizzle 1 tablespoon olive oil evenly all over the corn. (This step is only necessary if grilling, not if you'll be cooking the corn another way.)
Reduce grill heat to medium and grill corn for 3 minutes per side, about 12 minutes.
Cook bacon over high heat until crispy and brown. Drain on a paper towel-lined plate.
Peel and slice the avocado, slice the tomatoes, and chop or chiffonade the basil.
Cut the kernels off the ears of corn.
Toss the corn kernels with 1 tablespoon olive oil, 1 tablespoon vinegar, ¼ teaspoon salt, and ⅛ teaspoon black pepper.
Spread the corn on a platter, reserving about ½ cup to top off the salad.
Layer the sliced tomatoes and avocado on the corn.
Drizzle the salad with the remaining 1 tablespoon olive oil, 1 tablespoon vinegar, ¼ teaspoon salt, and ⅛ teaspoon black pepper.
Top the salad with bacon, blue cheese, and basil, and finish off with the reserved corn.
Serve and enjoy.
Nutrition
| | |
| --- | --- |
| Calories per Serving | 550 |
| Total Fat | 44.8 g |
| Saturated Fat | 12.5 g |
| Trans Fat | 0.1 g |
| Cholesterol | 45.9 mg |
| | |
| --- | --- |
| Total Carbohydrates | 27.5 g |
| Dietary Fiber | 6.4 g |
| Total Sugars | 9.4 g |
| Sodium | 735.6 mg |
| Protein | 14.6 g |