Why The CDC Wants Vaccinated People To Start Wearing Masks Again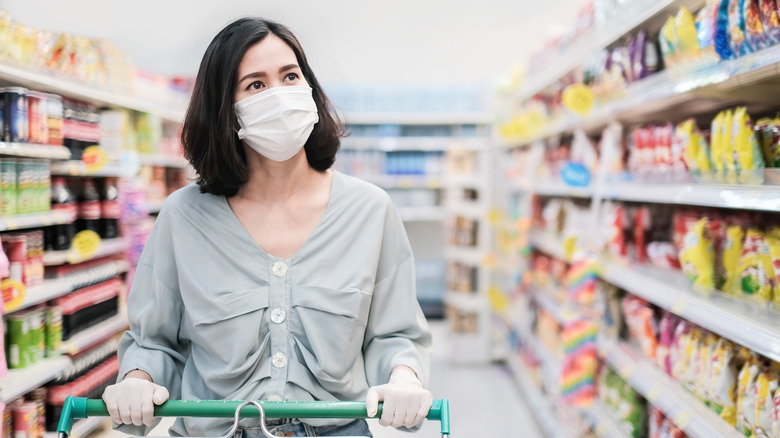 Shutterstock
On Tuesday, the Centers for Disease Control and Prevention announced a reversal on their previous stance that vaccinated Americans could go mask-free in virtually all venues. They are now recommending that everyone, regardless of their vaccination status, wear a face mask in public indoor spaces where COVID cases are surging (via New York Times). The CDC also recommended that all teachers, staff, students, and visitors in schools wear masks as well, regardless of vaccination status.
"This is not a decision we at CDC have made lightly," Dr. Rochelle Walensky, director of the CDC, said in a press conference on Tuesday. "This weighs heavily on me." The decision is in part due to rising COVID cases around the country as economies have opened up, with notable surges being seen in Florida, Texas, and Missouri. The super contagious Delta variant is also a contributing factor. It has been shown to behave differently than past versions of the coronavirus and has led to more breakthrough infections in vaccinated individuals.
"The Delta variant is showing every day its willingness to outsmart us," Dr. Walensky said. "This new science is worrisome and unfortunately warrants an update to our recommendation." New data has shown that the Delta variant is more likely to be caught and transmitted by both vaccinated and unvaccinated people, which prompted the change in masking. "The big concern is that the next variant that might emerge — just potentially a few mutations away — could evade our vaccine." Dr. Walensky said.
Getting vaccinated is still the best protection against all strains of the coronavirus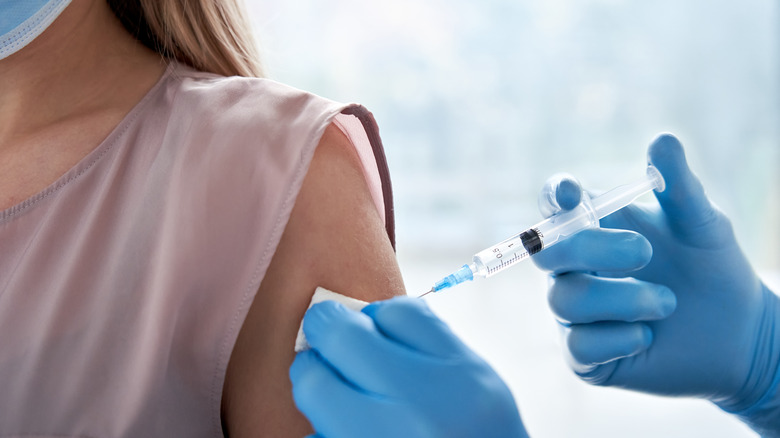 Shutterstock
According to CNBC, health officials are confident that "fully vaccinated individuals represent a very small amount of transmission," even when the Delta variant is brought into play. The largest surges of COVID are currently being seen in states where vaccination rates are low. According to the Associated Press, virtually all COVID deaths in the United States are in people who are not vaccinated.
According to Forbes, the Delta variant currently makes up 83% of new cases in the U.S., mainly because it is twice as contagious as the original virus. Although some vaccinated people have been getting COVID in what have been called "breakthrough" cases, their symptoms are often much milder and those people rarely require hospitalization. "The fact that people are getting breakthroughs with the Delta variant and not having symptoms is something to celebrate," Amesh Adalja, a physician and senior scholar at the John Hopkins Center for Health Security, told Forbes. "That means our vaccines are robust against the Delta variant."
Masks have been shown to help reduce transmission of the coronavirus in numerous studies conducted since the beginning of the pandemic (via CDC). Even if you are vaccinated, wearing a mask indoors will help slow the spread of the virus to those who cannot get vaccinated, like children and people with certain health conditions.