The Diet That Helped Jimmy Kimmel Lose Weight
Shutterstock
Late-night veteran, comedian, and former "Man Show" host Jimmy Kimmel is looking pretty trim these days. But that hasn't always been the case. Kimmel has gone through much of his decades-long career carrying a little extra padding. He told Men's Journal that he always saw himself as a skinny man. He grew up thin, and he admitted that he was unaware of how much he weighed through much of his adult life.
It wasn't until he bought a scale that Kimmel found out he weighed an eye-opening 208 pounds. Soon after, the famous Dr. Oz was a guest on his show and expressed his concern over the actor's health. This jolted Kimmel into action. I was like, "You know what? Dr. Oz shouldn't care more about my health more than I do," he reflects in Men's Journal.
According to Good Housekeeping, Kimmel turned to the now-trendy intermittent fasting method to help him lose weight. But before turning to that plan, Kimmel took some drastic measures in order to lose the first stubborn 25 pounds.
Kimmel Switched to the 5:2 method after lossing 25 pounds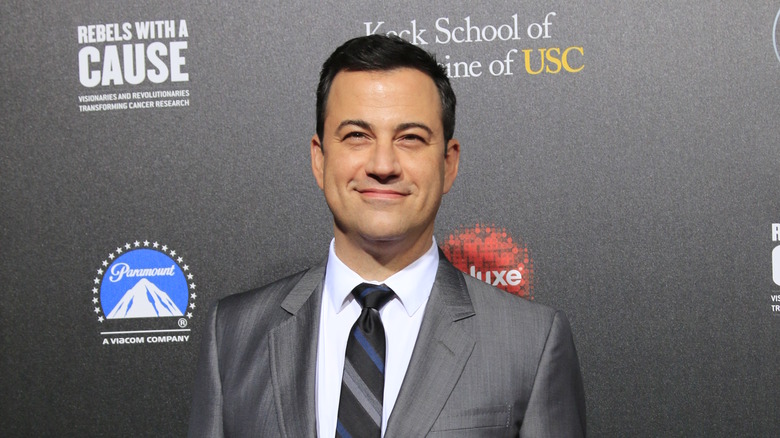 Shutterstock
At the beginning of his weight loss journey, Good Housekeeping claims the late-night host limited his daily food intake to two protein shakes and one small meal. This lasted for about eight weeks. He then turned to the more sustainable 5:2 method. For five days a week, the comedian eats whatever he pleases. And then on Mondays and Tuesdays, Kimmel survives on a strict 500 calories made up of coffee, pickles, egg whites, apples, peanut butter, and oatmeal. "I got the idea from a BBC documentary about this Indian man who seemed about 138 years old, and said his secret was severe calorie restriction," he says in Men's Journal.
Seeing as there are no guidelines on what you can and cannot eat, Healthline claims that intermittent fasting is more of a lifestyle than a diet. In addition to weight loss, participants of this lifestyle might also notice reduced inflammation and improved blood lipids. You can choose to restrict your calories on specific days, or you can choose to limit the amount of hours during the day you consume food. Both methods are considered to be intermittent fasting.
Kimmel himself admitted to Men's Journal that he feels the pressure to stay slim, and that he doesn't want to be the guy to lose all this weight and then gain it back. As far as we can see, it appears the comedian has stuck to his intermittent fasting lifestyle.