What's It Like To Get COVID-19 When You're Vaccinated?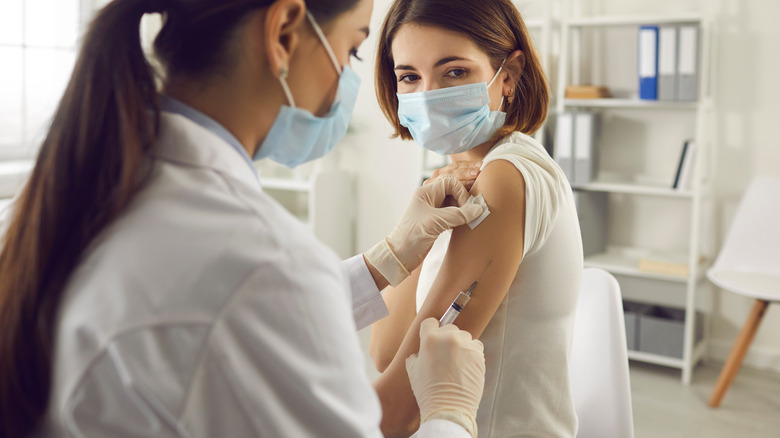 Shutterstock
Being vaccinated greatly reduces your risk of getting COVID-19, but that does not mean you are immune. While breakthrough cases remain rare, there is still a small chance that you may get the virus, according to the Centers for Disease Control and Prevention (CDC). The Pfizer vaccine is roughly 88% effective at preventing symptomatic disease, and while that is very efficient, no vaccine is 100% effective. Some diseases have been practically eliminated by vaccines, but that is because a high enough percentage of the population was vaccinated, which is not yet the case for the COVID-19 vaccines (per Mayo Clinic).
The good news is that if you are vaccinated, your case is likely to be a lot milder than it otherwise would have been. According to CDC director Dr. Rochelle Walensky, 99.5% of COVID-19 deaths as of early July were in unvaccinated people (per Business Insider). The Pfizer vaccine remains at least 93% effective against hospitalization, according to the CDC.
Breakthrough COVID-19 cases are generally mild
Shutterstock
According to the ZOE COVID Study, vaccinated people tend to report fewer symptoms over a shorter period of time, which indicates that their cases are milder and they recover more quickly. A study of essential workers confirmed these findings, reporting that symptoms lasted an average of 10 days for vaccinated participants, compared to 16 days for unvaccinated participants. The study also found that vaccinated people had a lower viral load (per The New England Journal of Medicine). All of this makes sense, because vaccinated people's immune systems have been trained to recognize and fight off COVID-19 (per CDC). 
The most common symptoms among vaccinated people who get COVID-19 are headache, runny nose, sneezing, sore throat, and loss of smell. Fully vaccinated people are less likely to have a persistent cough, which remains a top symptom among people who are unvaccinated or only partially vaccinated. Unvaccinated people are also much more likely to have a fever, found the ZOE COVID Study.
But while vaccinated people generally have much milder experiences, some people with breakthrough cases may still experience symptoms that persist for longer than six weeks, according to another study published in The New England Journal of Medicine. While these cases are rare, this highlights the importance of following CDC recommendations to wear a mask in public indoor spaces.
Moreover, vaccinated people with breakthrough infections can still spread the virus to others, including to people who may either be ineligible for, or receive less protection from, the COVID-19 vaccines (per University of Minnesota). For this reason, both unvaccinated and vaccinated people should stay home and get tested if they start exhibiting COVID-19 symptoms, and then quarantine for 10 days if the test comes back positive, according to the CDC.