Instant Pot Vegetable Broth Recipe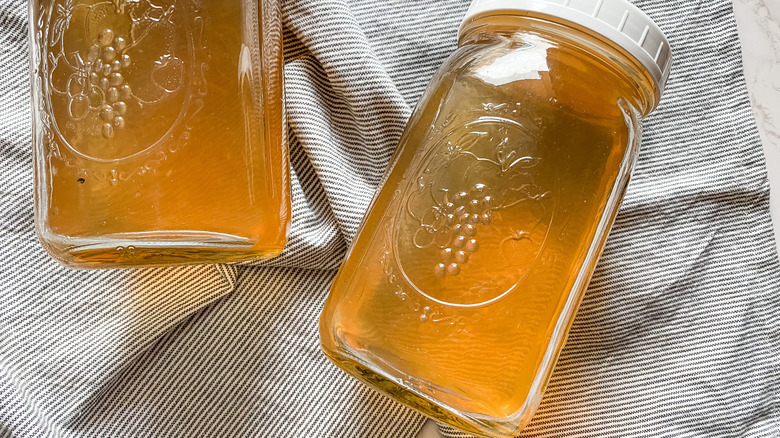 Kristen Carli/Health Digest
Most people think that vegetable broth is something that you can only purchase at the grocery store. But lo and behold, there's a way to make vegetable broth at home in the comfort of your kitchen. Not only is this recipe simple, but it also won't break the bank. All you need are some leftover vegetable scraps, and we're not going to lie, it makes us feel good knowing that stems and other parts of veggies that we usually won't eat won't go to waste. The recipe also uses one of the best kitchen inventions of all time ... the Instant Pot! This versatile machine can do it all, including making fresh vegetable broth, and that's one of the reasons why we love cooking with one so much. 
Recipe developer Kristen Carli knows a thing or two about making broth, and she has a whole lot of love for it. "I love this broth because it is always something you can quickly make to keep on hand. I cook a lot at home, so I always have veggie scraps around," Carlie shares. "I love being able to repurpose the scraps I would otherwise throw out."
Keep reading to find out how to make this delicious vegetable broth! 
Gather the ingredients for your vegetable broth
Kristen Carli/Health Digest
This recipe is great because you can just use any leftover veggies that you have at home. All in all, you need four cups of veggie scraps that can be composed of various veggies. Some suggestions from Carli include parsley stems, carrot tops, onion peels, and bell pepper stems. A few other suggestions include celery tops, celery stalks, broccoli stems, and herbs. This is a great way to use up the scraps from other veggies so they don't go to waste.
The only other ingredient that you will need is water. This recipe is super affordable, thanks to the ease of the ingredients.
Add the ingredients to the Instant Pot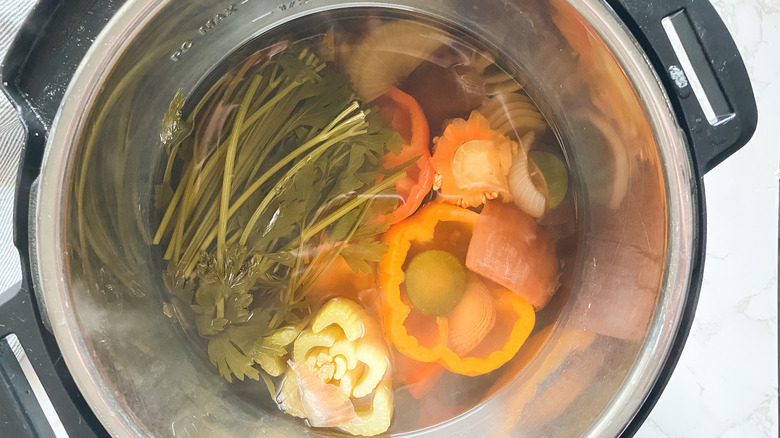 Kristen Carli/Health Digest
Now, it's time to bust out your Instant Pot. You know, that fabulous kitchen appliance that is capable of working magic. Seriously, how did we get by for all those years without one? Then, open the lid and toss in four cups of veggie scraps first. After that, you can add in the four cups of water. This won't fill the Instant Pot all the way. Once you have loaded everything in, it's time to get cooking.
Pressure cook in the Instant Pot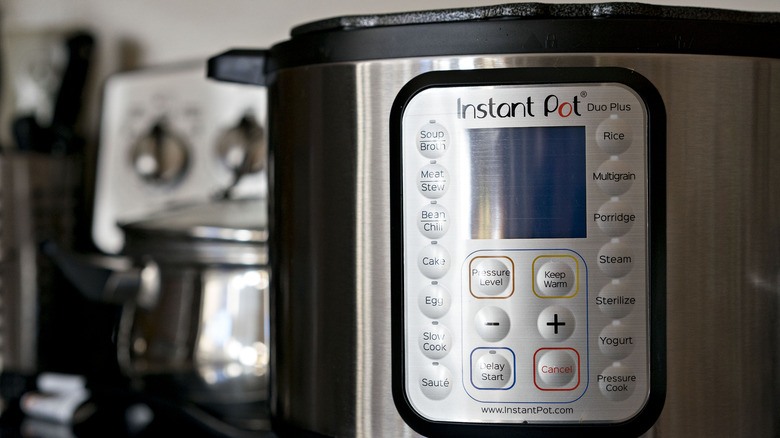 Bloomberg/Getty Images
Now that all of the veggies and the water are loaded into the Instant Pot, close the lid. Make sure to set the valve to sealing. Then, pressure cook the vegetable broth for 12 minutes by using the built-in timer on the Instant Pot.
The nice part about the Instant Pot or the slow cooker is that it pretty much does all the work for you. Just hang tight for the 12 minutes that it takes to cook — you may even be able to get something else done in the meantime.
Quick-release the Instant Pot and drain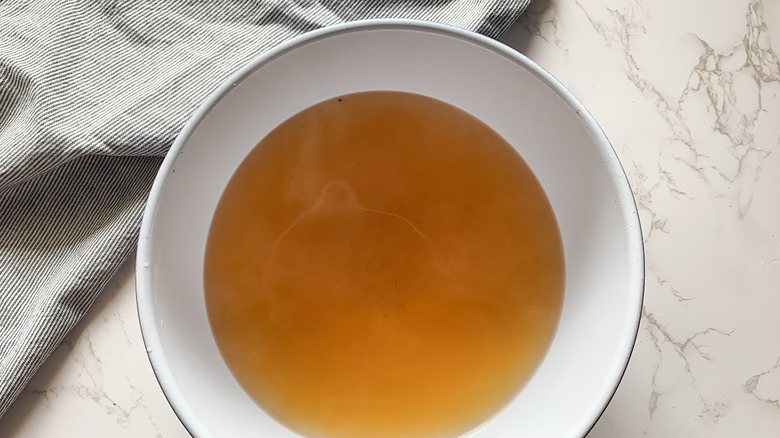 Kristen Carli/Health Digest
Do a quick-release steam valve. Once you've done that, open the lid to the Instant Pot and let the wonderful aroma fill your kitchen. The liquid should now have a darker tint, and that means it's done. 
Then, take out a colander and a large bowl. Set the colander on top of the bowl and strain the solids so that they stay in the colander and the broth goes into the bowl. Pour the broth into jars if you have them. If not, you could use a bowl with a cling wrap cover.
Enjoy the vegetable broth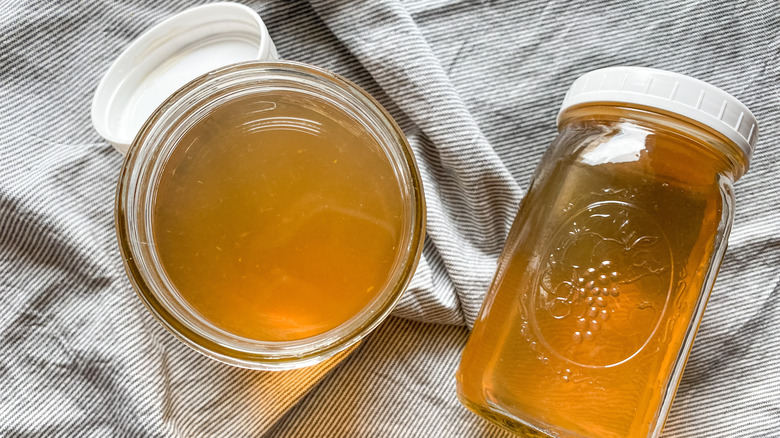 Kristen Carli/Health Digest
The last step in all recipes is always the best step since it involves enjoying what you just made. Vegetable broth goes great in a variety of dishes, including rice, grains, or as the base for a soup. There's just something about this homemade broth that hits the spot and tastes a little better than a broth that you purchase from a store.
If you have more than you need, Carli says that leftovers would keep ​​in an "airtight container for up to one week." Enjoy!
Instant Pot Vegetable Broth Recipe
Most people think that vegetable broth is something that you can only purchase at the grocery store. But there's a way to make vegetable broth at home.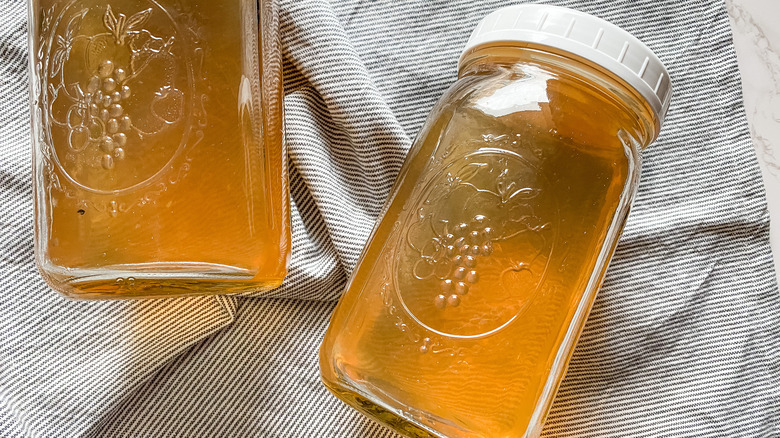 Ingredients
4 cups of veggie scraps, including parsley stems, carrot tops, onion peels, etc.
4 cups water
Directions
In the Instant Pot, add 4 cups of assorted veggie scraps and water.
Close lid and set valve to sealing. Pressure cook for 12 minutes.
Quick-release steam valve. Open lid. Set a large bowl underneath a colander. Strain solids into colander and discard. Pour broth into jars.
Serve alone or in any recipe that calls for broth.
Nutrition
| | |
| --- | --- |
| Calories per Serving | 3 |
| Total Fat | 0.0 g |
| Saturated Fat | 0.0 g |
| Trans Fat | 0.0 |
| Cholesterol | 0.0 mg |
| | |
| --- | --- |
| Total Carbohydrates | 0.6 g |
| Dietary Fiber | 0.1 g |
| Total Sugars | 0.3 g |
| Sodium | 8.3 mg |
| Protein | 0.1 g |