Crispy Roasted Chickpeas Recipe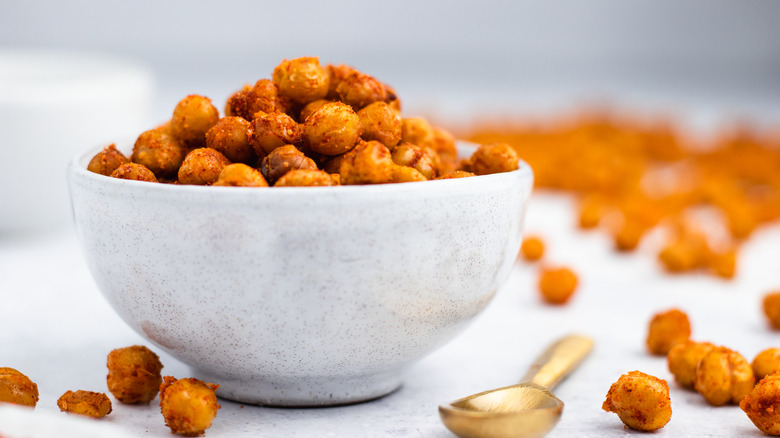 Catherine Brookes/Health Digest
What's better than a snack that has plenty of health benefits? The answer is nothing ... because there's really nothing better! This recipe for crispy roasted chickpeas is not only delicious, but also has a ton of benefits that are great for your health. Healthline shares that not only are chickpeas high in vitamins and minerals, but they also help the body work like a well-oiled machine, aiding digestion and helping keep off extra pounds. Since chickpeas are filled with protein, they can also curb your appetite and satisfy your gurgling tummy. Sounds pretty good, right?
Recipe developer Catherine Brookes came up with this healthy recipe that tastes just as good as it looks. She shares that what she loves most about this is the ease of preparation. "I love how quick and easy it is to make up a big batch of them," Brookes raves. "They make a great snack!" 
Without further ado, keep reading to find out how to make this quick and easy snack that is sure to hit the spot! 
Gather the ingredients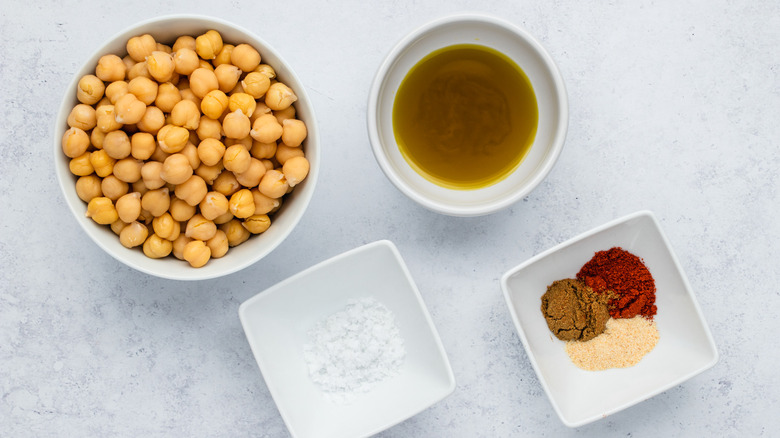 Catherine Brookes/Health Digest
To start things off, gather the ingredients that you need to throw together this yummy snack. 
You will need a can of chickpeas, which are the main star of this dish. Be sure to drain and rinse them before you get cooking. In addition, grab some avocado oil, which will help the spices stick to the chickpeas. 
The rest of the items on the list include seasonings that will make the recipe taste next-level good: sea salt, smoked paprika, ground cumin, and garlic powder. That's it! Isn't that easy? Hopefully, you already have a few of those things at home. 
Preheat the oven and dry the chickpeas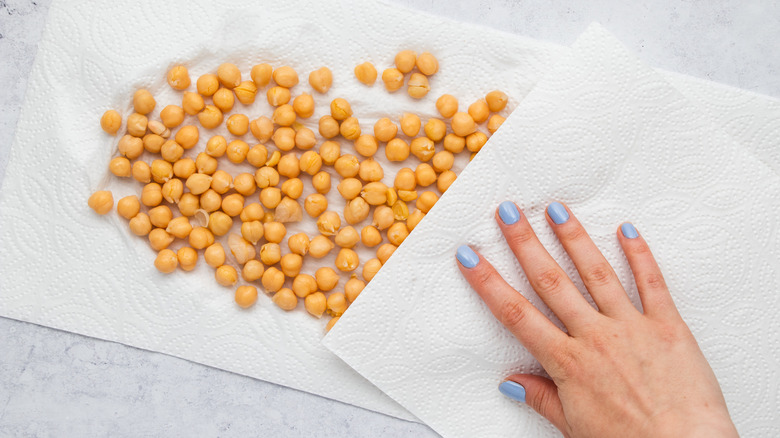 Catherine Brookes/Health Digest
Before you do anything else, preheat your oven, so it gets nice and hot. Set the temp to 425 F and let it get nice and toasty. Then, get out a baking sheet and line it with parchment paper. Not only will it make one less mess to clean, but we also want to make sure no chickpeas get stuck to the pan. 
Once you have lined the pan with parchment paper, dry the chickpeas with two layers of paper towels. Remember that you should have already drained and rinsed the chickpeas before you started the cooking process.
Coat the chickpeas in oil and salt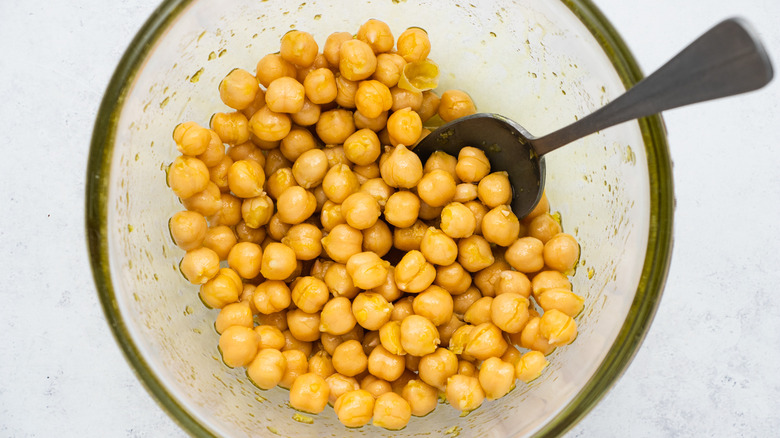 Catherine Brookes/Health Digest
Next, add the chickpeas to a mixing bowl. Then, throw in the avocado oil followed by the salt, and give the chickpeas a few good tosses so that oil and salt coat each one. Once you finish that, spread the chickpeas out on a lined baking sheet and get them in the oven. Set your timer for 25 minutes. They'll probably need 30 minutes, but it's good to note that if they're smaller, they might finish before your timer dings, and if they're bigger or wetter, they might need 35 minutes. 
Be sure to keep an eye on the chickpeas as they bake, and make sure to take them out once they're golden and crispy. 
Season the chickpeas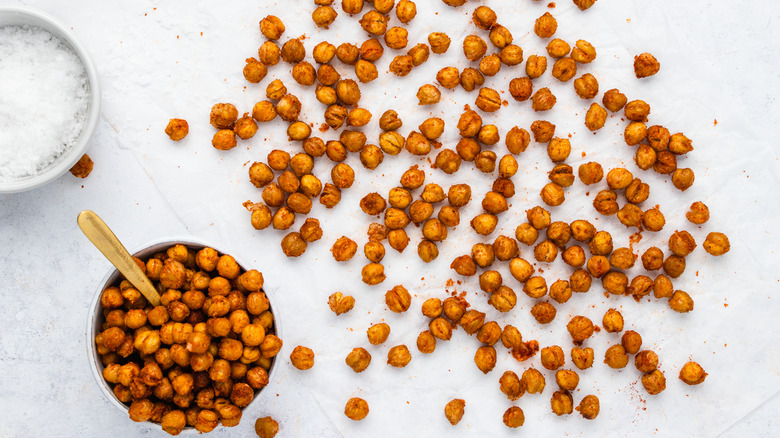 Catherine Brookes/Health Digest
Be sure to use oven mitts when you take the chickpeas out of the oven. Once they're out, it's time to get them seasoned. You can either keep them on a baking sheet or transfer them to a bowl — whichever is easier for you to mix. Then, sprinkle the chickpeas with paprika, cumin, and garlic powder. After that, mix the chickpeas with a spoon, making sure that all of the pieces are evenly coated with each and every spice. 
If you would like to add a little more salt at this time, you can also do so.
Serve the crispy roasted chickpeas
Catherine Brookes/Health Digest
Now that you've seasoned the chickpeas, it's time for the best part — getting to enjoy them! Brookes shares that she usually enjoys them as a snack, but they also make a great topper for a salad. If you make this whole batch for yourself, you might have some leftovers, which is just fine, notes Brookes. "They're best eaten within three days," she says. After that, they start to lose their crunch.
Be sure to store them in an airtight container at room temperature. We hope you love this healthy snack as much as we do! 
Crispy Roasted Chickpeas Recipe
This crispy roasted chickpeas recipe is not only delicious, it also has a ton of benefits that are great for your health. And it's quick and easy to make.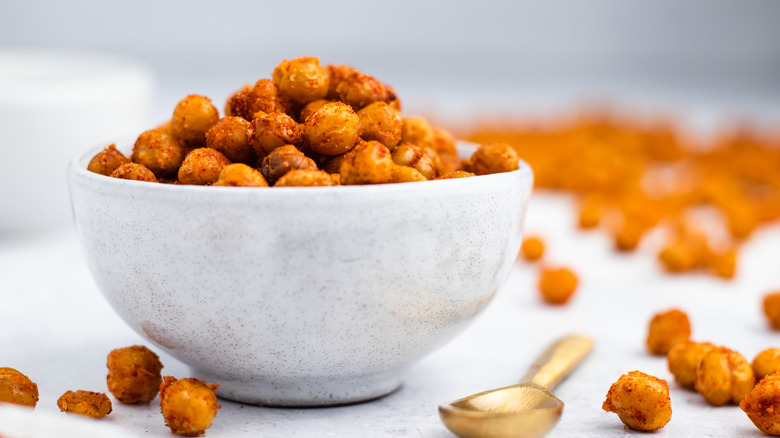 Ingredients
1 (14.1-ounce) can chickpeas, drained and rinsed
2 tablespoons avocado oil
½ teaspoon sea salt
½ teaspoon smoked paprika
½ teaspoon ground cumin
¼ teaspoon garlic powder
Directions
Preheat the oven to 425 F and line a baking sheet with parchment paper.
Thoroughly dry the chickpeas between two layers of kitchen paper.
Add the chickpeas to a mixing bowl and toss them with the oil and salt.
Spread the chickpeas out on your lined baking sheet and roast them for 25 to 35 minutes, or until golden and crispy.
When fresh out of the oven, sprinkle the paprika, cumin and garlic powder over the chickpeas and mix with a spoon to evenly coat them in the spices.
Add a little more salt if desired.
Nutrition
| | |
| --- | --- |
| Calories per Serving | 162 |
| Total Fat | 7.9 g |
| Saturated Fat | 0.8 g |
| Trans Fat | 0.0 g |
| Cholesterol | 0.0 mg |
| | |
| --- | --- |
| Total Carbohydrates | 18.3 g |
| Dietary Fiber | 5.2 g |
| Total Sugars | 3.2 g |
| Sodium | 200.3 mg |
| Protein | 5.7 g |