Healthy Shrimp Pasta Recipe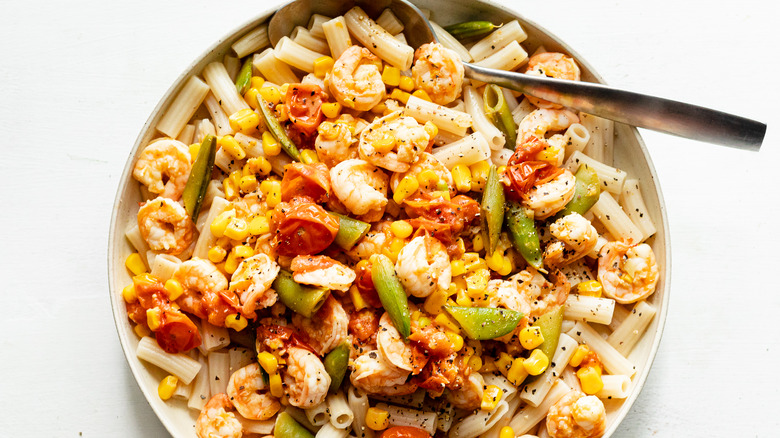 Sher Castellano/Health Digest
If you're looking for a way to use up an abundance of seasonal veggies from your garden or local farmers market this summer, one great option is to serve them over pasta for a fresh and filling dinner that comes together in just a few minutes. This shrimp pasta from recipe developer Sher Castellano brings together the flavors of juicy shrimp and fresh veggies to create a healthy and satisfying dish filled with light, summery flavors.
While Castellano's recipe calls for snap peas, tomatoes, and corn, she does note, "You could [easily] swap [those] out [for] other veggies you have on hand." This shrimp pasta is a great way to clean out your produce drawer or use up whatever is growing in your garden, since the vegetables are the star ingredients that give the dish most of its flavor. That being said, the combination of veggies that Castellano uses in this recipe provides a great balance of flavor, making every single bite a delicious taste explosion.
Gather the ingredients to prepare this healthy shrimp pasta recipe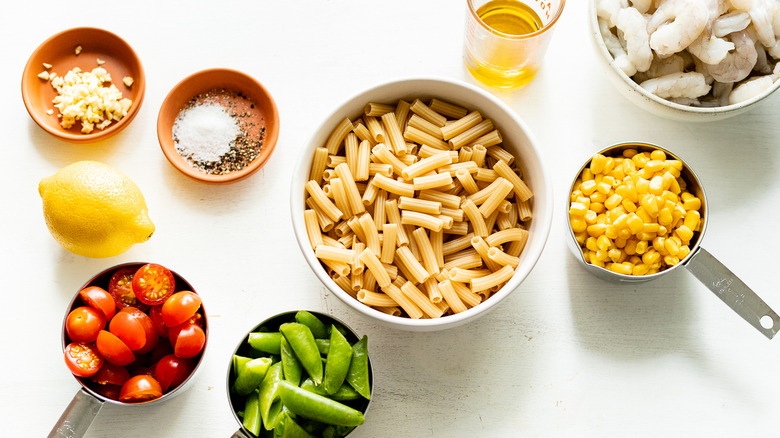 Sher Castellano/Health Digest
For this recipe, the freshness of the ingredients is key to allow the vegetables and shrimp to shine on their own, with just a light touch of lemon juice and garlic to help heighten out their flavors. So, you'll want to gather together penne pasta, raw shrimp (you can remove the tails or leave them on, according to your preference), sugar snap peas, cherry tomatoes, and corn. You'll want to slice the snap peas and tomatoes in half, and if you're using fresh corn, make sure it's off the cob. You'll also need olive oil, fresh garlic, lemon juice, salt, and pepper. Mince the garlic finely, and then you're ready to get started. 
As far as substitutions are concerned, if you're thinking of swapping out the pasta for zoodles, think again. "Since zoodles tend to be high in moisture, it's not always an easy swap," notes Castellano.
Cook the pasta, and cook the veggies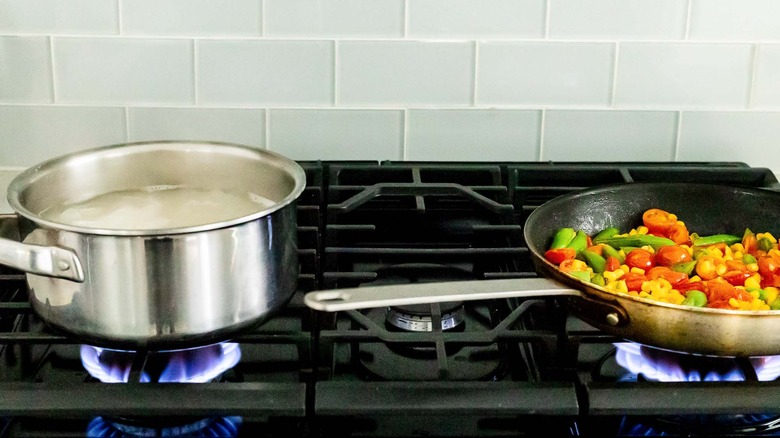 Sher Castellano/Health Digest
Bring a large pot of water to a boil over high heat, adding a generous dash of salt. You want to make sure the water is good and salty so that it flavors the pasta itself, rather than relying on only the toppings to add flavor. Once the water has come to a boil, add the pasta, and cook to al dente according to the package directions. Once the pasta is cooked, drain it, and set it aside.
While your pasta is cooking, heat a non-stick skillet over medium-high heat. Add in the olive oil, garlic, peas, tomatoes, corn, salt, and pepper. Stir the veggies around in the skillet until they are fragrant and begin to release their juices, which will serve as the sauce for the dish. Be careful not to overcook the vegetables, since you want them to retain some of their crunch and not become mushy.
Add the shrimp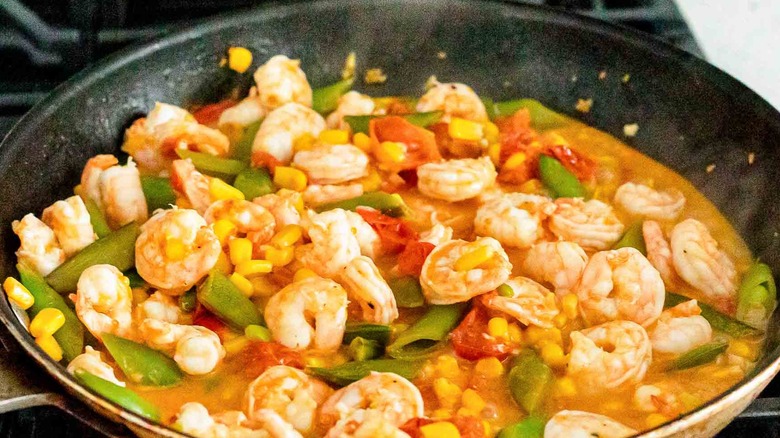 Sher Castellano/Health Digest
Once your vegetables have cooked for about five minutes, make a well in the center of the skillet, and add the lemon juice and shrimp. Sauté the shrimp for about three minutes on each side so they cook evenly. Your shrimp should turn pink and be cooked through. Mix the shrimp and lemon juice together with the rest of the vegetables until everything is heated through and evenly distributed.
Plate and serve your shrimp pasta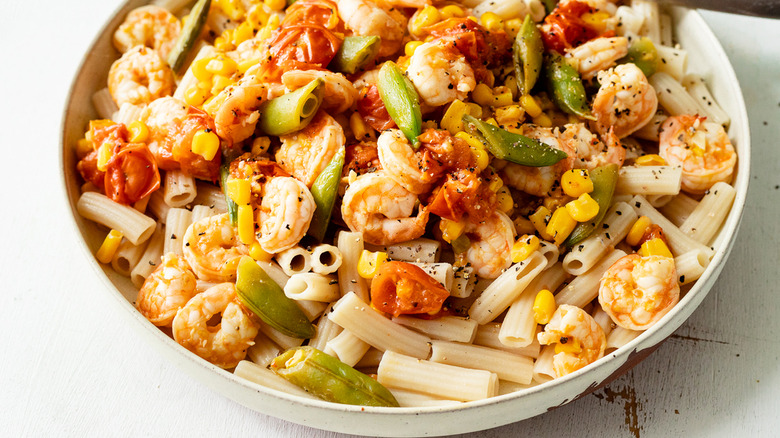 Sher Castellano/Health Digest
Now it's time to fill a large serving bowl with the pasta, and ladle the vegetables and shrimp evenly over the top. You can also divide the pasta evenly between four individual bowls, and divide the shrimp and veggies among them. While it may be tempting to grate some cheese over the top since this is a pasta dish, Castellano advises against that, since cheese could overwhelm the light, fresh flavors of the dish. Instead, top the dish with plenty of black pepper, and enjoy!
Healthy Shrimp Pasta Recipe
This shrimp pasta recipe brings together the flavors of juicy shrimp and fresh veggies to create a healthy and satisfying dish.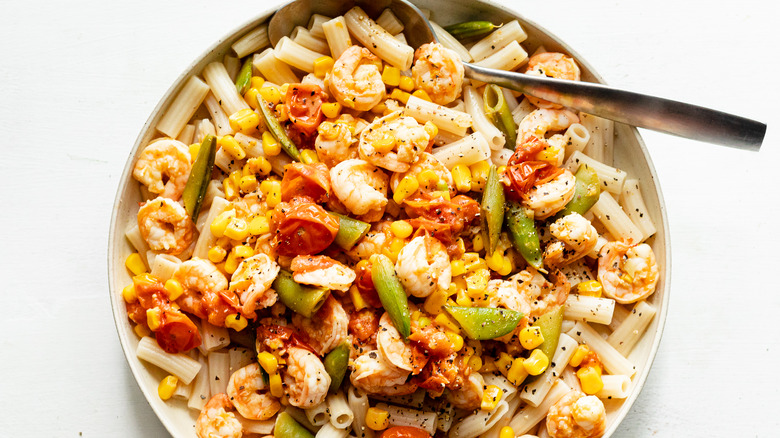 Ingredients
8 ounces penne
1 tablespoon olive oil
3 garlic cloves, minced
1 cup sugar snap peas, halved
1 cup cherry tomatoes, halved
1 cup corn
½ teaspoon fine sea salt
¼ teaspoon black pepper
2 tablespoons lemon juice
1 pound raw shrimp (medium-sized, tail on or off), peeled and deveined
Directions
Boil a pot of water with a generous amount of salt.
Cook the penne al dente, according to the package instructions. Then drain, and set aside.
Meanwhile, heat a nonstick skillet over medium-high heat. Add in the olive oil, garlic, snap peas, cherry tomatoes, corn, sea salt, and pepper, and sauté for 5 minutes.
Make a small well in the pan, and add in the lemon juice and then the shrimp. Sauté until the shrimp turns pink, about 3 minutes.
Fill a serving bowl with the penne, and ladle on the vegetables and shrimp.
Serve with black pepper.
Nutrition
| | |
| --- | --- |
| Calories per Serving | 391 |
| Total Fat | 5.5 g |
| Saturated Fat | 0.9 g |
| Trans Fat | 0.0 g |
| Cholesterol | 182.6 mg |
| | |
| --- | --- |
| Total Carbohydrates | 54.1 g |
| Dietary Fiber | 3.8 g |
| Total Sugars | 6.1 g |
| Sodium | 438.2 mg |
| Protein | 32.6 g |