Healthy Asian Vegetable Soup Recipe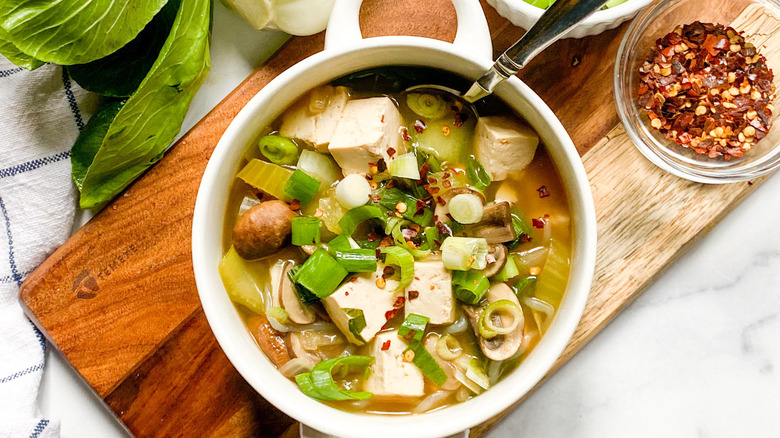 Miriam Hahn/Health Digest
Most recipes developed by wellness coach and recipe developer Miriam Hahn of YouCare-SelfCare pack in tons of nutritious ingredients, optimum flavor, and very little bother. In her understated way, it's an ethos that Hahn refers to as "forgiving," but the word we'd prefer to use is "genius." And once again, in this recipe for Asian vegetable soup, Hahn delivers another extraordinary recipe that brings the nutrition just as surely as it brings audacious flavor and peace of mind that as you're working over that hot stove, you'll be heartily rewarded when it's time to dig in.
"I love this recipe for so many reasons," Hahn says. "It is a very flavorful soup to start with, and it is super healthy." This soup is a umami-dense mix of mushrooms and tofu, which, as Hahn explains, is "high in calcium and plant-based protein" as well as bok choy. This delicious and healthy leafy green has been grown in China for over five millennia and is a beloved staple in Asian cooking, though it "may be less familiar to American cooks," per WebMD.
This dish is perfect for just about anyone who is looking for a healthy meal, because it's both nutritionally and flavorfully dense, while also being low in calories. Now that we have your attention, let's get started!
Gather your ingredients to prepare this Asian vegetable soup recipe
Miriam Hahn/Health Digest
To make this recipe for Asian vegetable soup, you'll need several ingredients that are best purchased fresh. These include a 12-ounce package of organic, extra-firm tofu, an 8-ounce carton of organic mushrooms (buy them pre-sliced to streamline your prep), two bunches of baby bok choy (which is delightfully simple to prep, as you'll see), one organic onion (chopped), three cloves of garlic (minced), and a 7-ounce package of pre-cooked shirataki noodles, which we'll talk about in a bit. You'll also need vegetable oil for sautéing the vegetables, 6 cups of organic vegetable broth, 3 tablespoons of non-GMO tamari soy sauce, ½ teaspoon of ginger powder, and 2 tablespoons of organic white miso paste.
For serving this Asian vegetable soup, Hahn offers the option of chopped scallions, red pepper flakes, and/or hot sauce, if you're so inclined. And for added Asian flavor, feel free to toss in a few drops of sesame oil when you start sautéing the vegetables on the stove.
Prep the bok choy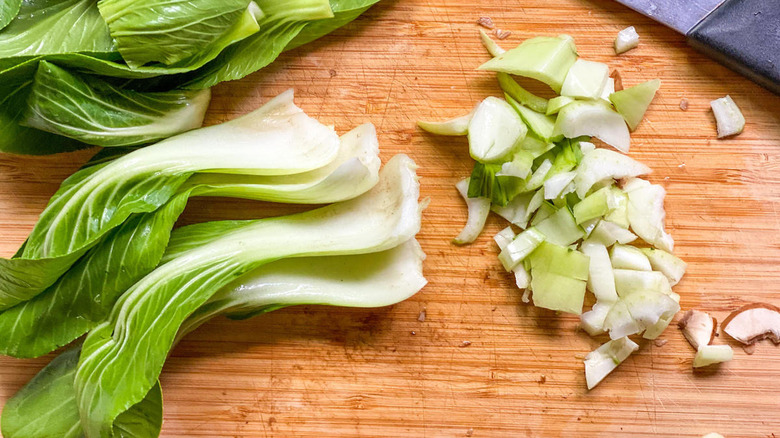 Miriam Hahn/Health Digest
If you're not already familiar with bok choy, it's a type of Chinese cabbage, which is sort of cross between celery and a leafy green that what you might otherwise think of as cabbage. Indeed, Hahn approaches prepping bok choy as if it were celery. She pulls each stalk apart, rinses it off, and then cuts off the white part at the bottom. She then chops the white part and the leafy green part separately. This is exactly how Hahn recommends you prep the bok choy for this Asian vegetable soup recipe.
Prep the extra-firm tofu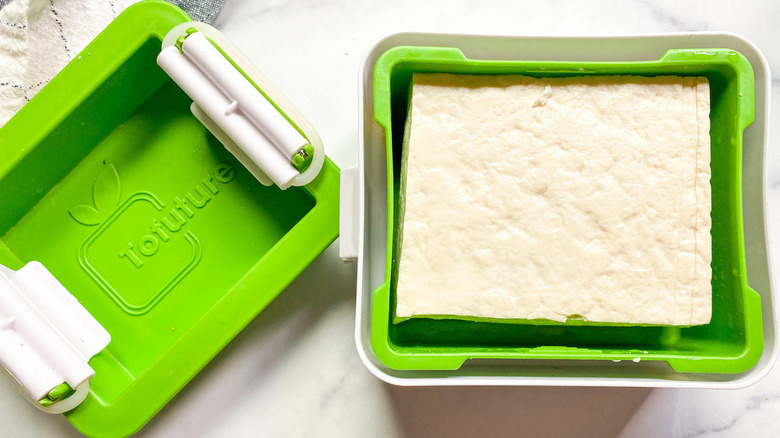 Miriam Hahn/Health Digest
Even though this recipe for Asian vegetable soup calls for extra-firm tofu, you'll still need to "press the tofu to remove additional water," Hahn explains. "You can do this by placing the tofu block in a shallow bowl or dish [and then placing] a flat plate on top of the tofu and [then adding] something heavy (like a cast-iron skillet) on top of the plate." After 20 minutes, pour out the water that has collected in the bowl. If you happen to have a tofu press on hand, then by all means, use that.
Good soups begin with a good sauté, as this one does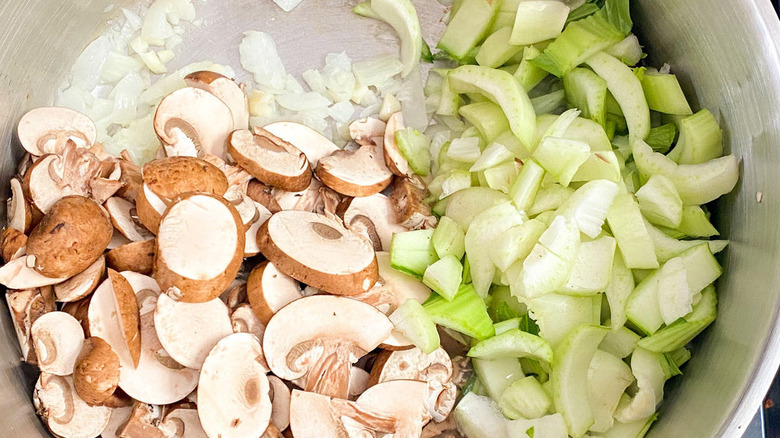 Miriam Hahn/Health Digest
Add the vegetable oil to a large pot, and set the flame under it to medium-high. To amp up the Asian flavors, add a drop or two of sesame oil to the pot as well. Add all of the onions and garlic, and sauté for five minutes, at which point the onions should start to look start to look translucent. Then, add all the mushrooms and just the white parts of the bok choy, and cook for three more minutes. Next, turn the heat off, or set it to low while you turn to the noodles and tofu.
Prep the shirataki noodles, and chop the tofu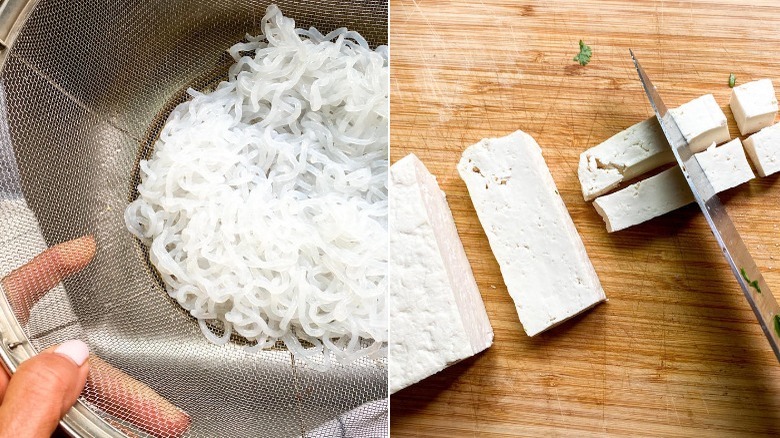 Miriam Hahn/Health Digest
Open the package of shirataki noodles, rinse, and drain them in a colander. While your noodles are draining, chop the tofu into 1-inch cubes. Add the noodles and the tofu to the skillet, along with the broth, soy sauce, ginger, and miso paste. If you don't have experience with shirataki noodles, Hahn explains that they're super low in calories and aren't even made of grain, but rather a root vegetable grown in Asia called "konjac."
Top with baby bok choy greens, and cook for two more minutes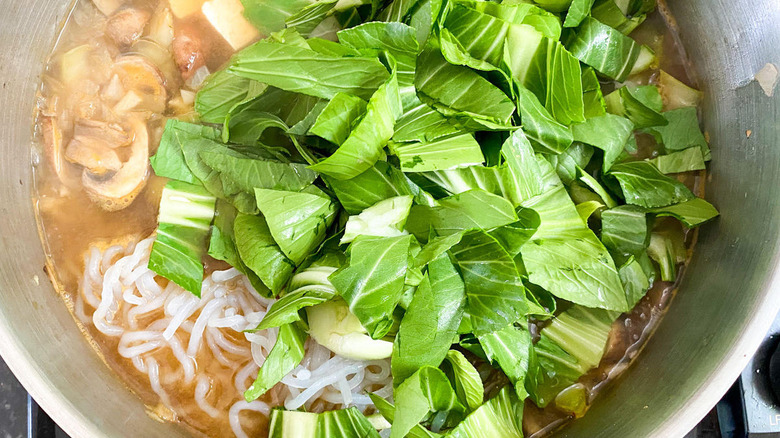 Miriam Hahn/Health Digest
Turn the flame under the soup pot back up to medium, toss the bok choy greens into the pot, and stir them into the soup. Allow the soup to cook on medium for two more minutes — and that's it! You're ready to serve your Asian vegetable soup. Top this delicious soup with scallions, red pepper flakes, and/or hot sauce for some added heat, if desired. Your kitchen will smell divine, and your family will surely enjoy this delicious, comforting meal for lunch or dinner.
Healthy Asian Vegetable Soup Recipe
This Asian vegetable soup recipe is perfect for anyone who's looking for a healthy, flavorful meal.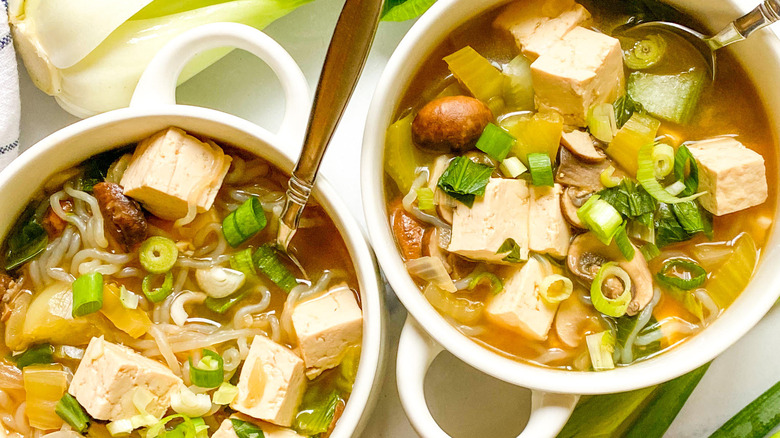 Ingredients
2 bunches baby bok choy, white parts and green parts chopped and separated
1 package (12 ounces) organic, extra-firm tofu
1 tablespoon oil
1 organic onion, chopped
2 to 3 cloves garlic, minced
1 carton (8 ounces) organic mushrooms, sliced
1 package (7 ounces) organic shirataki noodles
6 cups organic vegetable broth
3 tablespoons tamari non-GMO soy sauce
½ teaspoon ginger powder
2 tablespoons organic white miso paste
Optional Ingredients
scallions, for serving
red pepper flakes, for serving
hot sauce, for serving
Directions
Wash and chop the bok choy, separating the white parts from the green parts.
Take the tofu out of the package, discard the water it's packed in, and press to remove excess water.
Add the oil to a large soup pot set over medium-high heat, and sauté the onions and garlic for 5 minutes.
Add the mushroom slices and bok choy white parts, and sauté for 3 more minutes.
Rinse the noodles in a colander, and drain.
Chop the tofu into ½ to 1-inch squares.
Add the noodles and tofu to sauté, along with broth, tamari, ginger powder, and miso paste.
Add the bok choy green parts, and stir over medium heat for 2 minutes.
Serve with optional scallions, red pepper flakes, and/or hot sauce, and enjoy!
Nutrition
| | |
| --- | --- |
| Calories per Serving | 238 |
| Total Fat | 6.8 g |
| Saturated Fat | 1.2 g |
| Trans Fat | 0.0 g |
| Cholesterol | 27.8 mg |
| | |
| --- | --- |
| Total Carbohydrates | 33.9 g |
| Dietary Fiber | 3.1 g |
| Total Sugars | 5.3 g |
| Sodium | 1,219.6 mg |
| Protein | 12.4 g |