5-Ingredient Chocolate Orange Energy Bites Recipe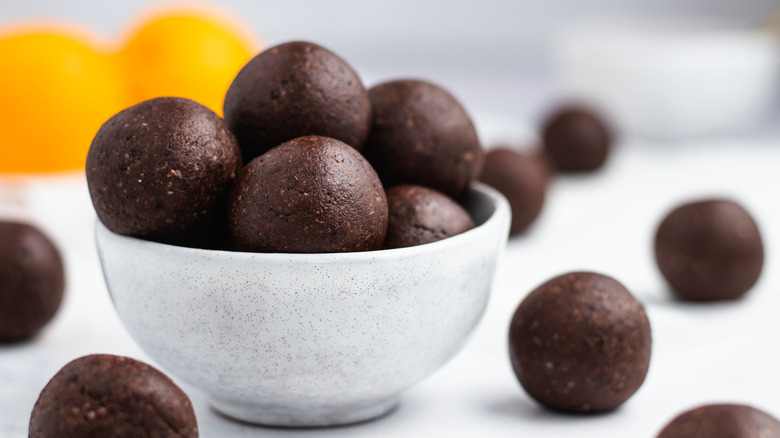 Catherine Brookes/Health Digest
Tired of those store-bought energy bars that range in texture from chalky to chewy and in taste from way too sweet to way too salty to just plain bad? Well, maybe you should just DIY and make a batch of energy bites yourself, ones that won't be too chalky or chewy and that will also be — surprise, surprise — nutritious.
And don't worry, they're tasty too. Chef and recipe developer Catherine Brookes of Blue Sky Eating says of these chocolate orange energy bites: "They are quite sweet with all the natural sweetness from the dates, but this balances well with the chocolate and orange flavors," adding: "You could always omit the maple syrup and add a tablespoon or two of water if preferred."
But the sweet is just right as-is, and the natural sugars in the maple syrup will give you a quick burst of energy, while the almond meal provides a solid fuel source for your body to tap into as you push through your day. Now get ready to make this sweet treat.
Gather your ingredients for 5-ingredient chocolate orange energy bites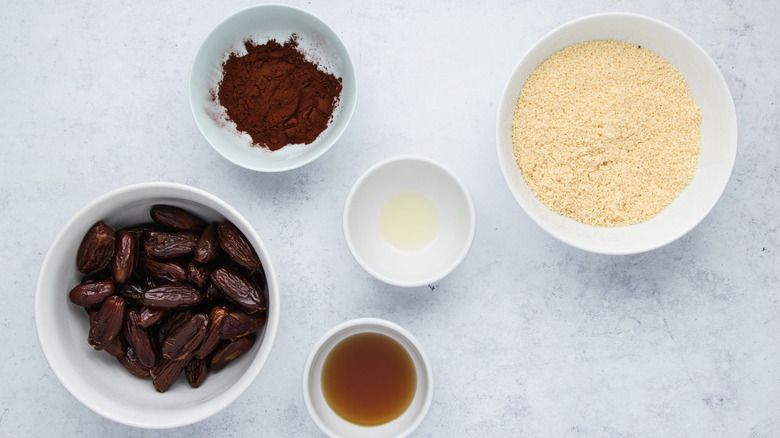 Catherine Brookes/Health Digest
As the name suggests, there really are just five ingredients used to make these tasty little energy bites, and those are Medjool dates, almond meal, cocoa powder, maple syrup, and orange extract.
Yes, Medjool dates are a bit pricier than regular dates, but they're sweeter and richer in flavor, too, so spring for them. And no, almond meal is not the same thing as almond flour. Yes, you can use a different syrup if you really want, but again, maple syrup is great stuff. And no, you can't use orange juice instead of orange extract — they are not the same thing. " You'd have to use a lot more [juice] than when using the extract, which would up the liquid content a lot and might make the mixture too wet," says Brookes.
Process your ingredients in a food processor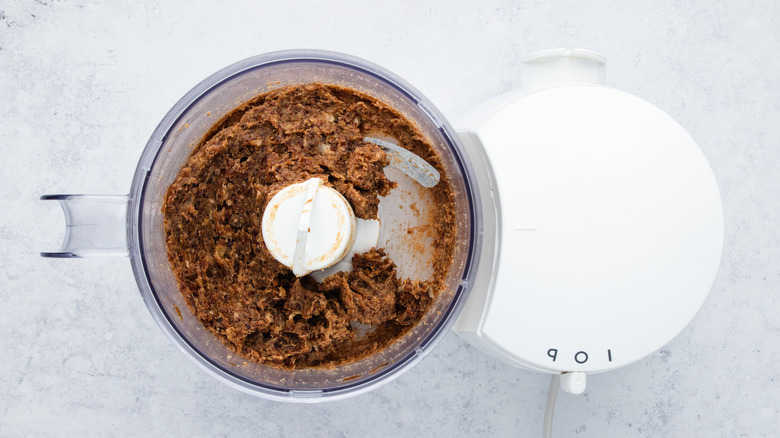 Catherine Brookes/Health Digest
Not only is this recipe delicious, but the process is also exceptionally simple. Luckily, you won't have to spend hours making these energy bites.
If your dates are not already pitted, you should pit them yourself. Then, simply add the dates to a food processor and process them until they form a paste, then add all the rest of the ingredients and run the food processor until everything has combined. That's the entirety of the first step — not bad, right?
Roll the mixture into balls and enjoy
Catherine Brookes/Health Digest
Once all of your ingredients are well mixed together, scoop the mixture out of the food processor and into a bowl. Now grab little handfuls of the tasty stuff and roll into balls, each of which will be about the size of a large gum-ball and will weigh in at around 0.8 ounces (about 25 grams). And you're done!
Brookes says that these energy bites will keep well in the fridge for about a week, or they can be stored in an airtight container at room temperature for a couple of days. And while tasty on their own, she adds: "They'd be great dipped in almond butter!"
5-Ingredient Chocolate Orange Energy Bites Recipe
Tired of buying energy bars from the grocery store? Learn how to make these delicious 5-ingredient chocolate orange energy bites instead.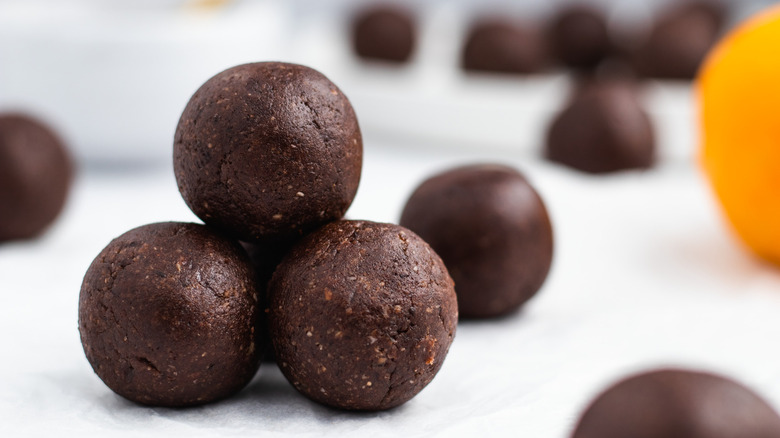 Ingredients
9 ounces Medjool dates
1 ½ cups almond meal
2 tablespoons organic cocoa powder
2 tablespoons organic maple syrup
½ teaspoon orange extract
Directions
Add the dates to a food processor and blitz until they form a thick paste.
Add all remaining ingredients and blitz until well combined.
Take small handfuls of the mixture and roll into balls — each should weigh approximately 0.8 ounces (about 25 grams).
Chill and serve. Store in the fridge for up to a week.
Nutrition
| | |
| --- | --- |
| Calories per Serving | 114 |
| Total Fat | 5.4 g |
| Saturated Fat | 0.4 g |
| Trans Fat | 0.0 g |
| Cholesterol | 0.0 mg |
| | |
| --- | --- |
| Total Carbohydrates | 16.0 g |
| Dietary Fiber | 2.4 g |
| Total Sugars | 12.5 g |
| Sodium | 0.8 mg |
| Protein | 2.8 g |