This Is What's Really In Boxed Cake Mix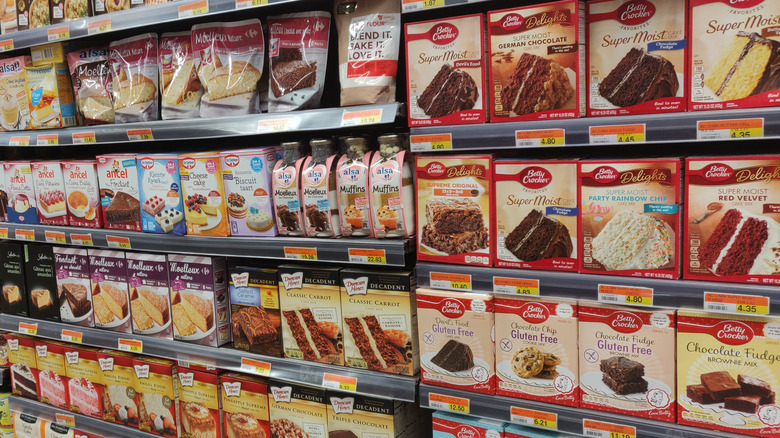 Sparkle1111112/Shutterstock
Buying a box of cake mix is tempting. We get it. Such a simple solution to whip up the always crowd-pleasing, celebratory dessert. According to Organic Authority, boxed cake mixes were introduced to the masses in 1930, though they didn't really gain any popularity until after World War II. These days, the selection of boxed cake mixes in the grocery store aisles can be overwhelming. You've got everything from your basic vanilla to the more decadent flavors like red velvet and triple chocolate. But before you reach for this simple solution out of habit, have you ever really thought about what is in a boxed cake mix?
One would assume the nearly ready-to-eat sweet is just a boxed mixture of flour, sugar, salt, and baking soda. Well, not quite. Eat This, Not That! reveals that many boxed cake mix companies go to great lengths to conceal the barrage of extra, unappetizing ingredients hidden in the package.
A cake made from scratch can be the healthier choice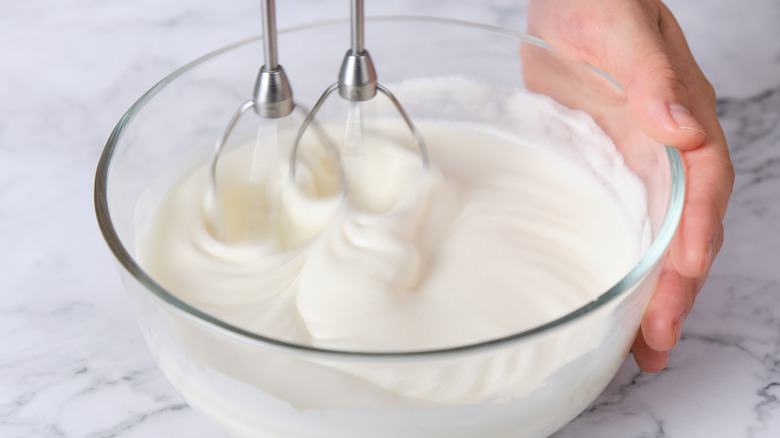 Tawan Ramtang/Shutterstock
What kind of ingredients are hidden in those pre-made mixes? Trans fats, hydrogenated oils, and chemical additives to name a few, notes Eat This, Not That! This is alarming, but it doesn't mean all boxed cake mixes should be viewed with a skeptical arched eyebrow. There are brands out there that offer the same ingredients that you would find in your own pantry to make a homemade cake — Eat This, Not That! recommends Madhava as their top brand for a basic vanilla cake mixture, with King Arthur's mix coming in second.
And speaking of the homemade option. Organic Authority points out that with boxed cake mix, you — the baking whiz — lose control over the healthiness of the final product. Just bear with us here. We know cake is not a healthy food item in general. But little tweaks to a classic homemade cake recipe, such as reducing the amount of oil or using honey instead of sugar, can make you feel like you're in less of a food coma after indulging in a thick slice of triple chocolate delight. We're all about baking shortcuts. But when it comes to the classic cake, busting out your favorite batter-stained recipe may be the healthiest option for you and your party guests.