How Is The Third Dose Of A COVID-19 Vaccine Different From A Booster?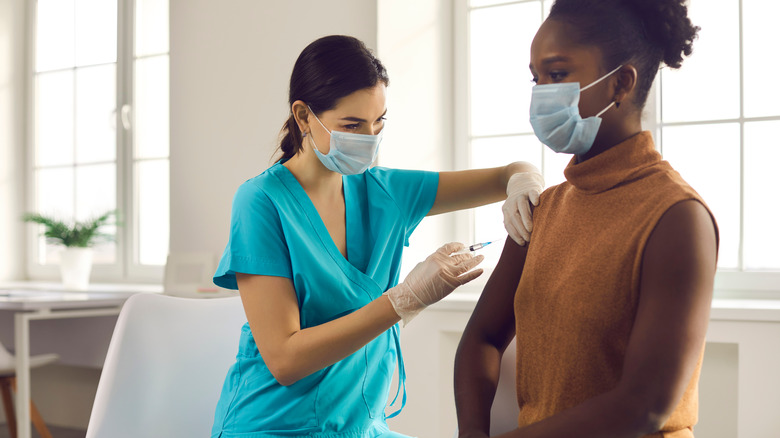 Studio Romantic/Shutterstock
On August 13, the Food and Drug Administration and the Centers for Disease Control and Prevention came to an agreement to authorize emergency use for a third dose of the COVID-19 vaccine for immunocompromised people (via New York Times). A third dose of the Pfizer-BioNTech or Moderna vaccine is now recommended for a small group of people who may be more vulnerable to serious bouts of COVID-19. This includes people who have received an organ transplant, people who are actively receiving cancer treatments that affect the immune system, people with advanced HIV, and a few other health scenarios (via UChicago News).
"Increasingly, research shows many people who have weakened immune systems haven't been able to receive full protection from their COVID-19 vaccines," Associate Professor Emily Landon of University of Chicago Medicine said. "Unlike healthy people who've been vaccinated against SARS-CoV-2, the virus that causes COVID-19, immunocompromised people's bodies may not produce enough protective antibodies after two doses of the COVID-19 vaccines."
The only difference between a third dose of the COVID-19 vaccine and a booster shot is the reason behind why someone is getting the respective shot. The term "booster" is used to describe a vaccine dose offered to people who developed an adequate immune response from the initial vaccine but have had their protection decrease slightly over time. A third dose is given to people who did not develop a strong enough immune response from the initial vaccine.
Booster shots will be offered to all Americans as early as September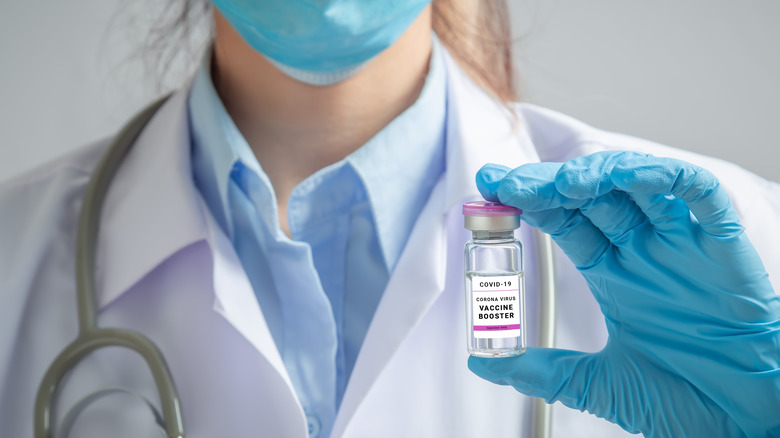 KT Stock photos/Shutterstock
Not long after it was announced that immunocompromised people are eligible for a third dose of the COVID-19 vaccine, President Biden declared that all Americans should get a booster shot this fall or winter (via NPR). Adults who received a two-dose vaccine will be eligible to receive a booster shot eight months after their second dose, according to health officials.
"These booster shots are free," President Biden said regarding the booster shot. "It will be easy. Just show your vaccination card, get a booster. ... It will make you safer and for longer. And it will help us end the pandemic faster."
The announcement came after months of research has shown the vaccine's efficacy waning over time. The data comes from the New York state health department, the Mayo Clinic, the CDC, and Israel's ministry of health. "We know that even highly effective vaccines become less effective over time," U.S. Surgeon General Vivek Murthy said at a White House briefing on August 18th. "It is now our clinical judgment that the time to lay out a plan for COVID-19 boosters is now."