Why Pfizer Changed The Name Of Its COVID-19 Vaccine
Flowersandtraveling/Shutterstock
On August 23, the U.S. Food and Drug Administration (FDA) issued full authorization of the Pfizer-BioNTech COVID-19 vaccine, approving the vaccine's official name — Comirnaty — in the process (via Verywell Health). Why the name change? Well, Comirnaty is the official brand name of the vaccine. Before receiving full FDA approval, pharmaceutical companies aren't allowed to market or advertise the vaccine. That's why it was simply referred to as the Pfizer vaccine when it was still being administered under the FDA's emergency use authorization.
Now that it has been fully approved, however, Pfizer's COVID-19 vaccine can enter the market under its patented brand name: Comirnaty. This is fairly standard for all drugs and vaccines. "Part of it is getting the patent and also developing brand awareness," Dr. Jonathan Baktari, the CEO of e7health.com, told Verywell Health. "They try to give it a name that symbolizes something similar to what the disease or treatment does."
What does Comirnaty mean?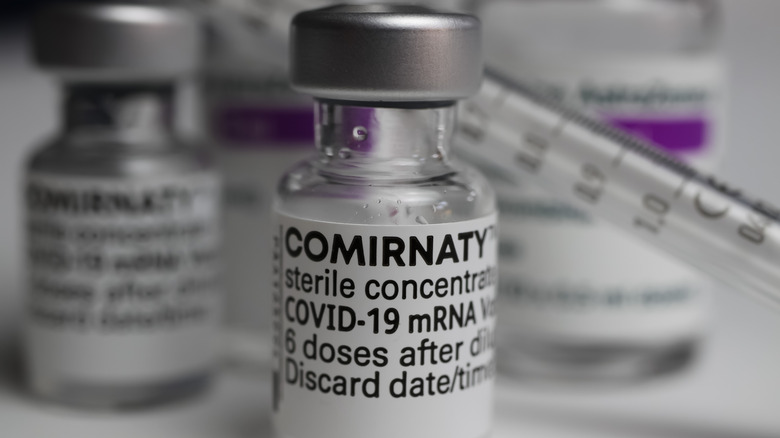 Ralf Liebhold/Shutterstock
According to Brand Institute, the branding agency that came up with the name, Comirnaty represents a combination of the words COVID-19, mRNA, community, and immunity (via Insider). The name is meant to evoke a sense of community and highlight the achievement of being the first COVID-19 vaccine to be authorized for global emergency use.
FDA approval for a drug or vaccine's brand name can be quite a lengthy process, especially considering the fact that the agency's list of requirements spans the length of a 42-page document. Generally speaking, the names of vaccines should be memorable and can include the name of the technology used to make the vaccine. However, they're not allowed to refer to specific ingredients. That's why the "mirna" in Comirnaty refers to the vaccine's mRNA-based technology.
"Identifying those word parts and plugging into the community concept really executed nicely at the end of the day," Scott Piergrossi, the president of operations and communications at the Brand Institute, told Fierce Pharma. "Ultimately the formula for success in naming is a strong distinctive name with meaning that over time will hopefully [come to] stand for or symbolize the hope and innovation that the underlying product itself is for."