Healthy Blueberry Crumble Recipe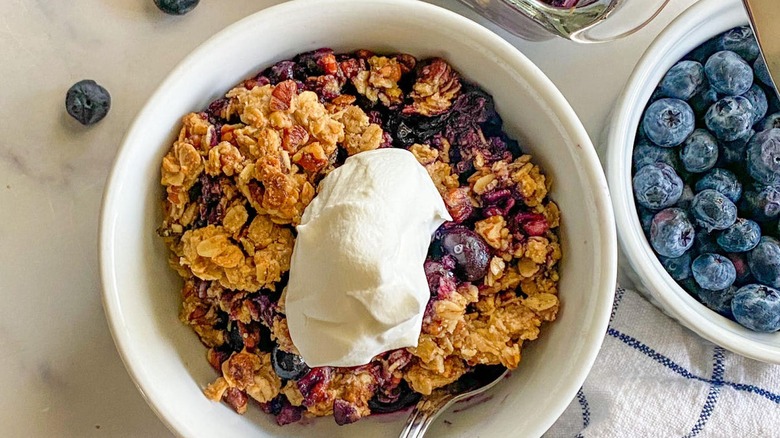 Miriam Hahn/Health Digest
Fruit is one of life's greatest gifts. The succulent, juicy flavor of a fresh, ripe berry or stone fruit is always a treat — especially when you're eating fruit that's in season. But it's not always easy, affordable, or convenient to keep fresh fruit on hand. We've all known the disappointment of coming home from the store with a bounty of produce and realizing it all goes bad much quicker than you expected it would. That brings us to frozen fruit. Whether you have the foresight to freeze your own fruit after noticing it's on its last legs or buy bags of it from the grocery store, frozen fruit will always be there for you.
Frozen blueberries are the star in recipe developer Miriam Hahn's healthy blueberry crumble. The juicy, summery berries get combined with nuts, oats, and more to create a sweet yet wholesome treat the whole family will absolutely love. Whether you're serving it for dessert, bringing it to a picnic, or treating yourself to an indulgent breakfast, this easy crumble recipe is sure to become a new go-to in your home.
Get your healthy blueberry crumble ingredients ready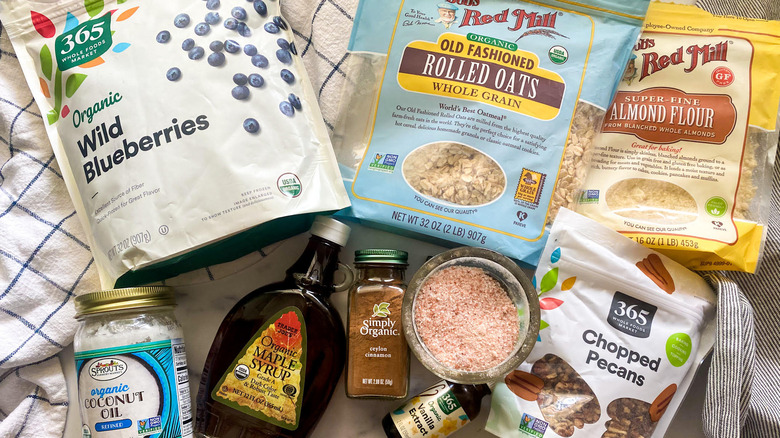 Miriam Hahn/Health Digest
Obviously, you'll need frozen blueberries to prepare this crumble. Hahn recommends organic berries, and says both regular or wild blueberries will work just fine. You'll also need rolled oats, diced pecans, almond flour, vanilla extract, maple syrup, Himalayan pink salt, and coconut oil. Hahn uses refined coconut oil, but says you can use unrefined if you'd prefer — it'll just have more of a coconut flavor. You're encouraged to use organic ingredients here, but if you have non-organic, that's no problem at all.
The almond flour not only makes this crumble gluten-free, but adds a richer flavor, too. "You can substitute all-purpose flour, but you will need less," Hahn says. "I would use about ¼ cup." If you're not a pecan fan, Hahn suggests swapping in walnuts or almonds.
What makes this recipe healthy?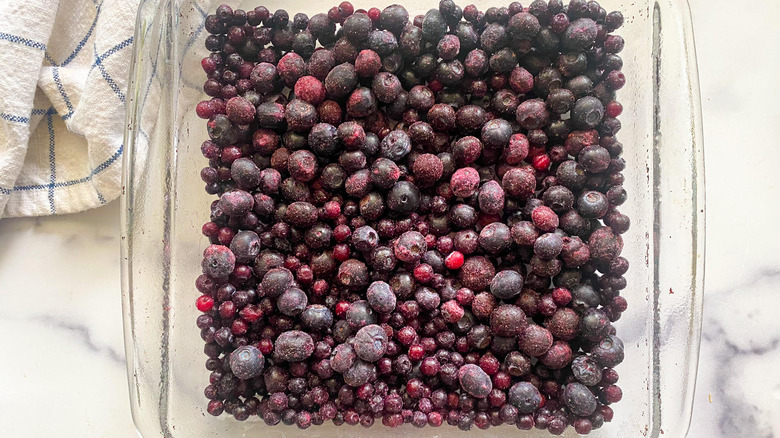 Miriam Hahn/Health Digest
If you've eaten a crumble before, it probably didn't feel like you were being very virtuous. Well, think again! Hahn's blueberry crumble proves that desserts can be delicious and good for you.
"My favorite thing about this recipe is that the ingredients are wholesome and healthy, and there is no added refined sugar," Hahn explains. "The maple syrup that is used as a sweetener ... has calcium, potassium, magnesium, and zinc — all important minerals for the body. Rolled oats are known to help lower cholesterol and balance blood sugar. Blueberries offer lots of antioxidants and help cognitive function."
Additionally, Hahn opts for pink Himalayan salt here, praising its high mineral content. "White salts have been bleached and also use anti-caking agents that can be harmful to your health. However, if you don't have it, you can sub standard table salt," she says.
Prep the berries, and mix the topping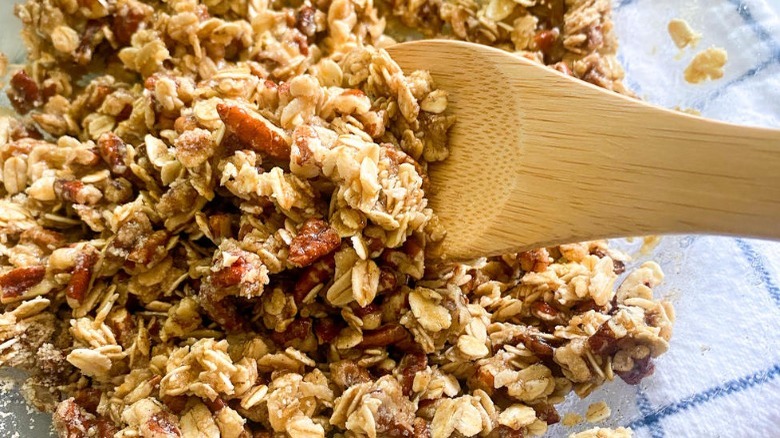 Miriam Hahn/Health Digest
Before you do anything else, preheat your oven to 350 F. This step is easy to forget, so make sure you don't skip it! Then, give a baking dish a good coating of cooking spray, and pour in the frozen blueberries so they create one uniform layer. After that, prepare the crumble topping by mixing together the rolled oats, flour, maple syrup, coconut oil, vanilla, cinnamon, salt, and whatever nuts you're using.
Assemble, and bake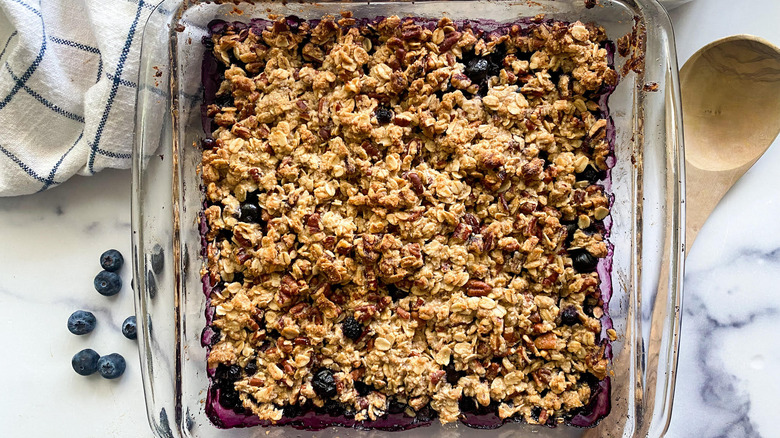 Miriam Hahn/Health Digest
This blueberry crumble is so simple, there's not much left you have to do. You've made the crumble topping, and you've created a foundation of blueberries in the greased baking dish. Now, all that's left is to combine them! Take a big spoon, and scoop the crumble topping over the dish of blueberries. Then, use that spoon to press everything down, which helps create a solid, even layer of both blueberries and delicious, nutritious crumble. Hopefully your oven is preheated by now!
It's time to enjoy this delicious blueberry crumble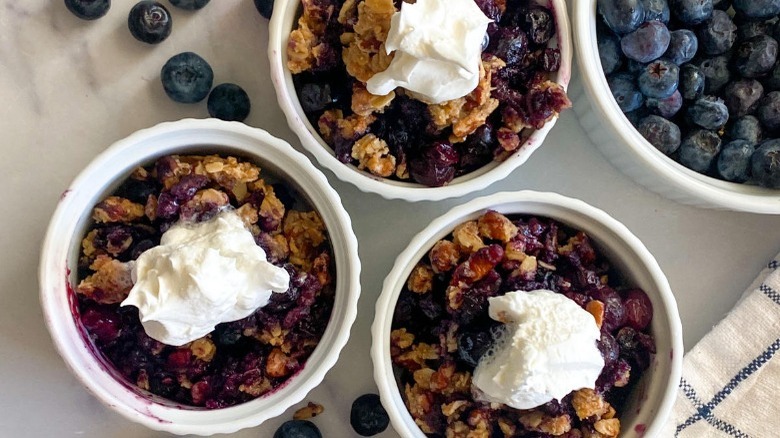 Miriam Hahn/Health Digest
There's just one final step left before you and your loved ones can dig into this fruity treat. Take your baking dish full of tasty crumble, and pop it in the oven (which should be heated to 350 F), and let it bake for 30 minutes. When it's done, don't start devouring it quite yet. It needs to sit for 10 additional minutes once it's out of the oven.
When 10 minutes are up, you're ready to crumble. Hahn recommends serving this healthy blueberry crumble with a generous dollop of coconut whipped cream, which keeps things vegan, but of course you can use regular whipped cream (or even vanilla ice cream) if you'd like.
It'll be tempting to eat this crumble up fast. If you do end up with leftovers, good for you — that just means more days to enjoy your crumbly creation! "You can store leftovers in the fridge in a sealed container and eat [them] cold or warmed up," Hahn says.
Healthy Blueberry Crumble Recipe
Whether you're serving it for dessert, bringing it to a picnic, or treating yourself to an indulgent breakfast, this blueberry crumble will be your new go-to.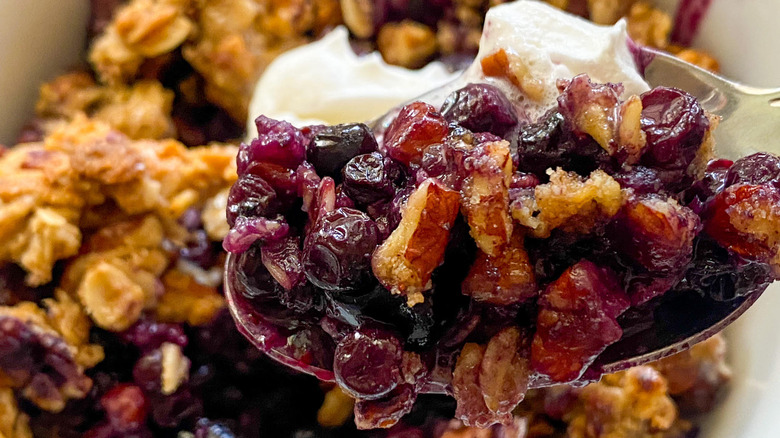 Ingredients
4 cups frozen blueberries (regular or wild, or a mix of both)
1 cup rolled oats
1 cup diced pecans
½ cup almond flour
¼ cup maple syrup
2 teaspoons vanilla extract
¼ cup coconut oil
½ teaspoon cinnamon
½ teaspoon pink Himalayan salt
Directions
Preheat the oven to 350 F.
Spray a 9x9-inch glass baking dish with cooking spray.
Pour the frozen blueberries into the baking dish, and spread them to create an even bottom layer.
In a medium-sized bowl, mix together the rolled oats, diced pecans, flour, maple syrup, vanilla extract, coconut oil, cinnamon, and salt.
Spoon this mixture over the blueberries, and press down with a wooden spoon to pack in.
Bake for 30 minutes.
Let cool for 10 minutes before serving. Top with coconut whipped cream, if desired.
Nutrition
| | |
| --- | --- |
| Calories per Serving | 391 |
| Total Fat | 26.9 g |
| Saturated Fat | 9.4 g |
| Trans Fat | 0.0 g |
| Cholesterol | 0.0 mg |
| | |
| --- | --- |
| Total Carbohydrates | 36.6 g |
| Dietary Fiber | 6.3 g |
| Total Sugars | 19.1 g |
| Sodium | 197.1 mg |
| Protein | 6.2 g |