Vegan Flax Eggs Recipe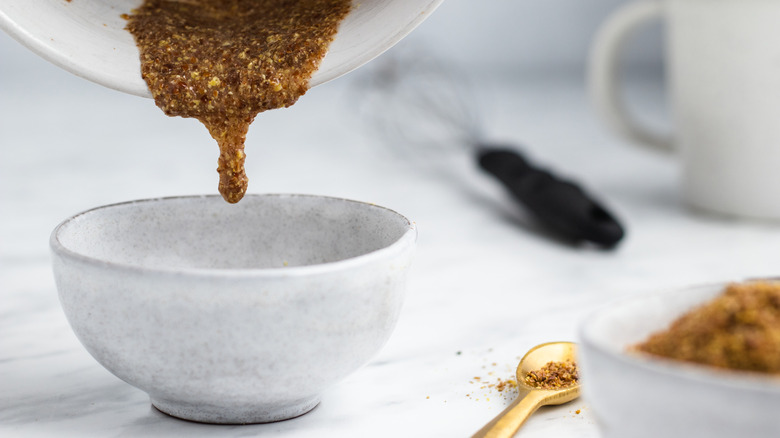 Catherine Brookes/Health Digest
If you've ever tasted a vegan cookie or cake and wondered, "How do they do it!? How can they make baked goods taste good without eggs, milk, or butter?" Well, it's not as hard as you might think. There are lots of vegan-friendly butter options on the market, and it's easy enough to switch out cow's milk for a vegan-friendly almond or coconut milk. Vegan eggs are a little harder to come by, unless, of course, you know how to make a flax egg. This simple, straightforward process requires nothing more than flaxseed meal and water, and only requires about 12 minutes to come together, most of which is simply "waiting time" for the flax egg to thicken. Plus, flax eggs can be used for practically any recipe.
"For most bakes, [flax eggs] can be used," says recipe developer Cathrine Brookes of Blue Sky Eating, "However, I find that if a recipe has more than two eggs in it, the flax egg replacement isn't quite as effective. But swapping one or two eggs usually works great." 
Even if you're not a vegan, or dabbling your toes in vegan cooking, knowing that there's a readily-available egg substitute could help any home baker. "If you ran out of eggs and happened to have some flaxseed, it's good to know you could use it [instead]," Brookes points out.

Gather your ingredients to prepare vegan flax eggs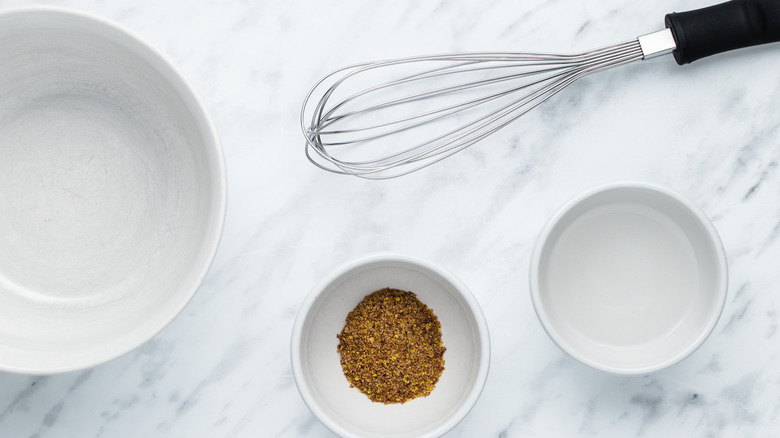 Catherine Brookes/Health Digest
You only need two ingredients in order to make a flax egg — flaxseed meal and water. Assuming you have water readily available, you really only need to keep one thing stocked in your kitchen to always have a vegan baking option at you fingertips: flaxseed meal. You can find flaxseed meal in the natural foods or baking sections of most grocery stores, but if you're coming up empty-handed, it's actually not hard to make your own. All you have to do is grind flax seeds in a blender or coffee grinder until it has a flour-like consistency.
If you choose to grind your own, you'll need to consider whether you want to use golden flax seeds or brown flax seeds. The two seeds are essentially the same nutritionally, but the different colors may lend themselves to different bakes. For instance, if you're making a vanilla cake or sugar cookies, flaxseed meal made of brown flaxseeds may show up more as brown flakes in your light-colored bakes. It won't change the taste of the food, but could detract from its appearance. On the other hand, if you're making chocolate cakes or cookies, either type of flaxseed meal will blend right in.
Add the ingredients to a mixing bowl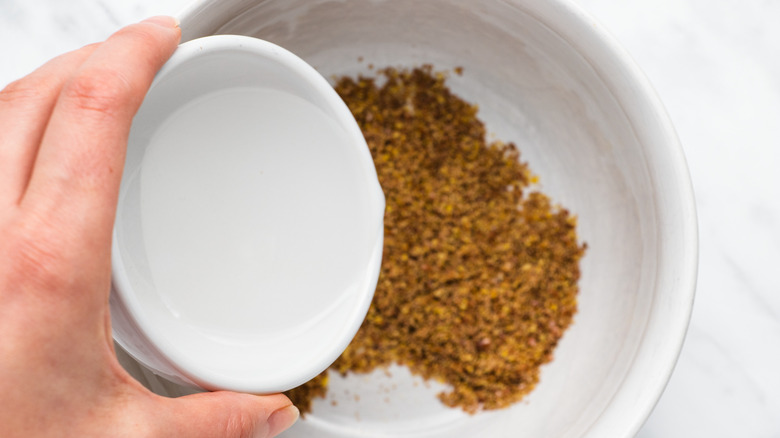 Catherine Brookes/Health Digest
Considering this recipe only features two ingredients, it should come as no surprise that all you need to do is place the flaxseed meal into a mixing bowl, and pour the water over the top to combine them. There's no special instruction about the water, either — it doesn't need to be hot or cold, tap or bottled. Just add your 3 tablespoons of basic, room temperature tap water to your 1 tablespoon of flaxseed meal, and you'll be well on your way to making your vegan egg. (Note that if your planned bake requires more than one egg, you can double or triple the recipe as needed.)
Whisk the ingredients well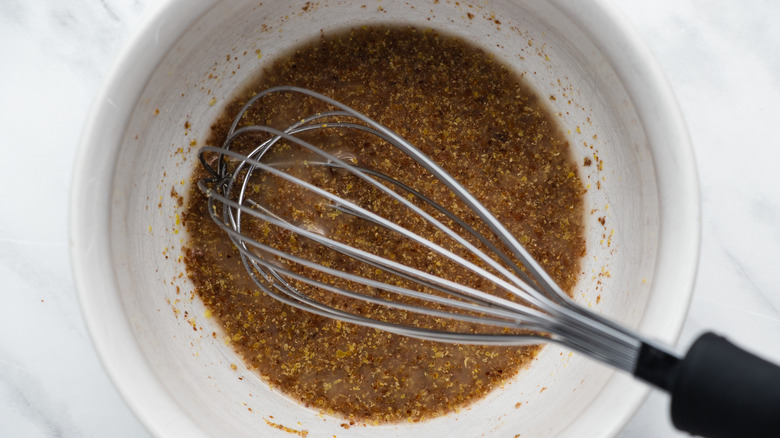 Catherine Brookes/Health Digest
Once your ingredients are combined in your mixing bowl, it's time to put your forearm muscles to use and whisk, whisk, whisk the flaxseed meal and water together. You'll want the ingredients to be well combined. While you don't need to whisk for an excessive amount of time, plan to whisk for about one or two minutes to achieve the desired combination. Of course, you can use an electric egg beater instead of a handheld whisk if that's your preference, but in this case, it's not going to save you much time or effort.
Wait for the ingredients to set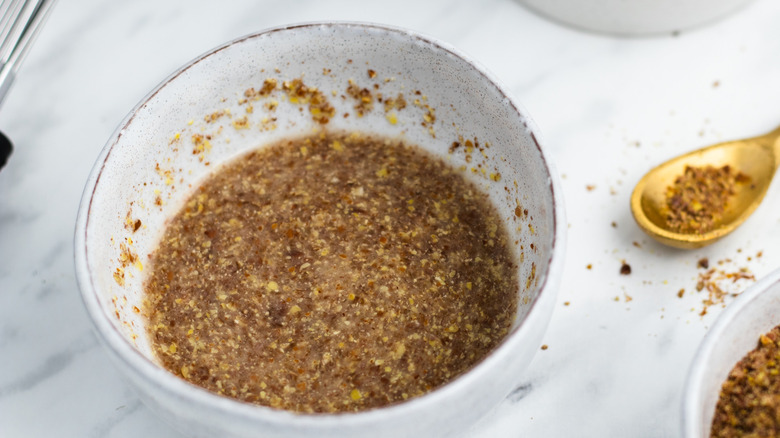 Catherine Brookes/Health Digest
Now, all you have to do is wait! Set the combined ingredients aside for about 10 minutes to achieve the desired, gel-like consistency. One quick tip from Brookes? If you don't have an extra 12 minutes to spend on your bake, make your flax eggs ahead of time. In fact, Brookes tells us the flax eggs can be made up to 24 hours in advance and simply stored covered in the fridge until you're ready to use them.
Use the flax egg for baking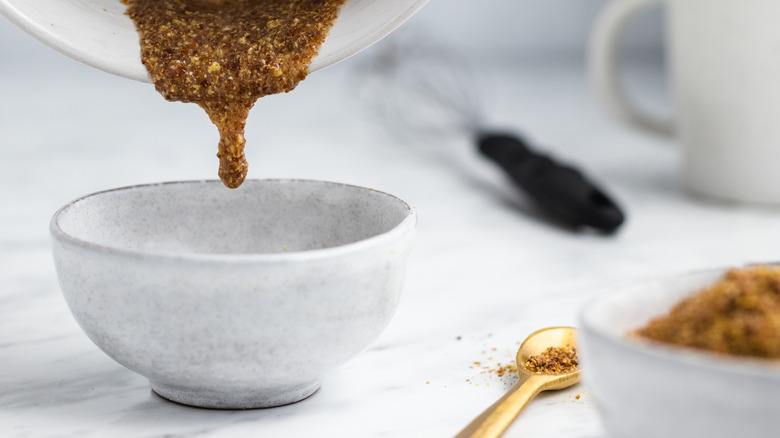 Catherine Brookes/Health Digest
Once your flax eggs are nice and gel-like (When you take a spoonful of the flax egg from the bowl, it should have the same general consistency of a chicken egg.), you can put them to use in your vegan baking. The flax egg makes a one-to-one substitute, so if your standard recipe calls for a single egg, simply replace it with a single flax egg. Likewise, if the recipe calls for two eggs, double this recipe to make the swap.
If you need a vegan egg wash, Brookes says that this recipe can do the trick. "I generally use almond milk in place of egg wash for vegan bakes, [but I don't see why this wouldn't work]," she says, although she offers the reminder to be careful about the color of your bake. "You just need to watch out for the flecks of flax if it's a light-colored pastry."
Vegan Flax Eggs Recipe
Whether you're a vegan or dabbling your toes in vegan cooking, this vegan flax eggs recipe could help any home baker.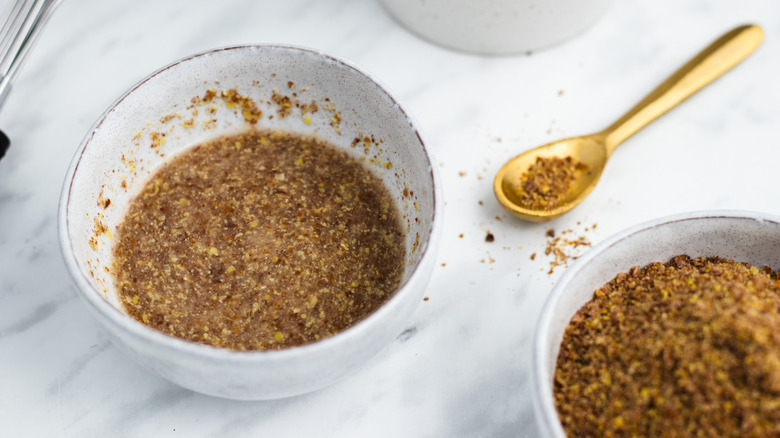 Ingredients
1 tablespoon flaxseed meal
3 tablespoons water
Directions
Add the flaxseed meal to a mixing bowl, and pour over the water.
Whisk vigorously until well combined.
Set aside for 10 minutes. The mixture should thicken into a gel-like consistency.
Use in place of 1 egg in your vegan baking.
Nutrition
| | |
| --- | --- |
| Calories per Serving | 30 |
| Total Fat | 2.2 g |
| Saturated Fat | 0.2 g |
| Trans Fat | 0.0 g |
| Cholesterol | 0.0 mg |
| | |
| --- | --- |
| Total Carbohydrates | 2.0 g |
| Dietary Fiber | 2.0 g |
| Total Sugars | 0.0 g |
| Sodium | 1.8 mg |
| Protein | 1.5 g |