What Really Happens When Hospitals Run Out Of Beds?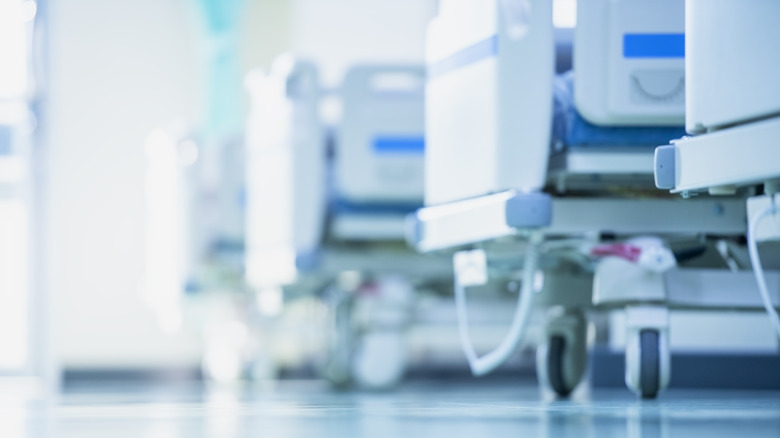 venusvi/Shutterstock
In times of medical crisis, health care professionals are often forced to make difficult decisions in order to prioritize care — and the COVID-19 pandemic is no exception. On September 13, the U.S. Department of Health and Human Services reported that over 96,000 hospital beds are in use by COVID-19 patients across America (via CNN).
With hospitals in several states reaching near capacity, this poses concerns for patients and health care workers alike in terms of how accessible emergency care will be for those in need. Between the states of Texas, Florida, Georgia, and Alabama, officials reported having less than 10% of Intensive Care Unit (ICU) beds available in their hospital facilities, while others reported complete unavailability, according to data released by the Department of Health and Human Services in early September (via Insider).
In states with increased rates of hospitalizations, state officials are utilizing all resources available to them. Kentucky Governor Andy Beshear spoke with CNN about the efforts they are making to create room for the influx of patients. He stated, "We've called in FEMA strike teams, the National Guard, we've deployed nursing students all over the state, we've taken over testing from hospitals just to free up additional people."
Hospitals may be forced to ration care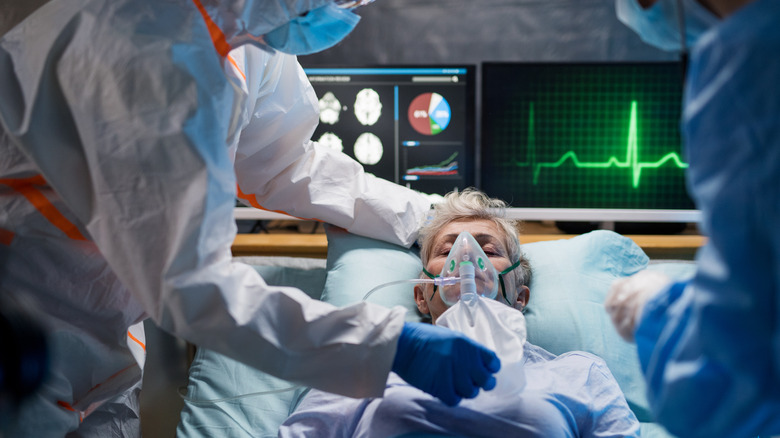 Halfpoint/Shutterstock
While not all states are experiencing the same amount of patient overwhelm, states with lower vaccination rates are facing much higher hospitalization numbers than areas with high rates of vaccination (via WBAL-TV News).
As a result, vaccination status could potentially impact patient care should hospital beds continue to become scarce. Art Caplan, professor of bioethics at NYU Langone Health in New York told CNN, "If being unvaccinated and having lung failure puts you at a worse chance of survival versus someone who just comes in with asthma and lung problems but are vaccinated ... many places would give priority to the vaccinated asthma patient as opposed to the unvaccinated lung failure patient. What they're watching is outcome and likelihood of success." These are choices that are both mentally and emotionally taxing on health care workers. Still, hospital staff are doing what they can to continue to provide quality care even in the face of patient overflow despite limited resources.
Health leaders want to be clear about the reality of what a lack of hospital beds will mean for patients. For example, Idaho is following "crisis standards of care" guidelines, which allows some hospitals in the state to ration care. "The move allows hospitals to allot scarce resources like intensive care unit rooms to patients most likely to survive and make other dramatic changes to the way they treat patients," CBS News reported. "Other patients will still receive care, but they may be placed in hospital classrooms or conference rooms rather than traditional hospital rooms or go without some life-saving medical equipment."