Air Fryer Crustless Pizza Recipe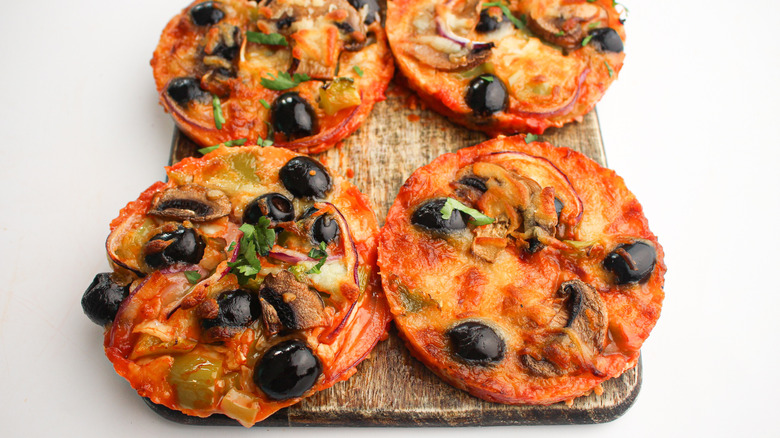 Susan Olayinka/Health Digest
When you're looking for new ways to put your air fryer to use, it's time to think outside standard fried foods like French fries or fried chicken. Air fryers are actually excellent tools for getting a nice, crisp finish on dishes like ravioli. And if you're looking to make over your standard pizza (especially if you want to cut the carbs), using your air fryer to whip up a crustless pizza will give you a delectable option that's perfectly sized to satisfy your pizza craving. 
This air fryer crustless pizza recipe developed by Susan Olayinka from The Flexible Fridge is completely vegetarian and includes onions, bell peppers, black olives, and mushrooms along with a healthy dose of cheese. But of course, you can always personalize the toppings based on your own preferences, throwing in a little pepperoni or cooked ground beef if you prefer a pizza with meat. And Olayinka suggests that if you like your pizza with a little more Italian seasoning, add some oregano or parsley to taste. What the recipe lacks in bread, it makes up for in healthy flavor. Just keep in mind that without a crust to hold the shape, you'll need to use round silicone molds when making your pizzas.
Gather your ingredients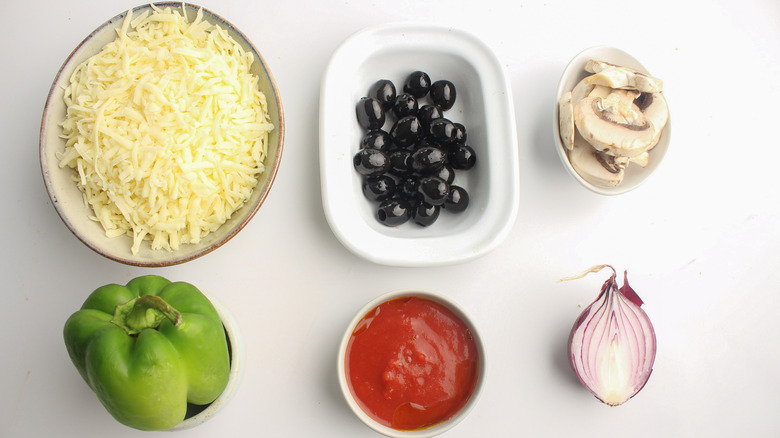 Susan Olayinka/Health Digest
When you're making a pizza without the crust, the ingredient list is short — really, it's just what you'd imagine for pizza toppings. You'll want two cups of organic cheese — mozzarella or a pizza blend works best — marinara sauce, and then the toppings of your choice. Olayinka used the best vegetarian options, including bell pepper, red onion, black olives, and mushrooms. 
One thing to keep in mind is that you can make this into a dairy-free recipe by opting for a vegan or dairy-free cheese. That said, Olayinka warns that you need to make sure it's a melting cheese. Not all dairy-free cheese options do well when they're heated. 
And of course, once you've test-driven this crustless pizza recipe, feel free to get creative with the toppings. Since each pizza is individually sized, you can even adjust the ingredients based on the taste preferences of the people in your family. Ingredients like sliced jalapenos, bacon, spinach, garlic, pesto, basil, or green olives are all creative options. 
Prep your onions and peppers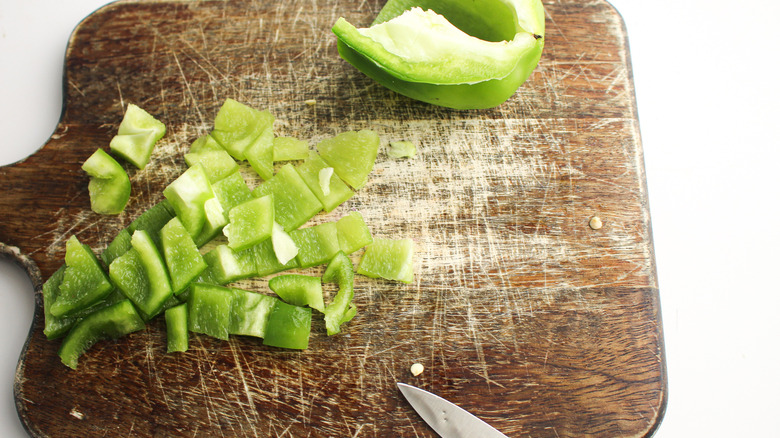 Susan Olayinka/Health Digest
Start by prepping your veggies. You want to slice the onions and bell peppers into thin strips or dice them small — you don't want anything big and chunky. This is because the pizzas are relatively small, and they're also thin, so the veggies should be sized appropriately. You may also want to cut the mushrooms and olives (or other toppings) into smaller slices as well, depending on your personal preference. 
Fill silicone pans with pizza ingredients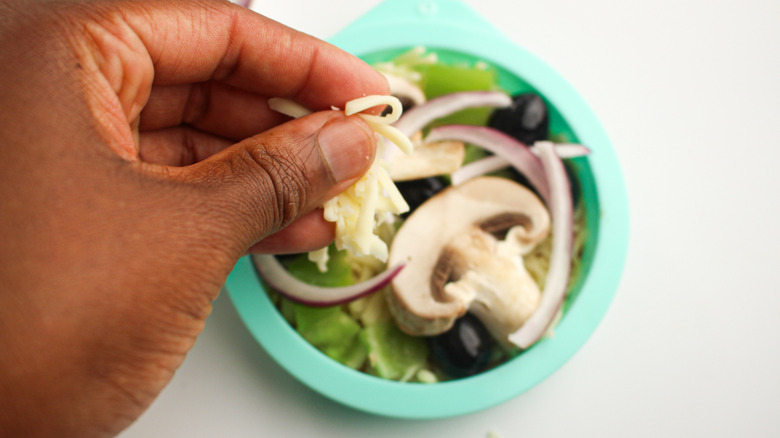 Susan Olayinka/Health Digest
Grab your four-by-four-inch round silicone pans to make your pizzas. It's ideal if you have four separate silicone pans to make your pizzas, but since you're air frying each pizza individually, you can get by with having only one or two if you have to. 
Inside each silicone pan, add a quarter of the marinara sauce, cheese, mushrooms, onions, bell peppers, and olives. If you have more than one pan, repeat the process, dispersing the ingredients evenly so each pizza will be more or less uniform.
Cook your pizzas one by one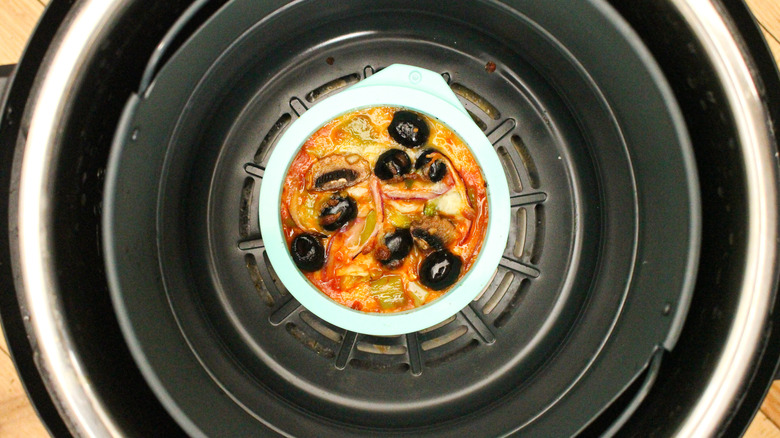 Susan Olayinka/Health Digest
If your air fryer isn't very big, you're going to be making one pizza at a time, but if you have a larger air fryer that can accommodate more than one of the silicone pans, go ahead and cook several of the pizzas together. Simply place the silicone pans in the center of the air fryer and cook at 350 F for eight minutes. Repeat until all of your pizzas are cooked, then go ahead and indulge yourself! Olayinka suggests serving the pizzas hot with a salad or sweet potato fries (which you can also fry up in the air fryer).
And if you don't have an air fryer quite yet, or you're looking for a way to shave off cooking time when making a batch of pizzas, you can also cook these crustless pizzas in the oven. Olayinka simply says you can bake them at 350 F for 20 to 22 minutes. This ends up saving you roughly 10 minutes if you're making your pizzas one at a time.
Air Fryer Crustless Pizza Recipe
When you're looking for new ways to put your air fryer to use, it's time to think outside standard fried foods like French fries or fried chicken.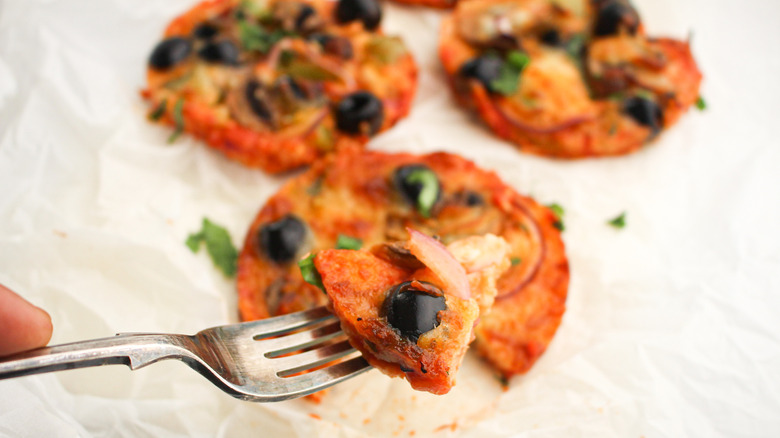 Ingredients
1 red onion
1 green bell pepper
½ cup marinara sauce
2 cups organic cheese
½ cup mushrooms
½ cup black olives
Directions
Slice the red onions and green peppers into thin strips.
Place into a 4x4-inch silicone pan marinara sauce, organic cheese, sliced mushrooms, sliced red onion, sliced bell pepper, and 3 to 4 black olives. Repeat the process with three more silicone pans.
Place into the air fryer one at a time (depending on how big your air fryer) is at 350 F for 8 minutes. Repeat with the process for the remainder of crustless pizzas.
Serve and enjoy.
Nutrition
| | |
| --- | --- |
| Calories per Serving | 324 |
| Total Fat | 24.7 g |
| Saturated Fat | 13.1 g |
| Trans Fat | 0.8 g |
| Cholesterol | 68.0 mg |
| | |
| --- | --- |
| Total Carbohydrates | 9.0 g |
| Dietary Fiber | 2.2 g |
| Total Sugars | 4.2 g |
| Sodium | 689.3 mg |
| Protein | 17.3 g |