Healthy Kale Apple Cheddar Salad Recipe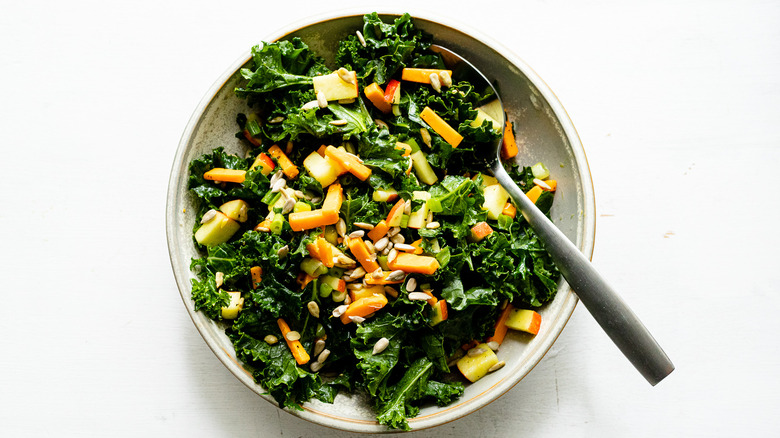 Sher Castellano/Health Digest
When you're searching through your fridge, trying to come up with healthy yet tasty ingredients to pair together, you may not immediately think of whipping up a salad that includes kale, cheddar cheese, and apples. But as anyone who has ever topped off an apple pie with melted cheddar cheese knows (and as recipe developer Sher Castellano emphasizes), cheddar cheese and apples are a natural (and incredibly delicious) pairing. And that pairing is only made better with kale. "Adding kale rounds it out for an earthy flavor," says Castellano. "It's sweet, salty, and umami."
Even if you still have your doubts about it, this apple, kale, and cheddar salad is quick and easy to make (You only need about eight minutes to whip up two large salads.), and it's filling enough to enjoy as a main dish. So trust us when we say you should definitely give it a try. When you realize how tasty it truly is, you'll be sure to add it to your regular lunchtime rotation. Plus, you'll feel so satisfied knowing you're making a healthy choice when mealtime comes around.
Gather your ingredients to prepare this kale apple cheddar salad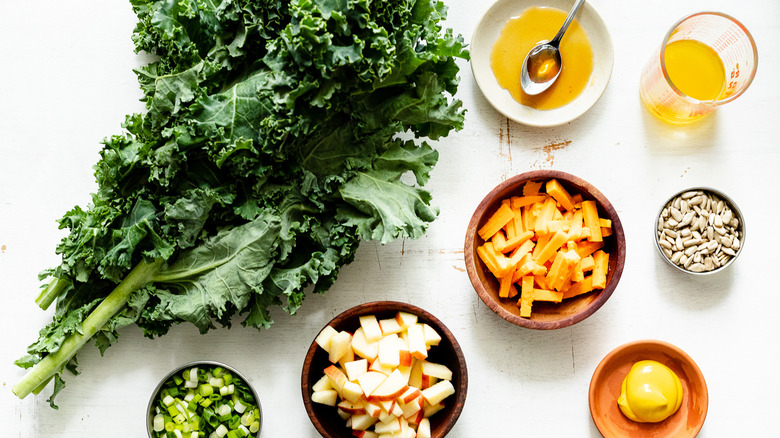 Sher Castellano/Health Digest
In addition to making the salad, you'll also be whipping up a tangy honey mustard vinaigrette, so you'll need to gather up the ingredients for both. For the salad, grab a large bunch of curly kale, an apple of any crisp variety, extra sharp cheddar cheese, green onions, and raw sunflower seeds. You'll want to dice the apple, onions, and even the cheese into small cubes, as Castellano says this gives the salad a "chopped salad" feel. It's important that all the pieces are more-or-less even in size, as grating the cheese or prepping the other ingredients differently would change the texture considerably.
Then, for the dressing, you'll need to round up olive oil, apple cider vinegar, fine sea salt, black pepper, yellow mustard, and honey. If you're in a pinch and don't have yellow mustard on hand, Dijon mustard also works. 
Prep and massage the kale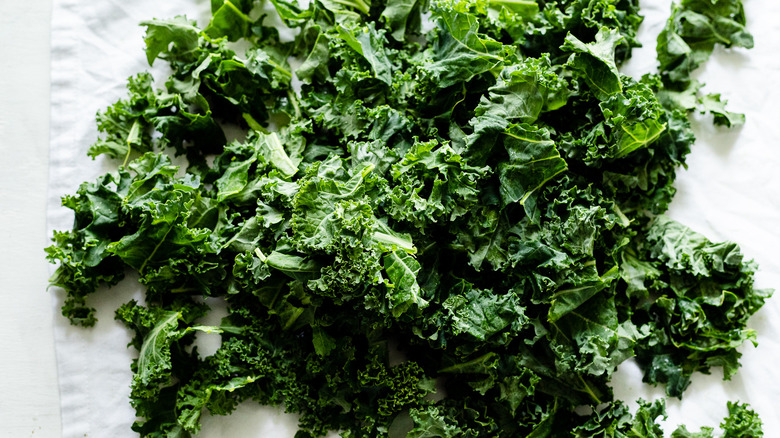 Sher Castellano/Health Digest
The last thing you want is for your kale salad to be full of the hard-to-chew (and digest) ribs. Take the time to wash your kale and strip the leafier greens from the center ribs. Dry the greens, and tear them into bite-sized pieces. Then, place them in a bowl.
This may seem like a weird step, but because kale is a rougher green, taking a minute or so to "massage" the leaves can help make your salad softer and more palatable. Add a teaspoon of olive oil and a teaspoon of apple cider vinegar to the bowl, and massage the greens — you'll be so glad you did. After a minute, set them aside to work on your dressing.
Make the honey mustard vinaigrette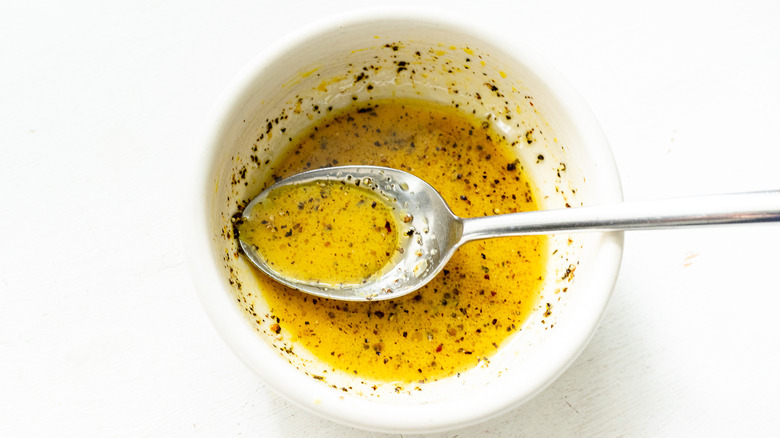 Sher Castellano/Health Digest
Making a homemade salad dressing may seem like a lot of work, but it's vinaigrettes like this one that are surprisingly easy to make. Simply grab a small bowl and a whisk, and whisk together the remaining olive oil, apple cider vinegar, salt, pepper, mustard, and honey. That's all there is to it — your dressing is made. When the ingredients are thoroughly mixed, set the dressing aside (or pop it in the fridge for a minute or two) until your salad is ready to serve and enjoy.
Make and toss your salad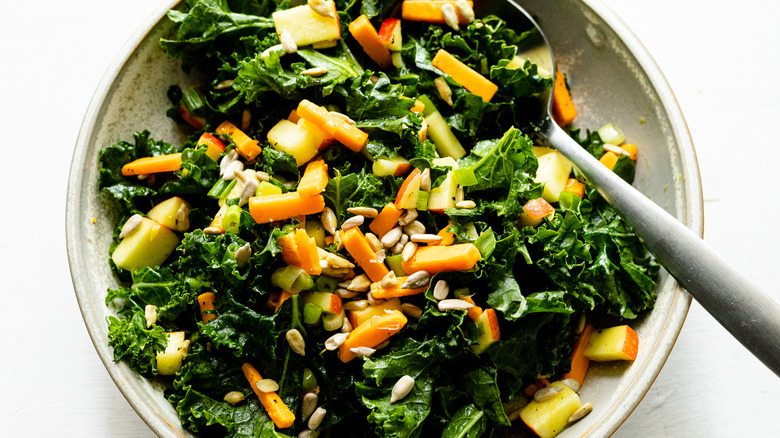 Sher Castellano/Health Digest
If you've already diced your apples, onions, and cheddar cheese, all that's left to do is mix up your ingredients. Add the toppings to your kale, pour the dressing on top, and toss gently. Because the salad includes cheese and sunflower seeds, you're getting a good mix of protein and fat in addition to the healthy carbs found in kale and apples, so by itself, it's a well-rounded meal. That being said, if you feel like you need something more to go with this salad to make it a main dish, try adding slices of grilled fish or chicken on top.
Healthy Kale Apple Cheddar Salad Recipe
This apple, kale, and cheddar salad is quick and easy to make, and it's filling enough to enjoy as a main dish.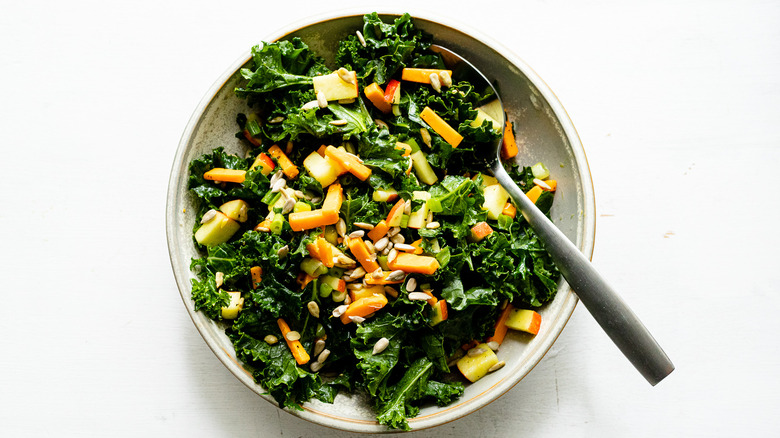 Ingredients
1 large bundle curly kale
1 tablespoon olive oil, divided
2 tablespoons apple cider vinegar, divided
¼ teaspoon fine sea salt
¼ teaspoon black pepper
1 teaspoon yellow mustard
1 teaspoon honey
½ cup apple, diced small
14 cup green onions, diced small
½ cup extra sharp cheddar, diced small
¼ teaspoon raw sunflower seeds
Directions
Wash the kale, and strip the greens from the center rib. Discard the rib, and dry the greens on a kitchen towel. Cut or tear the kale into bite-sized pieces, and place in a bowl. Add in 1 teaspoon olive oil and 1 teaspoon apple cider vinegar, and with your hands, massage for 1 minute. Then, set aside.
In a small bowl, whisk together the remaining olive oil, apple cider vinegar, sea salt, pepper, mustard, and honey. Then, set aside.
Add the diced apples, diced green onions, diced cheddar cheese, and sunflower seeds to the bowl of kale. Then, pour on the dressing, and toss gently.
Plate, and enjoy.
Nutrition
| | |
| --- | --- |
| Calories per Serving | 310 |
| Total Fat | 10.3 g |
| Saturated Fat | 2.2 g |
| Trans Fat | 0.1 g |
| Cholesterol | 5.2 mg |
| | |
| --- | --- |
| Total Carbohydrates | 50.8 g |
| Dietary Fiber | 16.8 g |
| Total Sugars | 18.9 g |
| Sodium | 462.9 mg |
| Protein | 14.0 g |