Vegan Protein Cake Balls Recipe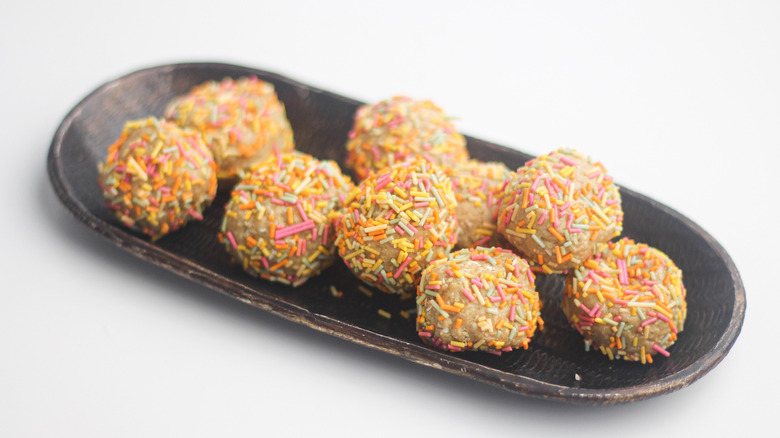 Susan Olayinka/Health Digest
Many protein ball recipes call for standard protein powder and honey, which immediately make them unfriendly options if you're following a vegan diet and lifestyle. But if you're looking for a way to get a little protein on the go, it's easy to throw together an animal product-free protein ball in just 10 minutes flat. These cake balls developed by Susan Olayinka of The Flexible Fridge call for vegan protein powder and vegan-certified maple syrup as substitutes for the typical animal products.
Just be aware that the type of vegan protein powder you choose could make or break the taste of these protein balls. "The best thing to do is go for unflavored protein so it won't have that much of a taste and you can flavor it with other sweeteners — I find the vanilla or flavored protein powders taste too sweet!" says Olayinka. And, of course, if you're serious about sticking to your vegan diet, make sure all of the ingredients you include are certified vegan — it's often surprising where animal byproducts are hidden in ingredients you'd assume would be vegan-friendly, like regular maple syrup and sprinkles.
Gather your ingredients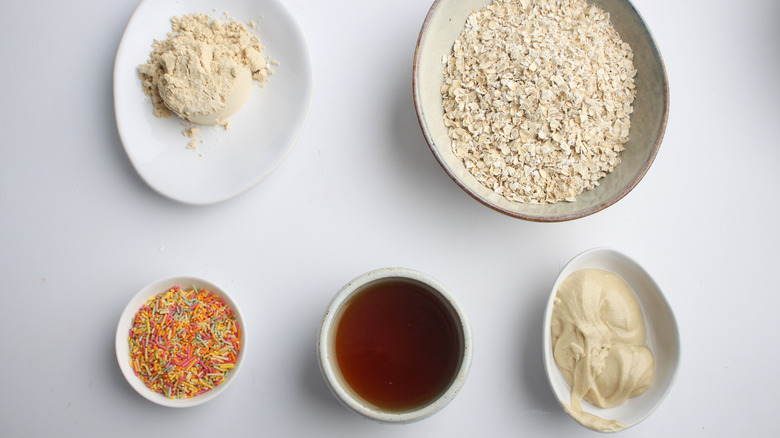 Susan Olayinka/Health Digest
Like most protein ball recipes, these cake balls have a very straightforward and simple recipe list. All you need is cashew butter, oats, vegan protein powder, vegan-certified maple syrup, and vegan sprinkles. Generally speaking, you don't have to double-check nut butters or oats to be sure they're animal product-free, as they come directly from plants.
That said, it's always a good idea to read the backs of your food labels to make sure the products just to make sure. Also, some nut butters are sweetened with honey, in which case they would no longer pass the vegan test. Just make sure you know what you're buying to be sure it aligns with your personal ethics.
Blend your oats into flour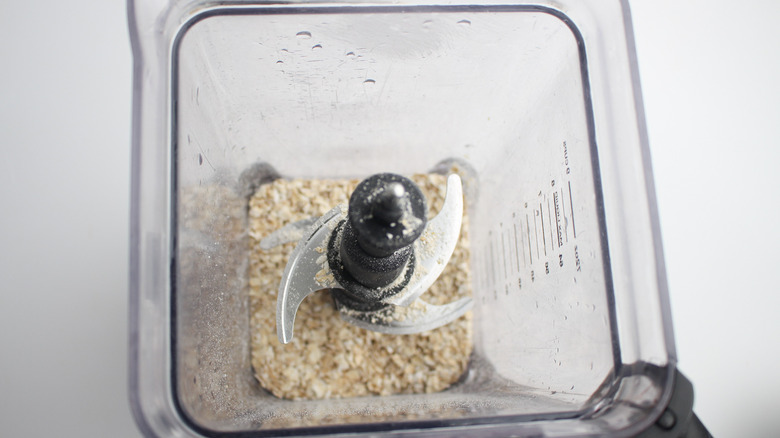 Susan Olayinka/Health Digest
While it's completely possible to buy pre-ground oat flour, Olayinka suggests making your own. "It's much cheaper," she says. "I find that oat flour is so expensive and doesn't need to be, as oats are super cheap." Plus, it doesn't take much time to make, so there's no reason not to take advantage of the savings. Simply place a cup of oats in a high-speed blender and blend until the consistency is flour-like.
Add ingredients to blender and blend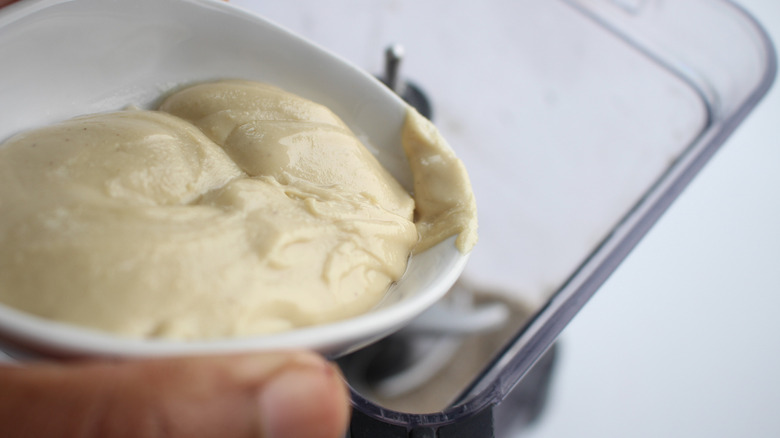 Susan Olayinka/Health Digest
When your oats are well-blended, add the vegan protein powder, cashew butter, and maple syrup. If you don't have cashew butter, Olayinka says any nut butter will do, but she prefers cashew due to its somewhat neutral, less-overpowering flavor. And if you're about to add the maple syrup you've had in your pantry for ages to the blender, double-check the label!
"The cheaper maple syrups tend to be mixed with honey, as it's cheaper, so you should really look at the ingredients!" Olayinka emphasizes. Pure maple syrup is vegan, of course, as it comes straight from a tree. But if you realize at the last second that your maple syrup isn't pure, in a pinch, you can substitute agave nectar. It, too, is a vegan-friendly sweetener. 
Once you've added the other ingredients to the blender, simply blend on high for 10 seconds. You'll notice a ball of "batter" starting to form. That's how you'll know you're ready to form your cake balls. 
Roll your cake balls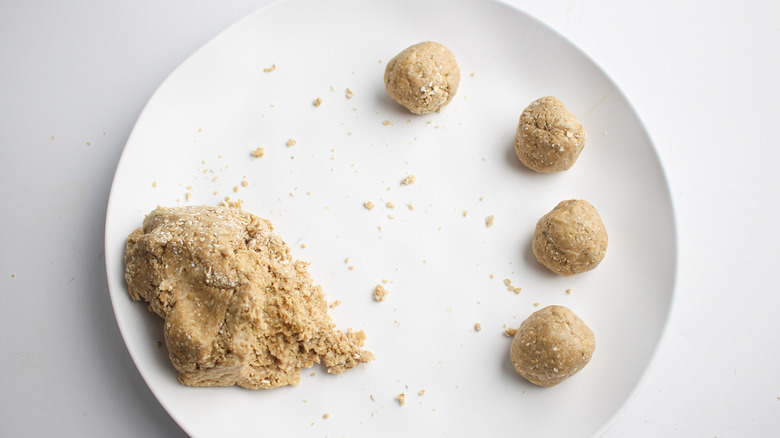 Susan Olayinka/Health Digest
Remove the "batter" from the blender. You may find that a silicone spatula helps you get all of it out. Place the mixture on a plate and separate it into nine equally sized pieces. Use your hands to roll each piece into a ball. The balls should end up being roughly one inch in diameter. 
Roll cake balls in sprinkles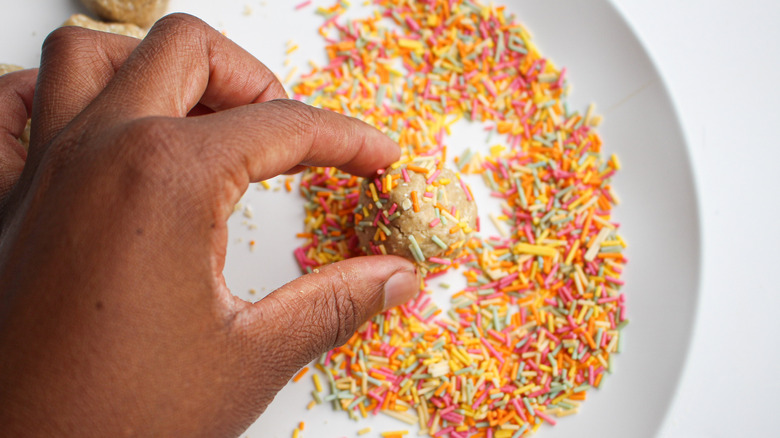 Susan Olayinka/Health Digest
Now comes the fun part! You'll turn your vegan protein cake balls into colorful bite-sized energy bombs by rolling each ball in your plate of vegan sprinkles. The slightly tacky consistency of the balls should make the sprinkles stick easily to the outside — just make sure you cover each ball completely. Now that they look like pretty little cake ball packages, they're ready to enjoy. Throw a couple in a plastic bag and take them with you to work for a quick late afternoon pick-me-up.
Vegan Protein Cake Balls Recipe
If you're looking for a way to get a little protein on the go, it's easy to throw together an animal product-free protein ball in just 10 minutes flat.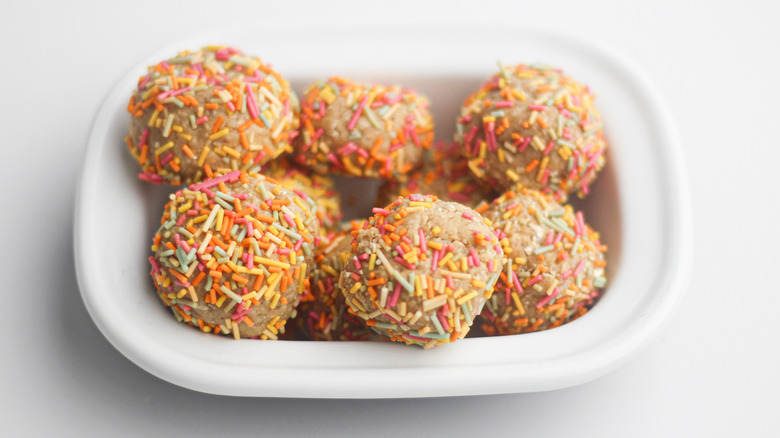 Ingredients
1 cup oats
¼ cup vegan protein powder
¼ cup cashew butter
¼ cup vegan certified maple syrup
¼ cup vegan sprinkles
Directions
Grind the oats into flour by placing the oats into a high-speed blender and blending until they turn into a flour consistency.
Add vegan protein powder, cashew butter, and maple syrup into the blender and blend on high for 10 seconds. The mixture will start to form into a ball.
Spoon the mixture onto a plate and roll into nine balls (1-inch circles).
Roll the vegan protein balls into vegan sprinkles so that they are all covered.
Serve and enjoy.
Nutrition
| | |
| --- | --- |
| Calories per Serving | 192 |
| Total Fat | 5.3 g |
| Saturated Fat | 1.0 g |
| Trans Fat | 0.0 g |
| Cholesterol | 0.0 mg |
| | |
| --- | --- |
| Total Carbohydrates | 27.7 g |
| Dietary Fiber | 2.6 g |
| Total Sugars | 13.0 g |
| Sodium | 74.8 mg |
| Protein | 9.7 g |