5-Ingredient Peanut Butter Energy Bites Recipe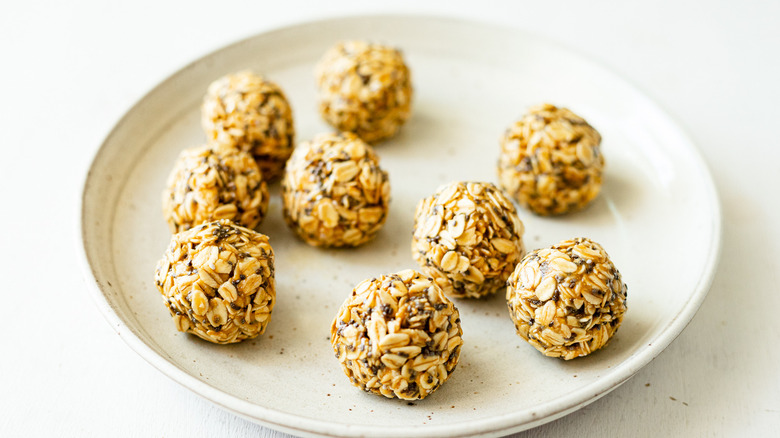 Sher Castellano/Health Digest
Are you looking for a snack that's healthy, sweet, and filling? If so, then these five-ingredient energy balls are perfect for your needs. Whether you want a quick and healthy snack before or after a workout to fuel your body or if you just want a healthy bite to satisfy your sweet tooth before bed, this is the perfect recipe for you. 
As you can tell from the title, these bites only require five ingredients, and they're packed with goodness. This makes prep simple and affordable, and it doesn't get much better than that. 
It's worth mentioning that these energy bites have chia seeds, which are very good for you. Chia seeds have a lot of fiber, iron, and calcium, in addition to omega-3 fatty acids.
Recipe developer Sher Castellano came up with this simple recipe that tastes amazing. She shares that her favorite part is that these are "simple to make," and "delicious and portable for snacking." We think that she hit the nail right on the head! 
Keep reading to find out how to make these yummy peanut butter bites.
Gather the ingredients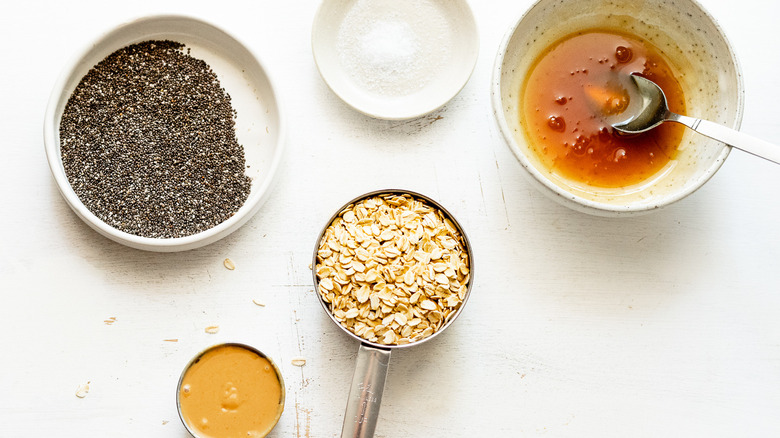 Sher Castellano/Health Digest
To start things off, make a list of items that you will need to throw together these yummy peanut butter energy bites. 
For starters, grab a cup of oats, which is one of the main ingredients in this recipe. In addition, you'll want to purchase some chia seeds and fine sea salt. To complete your list, you will need peanut butter and honey. Please make sure that you get all-natural peanut butter with no salt and no sugar. "You can sub almond butter or sunbutter (as long as it's natural and no salt, no sugar, added)," Castellano says. "That version is a lot cleaner and healthier than your standard peanut butter."
Hopefully, you already have a few of these items at home, making your trip to the store a breeze. 
Combine the oats, chia seeds, and sea salt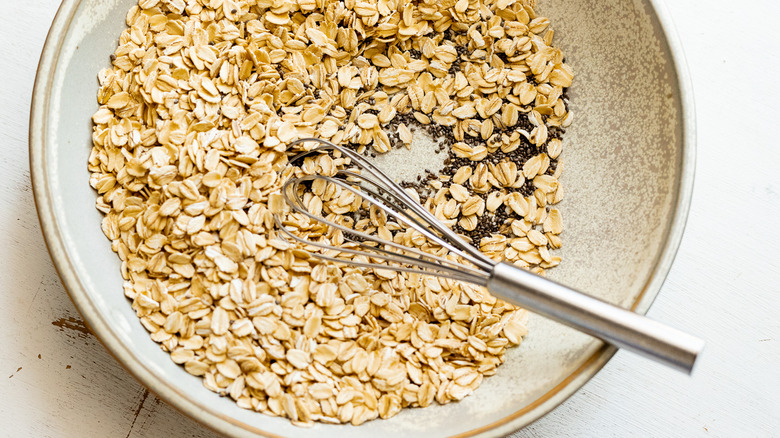 Sher Castellano/Health Digest
The great part about this recipe is that it is super simple and there are only a few steps that you will need to take to make these energy bites. 
First, take out a bowl to start mixing your ingredients. You want to throw in the oats first, followed by the chia seeds. Next, sprinkle the fine sea salt on top and use a whisk to mix all the items together. 
Once you are done mixing, set the bowl to the side. You will need to use it again in just a minute. 
Combine the honey and peanut butter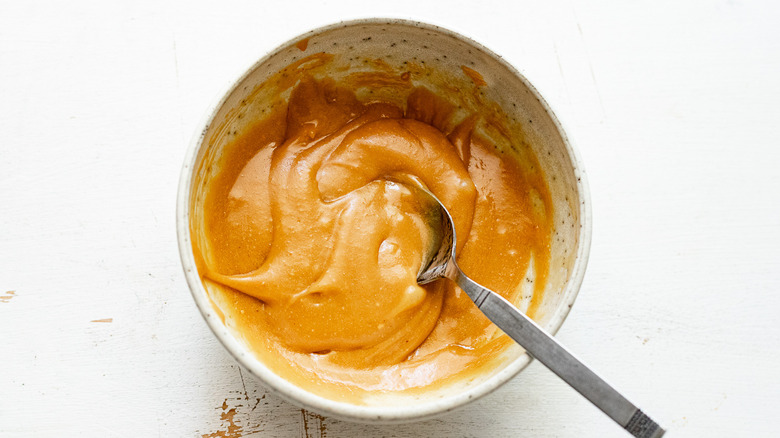 Sher Castellano/Health Digest
Take out another small bowl and combine the honey and the peanut butter. Stir it well with a spoon. It should still look like peanut butter after the honey is blended in. Then, you can toss the peanut butter mix in with the oat mixture and stir until everything is well combined. It's probably easiest to use a spoon to stir, rather than a whisk. Whisks can be a pain to clean and everything will stick to the wires.
Once you have mixed everything together, set the bowl to the side for a moment and move onto the next step.
Grease the pan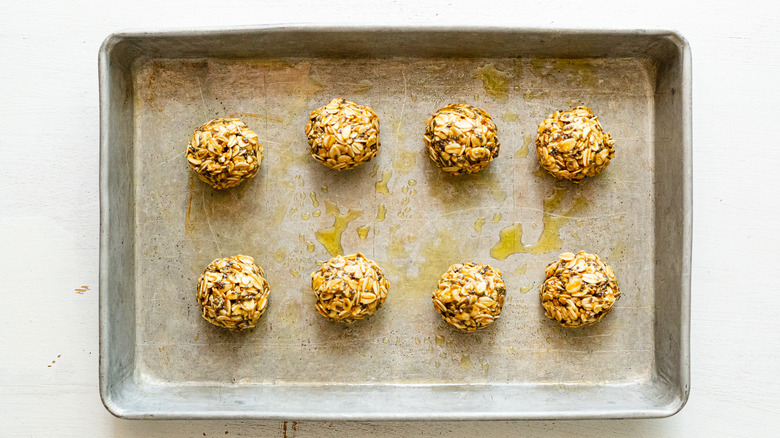 Sher Castellano/Health Digest
Grab a sheet pan that fits in the fridge, or a plate, and spray it lightly with oil, or line it with parchment paper. Even though you don't need to bake the peanut butter balls, this step is important to prevent things from sticking where they're not supposed to stick. 
Next, portion out a tablespoon of the oat mixture at a time and shape it into a ball by lightly squeezing and rounding it out. Repeat the steps with all of the energy bites. This recipe should make eight bites, so be sure you try to portion them out as equally as possible. 
Chill the energy bites for an hour, then enjoy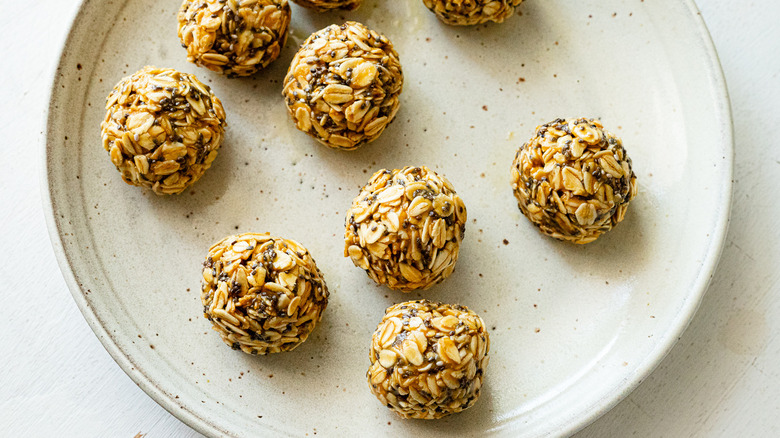 Sher Castellano/Health Digest
For the last step in this super simple process, stick the sheet pan in the fridge and set your timer for one hour. You want to let these sit for at least an hour before serving them. 
After they have cooled, be sure to store them in an airtight container in the fridge. The energy balls will be good for at least five days, meaning you will have plenty of time to finish them all.
Now there's just one thing left to do: kick back, relax, and enjoy these delicious snacks! 
5-Ingredient Peanut Butter Energy Bites Recipe
Looking for a snack that's healthy, sweet, and filling? This 5-ingredient peanut butter energy bites recipe is perfect. And it's portable!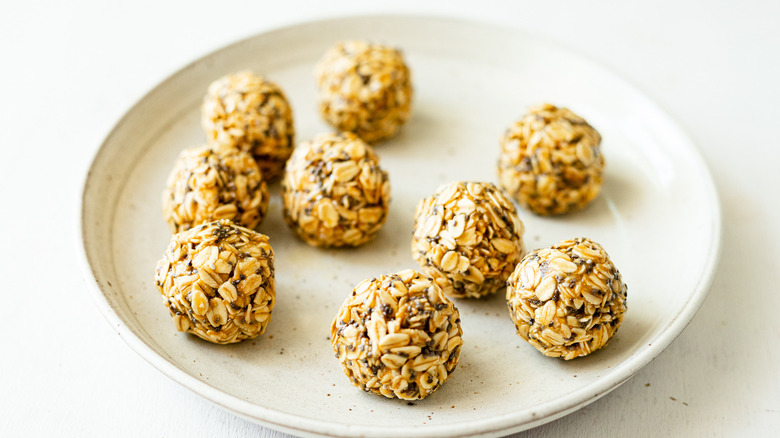 Ingredients
1 cup oats
2 tablespoons chia seeds
¼ teaspoon fine sea salt
¼ cup honey
¼ cup all-natural peanut butter
Directions
Combine the oats, chia seeds, and salt in a bowl and then set it aside.
In a small bowl, combine the honey and peanut butter.
Pour the honey and peanut butter into the bowl of oats.
Mix all the ingredients with a spoon until they are well combined.
Spray a sheet pan lightly with oil.
Portion out 1 tablespoon of the mixture at a time and shape it into a ball by lightly squeezing and then gently rounding it out.
Refrigerate the balls for 1 hour before enjoying.
Nutrition
| | |
| --- | --- |
| Calories per Serving | 171 |
| Total Fat | 6.4 g |
| Saturated Fat | 1.2 g |
| Trans Fat | 0.0 g |
| Cholesterol | 0.0 mg |
| | |
| --- | --- |
| Total Carbohydrates | 24.7 g |
| Dietary Fiber | 3.5 g |
| Total Sugars | 9.5 g |
| Sodium | 75.3 mg |
| Protein | 5.6 g |