Chia Seed Eggs Recipe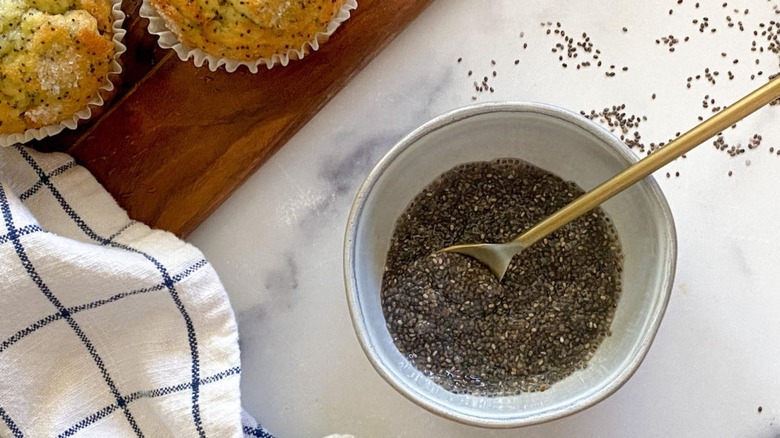 Miriam Hahn/Health Digest
If you do a lot of baking, there are certain ingredients you probably never run low on since you buy them in bulk: flour, sugar, and butter. Oh, and eggs — can't do much baking without eggs. Or can you? Some people manage to get by without them quite nicely, including people with egg allergies, vegans, and those who avoid eggs for religious or other purposes. What, then, do they use in place of eggs if they decide to whip up a cake or a batch of cookies? There are a number of different egg substitutes out there, but lately, people have been experimenting with cheaper, more shelf-stable alternatives including flax seeds and aquafaba. The latter ingredient, if you're not familiar with it, is simply the leftover liquid from a can of beans.
One other sort of off-the-wall egg substitute is chia seeds. While chia seeds may be most iconic in their Chia Pet form, they also have a place in the kitchen, as well. Recipe developer Miriam Hahn explains how they can be used to make an egg substitute that works in a variety of recipes.
Chia seeds are super-healthy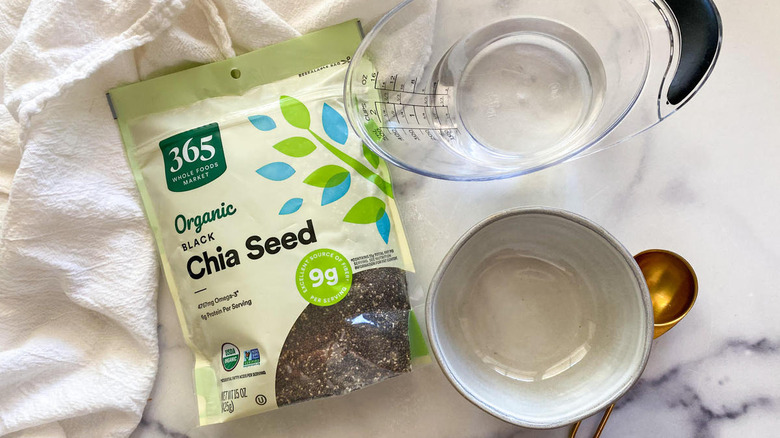 Miriam Hahn/Health Digest
In addition to being a recipe developer, Hahn also works as a wellness coach, and she tells us that in the course of her work, "I do come across quite a few people who are either allergic to eggs or just avoid them because they eat vegan," so she explains that chia eggs are perfect for these kinds of people. Hahn also says that you might want to try using chia seeds even if you don't have an egg allergy or follow a strict plant-based diet. "Really anyone looking to improve their health should try using a chia egg in place of a real egg as much as possible," Hahn says, explaining, "It is an easy step to take toward better health."
Among the many benefits of chia seeds, Hahn tells us, is the fact that they're high in protein, essential fatty acids, antioxidants, and fiber, and that they also have anti-inflammatory properties. She describes these seeds as "truly nutrient-dense," meaning that they pack a lot of nutrition into very few calories.
Why chia seeds work as an egg substitute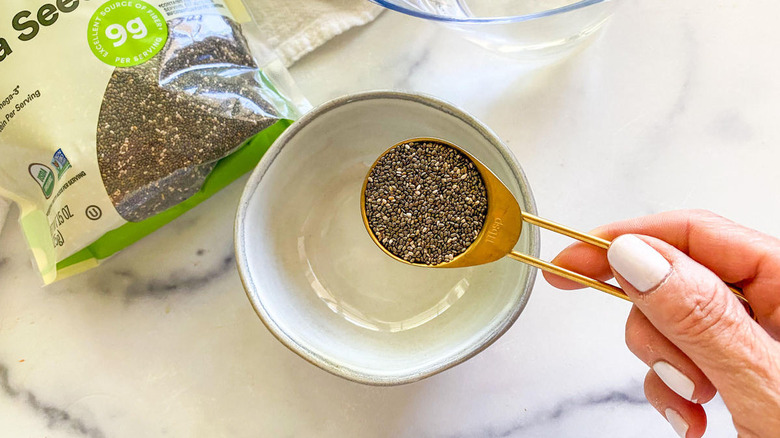 Miriam Hahn/Health Digest
So just how are chia seeds able to take the place of an egg? It may seem kind of weird, but it really does work. The secret lies in the super-absorbent power of chia. When you mix the seeds with water, they absorb the liquid to the point where they turn into a sort of gel, and the gel has the same binding power that eggs have when combined with other ingredients.
If you're wondering whether baked goods made with chia have a funny taste or are maybe not as soft and tender as ones made with eggs, Hahn set our minds to rest on the subject. She's done a lot of baking with chia, and she assures us, "There is absolutely no difference in taste or texture when you use a chia egg instead of a real egg."
How to make a chia seed egg substitute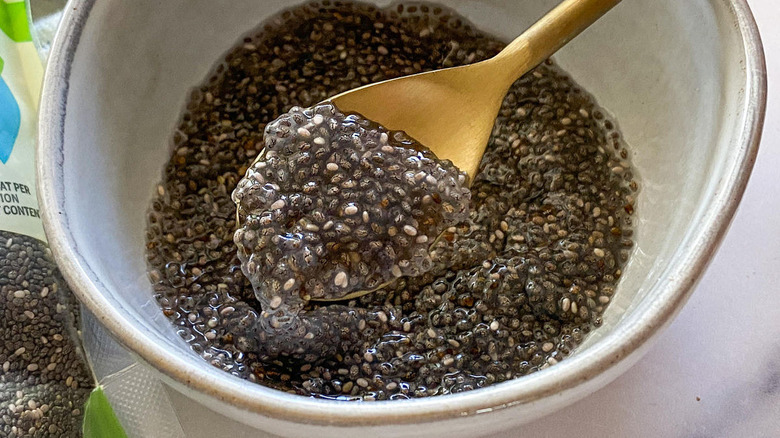 Miriam Hahn/Health Digest
There are just two ingredients you need to make a chia egg, and those are chia seeds and water. Hahn used whole seeds in this instance, but you have the choice of using ground chia seeds as well if you want the seeds to be less visible in the final product. Whole chia seeds may also add just a tiny bit of crunch, which could be a good thing, but if you want a smoother texture, you can simply grind your chia seeds to powder in your blender before using them.
Take the chia seeds, whole or ground, and mix them with three tablespoons of water. Let the mixture sit for five minutes to "gel," then use it in place of a single beaten egg. If you need to replace multiple eggs, simply multiply the recipe as needed. The proportion will always be three parts water to one part chia.
What recipes work best with chia seeds in place of eggs?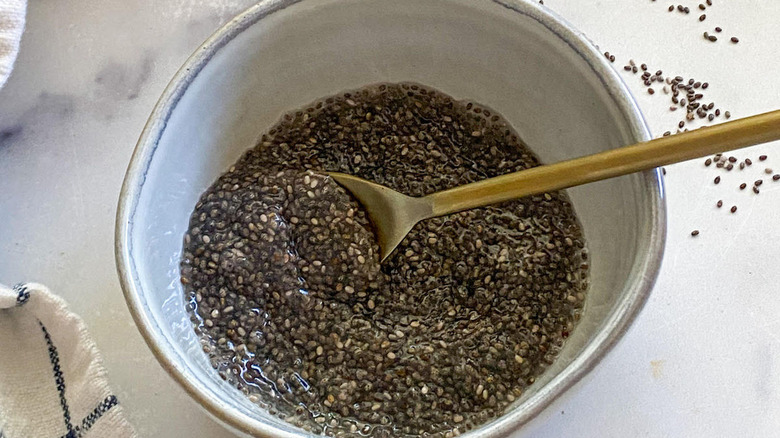 Miriam Hahn/Health Digest
Chia seeds can't substitute for eggs in absolutely every recipe. As Hahn points out, a chia egg "isn't a substitute for eggs on their own, of course, like an omelet or a fried egg." She does say they work well in most types of baked goods, however, such as quick breads, muffins, pancakes, or cookies. If you have a recipe where the eggs need to be separated, though, you probably won't be able to use chia eggs in their place, nor can they necessarily be used in a recipe where you need just the yolks or the whites. In such a case, however, you could always try using aquafaba, since it can be whipped into an egg white substitute that's good enough for meringues and macarons and can also be used to make mayonnaise, a condiment usually made from egg yolks.
Chia Seed Eggs Recipe
Recipe developer Miriam Hahn explains how chia seeds can be used to make an egg substitute that works in a variety of recipes.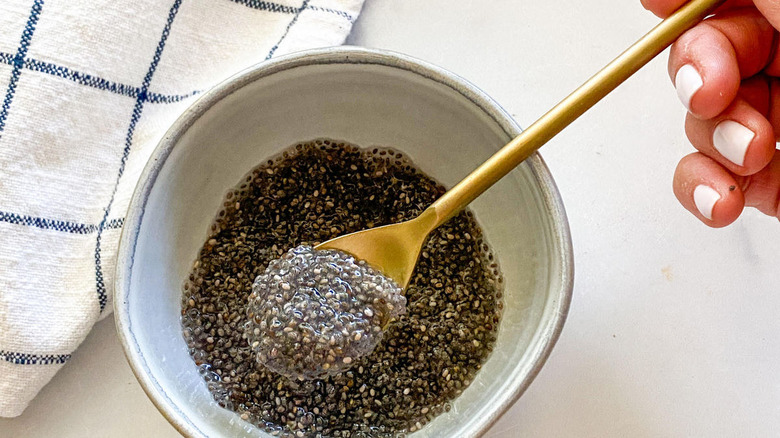 Ingredients
1 tablespoon chia seeds
3 tablespoons water
Directions
Combine the chia seeds with 3 tablespoons of water and stir well.
Let the chia mixture sit for about 5 minutes until it appears to have a gel-like consistency.
Use in baking in place of 1 egg (multiplying the recipe as necessary).
Nutrition
| | |
| --- | --- |
| Calories per Serving | 58 |
| Total Fat | 3.7 g |
| Saturated Fat | 0.4 g |
| Trans Fat | 0.0 g |
| Cholesterol | 0.0 mg |
| | |
| --- | --- |
| Total Carbohydrates | 5.1 g |
| Dietary Fiber | 4.1 g |
| Total Sugars | 0.0 g |
| Sodium | 3.7 mg |
| Protein | 2.0 g |